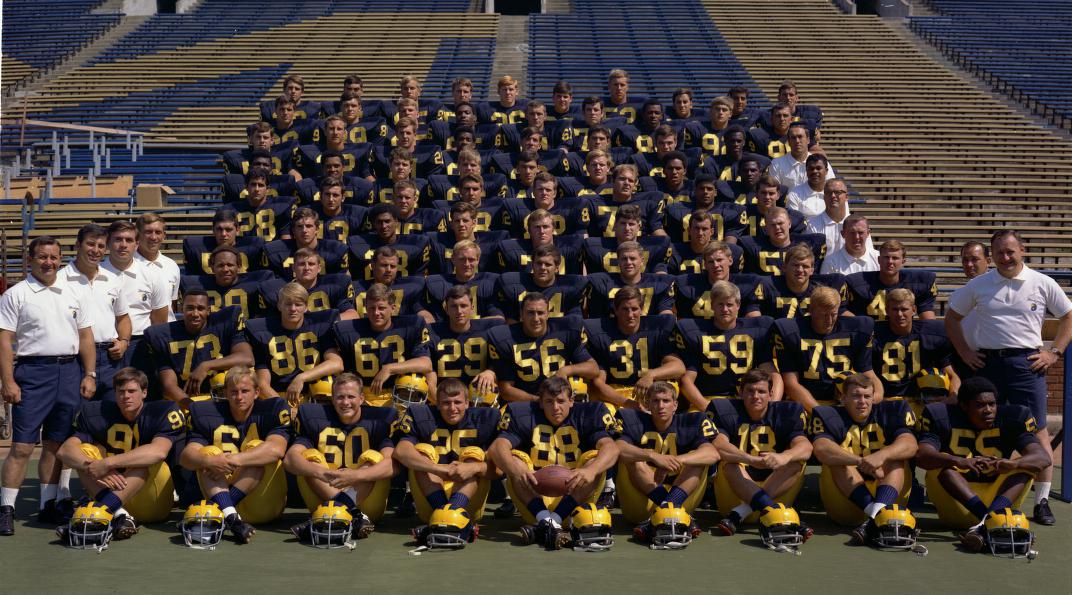 BigBlueToday
September 13, 2020 Rest in Peace Cecil Pryor
Today post honors the memory of a Wolverine named Cecil Pryor who went to rest in peace on this day in 2005. Pryor was one of Bo Schembechler's first players when the ambitious coach arrived at Michigan in December 1968.  Sadly, Cecil Pryor was only fifty-seven years when he left his family, friends, teammates and former coaches.
Part I. Wolverine of the Day: Cecil Pryor
Recruited by Bump Elliott in 1966
Apparently, Cecil was recruited from Texas to play quarterback for Bump Elliott, but by his sophomore year he was playing defense for the Wolverines. Michigan struggled during Pryor's first season on the varsity in 1967. Elliott's team posted a record of 4 wins and 6 losses that year. Pryor worked hard to get on the field and started two games at linebacker.
The Wolverines were much better in 1968 and so was Cecil Pryor. He had eight starts on defense (right end) and one start at end on offense. Michigan went 8-2-0 in Cecil's junior year, but the season ended with a thud! Ohio State's 50-14 drubbing dropped Michigan to second place in the conference. It was the last game of the Bump Elliott Era. Michigan Athletic Director Don Canham, decided that Bump and Michigan needed to go in another direction.
Finished His Career With Bo in 1969
Canham's direction pointed down to Ohio and a former Buckeye coach named Glenn Edward "Bo" Schembechler. Bo hit Ann Arbor like a tornado in January. Of course, we all know that there aren't many tornados in Michigan in January. So things, would be different for Cecil and the rest of his Wolverine teammates. But how different? Only time would tell!
As it turned out, Cecil Pryor had a very good senior year. He earned the starting job at right defensive end and held it throughout the season. He became a ferocious figure on the defensive line, just like Bo wanted. As it turned out, Michigan's regular season record was exactly the same as it was in 1968 (8-2-0), with a couple differences.
First, Michigan beat Ohio State and avenged the embarrassing loss in Columbus the year before. Second, the Wolverines tied the Buckeyes for the conference championship and a new era in Michigan football had begun. So, Pryor and his teammates played an important role in getting Michigan football back on track − with a little help from Bo!
Some Michigan Football "Firsts" and Cecil Pryor
Cecil is connected to some interesting Michigan Football "Firsts." Here they are:
Cecil Pryor played on the first Bo Schembechler's first Michigan team in 1969.
Pryor, and his teammates, were the first ones to wear helmet stickers in 1969.
Cecil Pryor was a big contributor who played on Bo Schembechler's first Big Ten C0-Championship team in 1969.
Cecil Pryor was one of the survivors who embraced Bo's demanding, but winning ways. He went on to play professional football in the Canadian Football League before returning to Ann Arbor to start his post-football life. Check out the links below to read more about Mr. Cecil Pryor. Rest in peace #55! Go Blue!
http://www.mgoblue.com/sports/m-footbl/spec-rel/091305aaa.html
https://en.wikipedia.org/wiki/Cecil_Pryor
http://thosewhostaywillbechampions.blogspot.com/2006/08/in-memoriam-cecil-pryor-de-1968-1969.html
Part II. September 13, 2020 National Day Calendar Update: