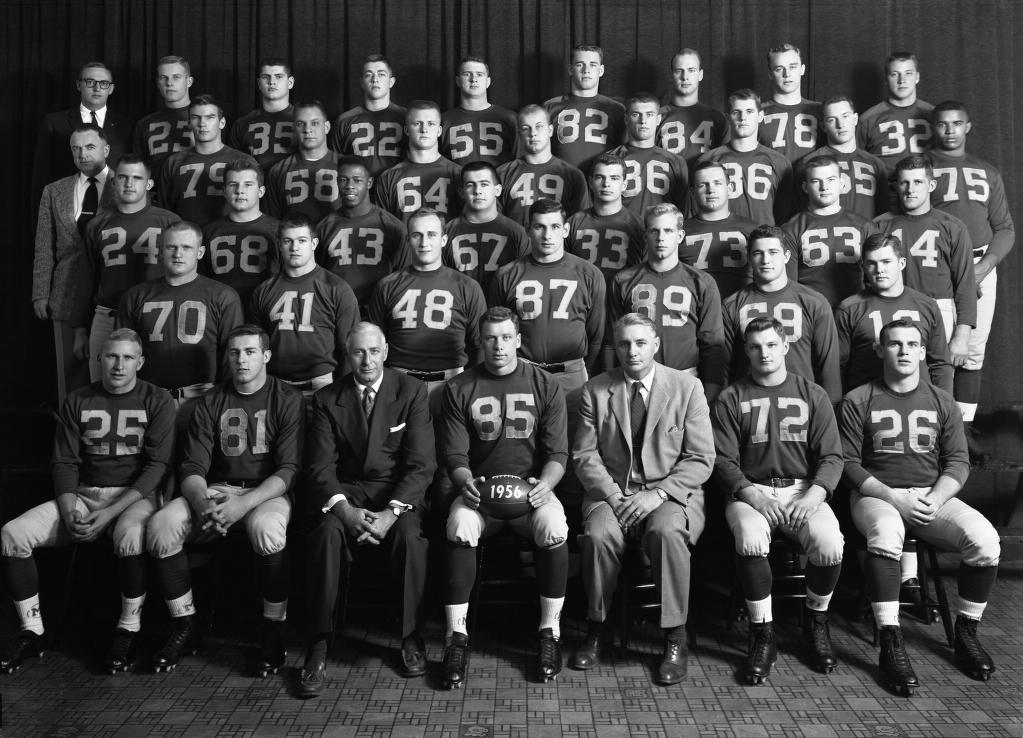 M Go Blue Football | M Go Blue Football History | Michigan Football Firsts | Michigan Football History | Michigan Wolverine Football History
October 10, 2020 – Happy Birthday Michigan Man and Team MVP Dick Hill
Today is a great day to remember the happy birthday anniversary of a Michigan Man named Dick Hill. According to the Wikipedia article linked below, Richard F. "Dick" Hill was born on this day in 1934. Dick became an excellent high school athlete in Gary, Indiana. When it came time to pick a college, Hill decided to become a Michigan Man.
(Note - Dick Hill (#69) is shown above with the 1956 Michigan Football team. He is seated in the second row - second man from the right. Photo courtesy of the Bentley Historical Library at The University of Michigan.
Part I. Wolverine of the Day: Dick Hill
Hill Came to Play For Bennie Oosterbaan in 1953
Dick Hill arrived in Ann Arbor in 1953, but freshman could not play on the varsity in those days. So, he played on the freshman team and focused on getting ready for the future.
Hill earned a place on Bennie Oosterbaan's varsity football team in 1954. He didn't start any games, but played enough on the offensive line to earn his first varsity letter. Michigan finished with an overall record of 6 wins and 3 losses that year and posted a record of 5-2-0 in the Big Ten. Hill's Michigan Football career was off to a good start!
Dick Hill earned a starting spot at left guard on offense for the 1955 Michigan Football team. He played in every game and earned his second varsity letter. Hill's tenacious play on the interior line earned the respect of his coaches and his teammates. The Wolverines also had a strong season in 1955. Bennie Oosterbaan's footballers won 7 games and lost 2. Michigan finished third in the Big Ten Conference with a record of 5-2-0.
An MVP Season in 1956
Hard-working Dick Hill returned for his senior season in 1956. Once again, he started every game at left guard. His excellent play helped Michigan post another winning season. The Wolverines finished with a record of 7 wins and 2 losses – and finished second in the Big Ten at 5-2-0.
Hill's teammates showed the kind of respect they had for their teammate when he was named Most Valuable Player of the 1956 Michigan Football team.
The career of Richard F. Hill was unique in that he was not a "star" in the way that most people think. However, he was a solid player who knew his job and did it well for three straight seasons. Hill played on three winning teams and left the program with three varsity letters.
Some Michigan Football "Firsts" for Dick Hill
Dick Hill is also connected to some interesting Michigan Football "firsts."
· Dick Hill played in the first seven game conference season in Michigan Football history in 1954. The Wolverines posted a record of 5 wins and 2 losses.
· Hill played in the first game ever against Missouri on September 24, 1955. Michigan won the game by a score of 42-7.
· Richard F. Hill played in the first ever regular season game against UCLA on September 26, 1956. The Wolverines won the game 42-13.
· Hill also played in front of the first ever 100K crowd in Michigan Football history on October 6, 1956. A crowd of about 101,000 showed up to watch Michigan State beat the Wolverines by a score of 0-9. Ugh!
Bottom line, today is a great day to remember Dick Hill on his 85th birthday anniversary. Please take a moment to appreciate his contributions to the great history of Michigan Football. Go Blue!
To read more about the career/life of Richard F. Hill and the 1956 Michigan Football team please check out the links below:
https://en.wikipedia.org/wiki/Dick_Hill_(American_football)
http://bentley.umich.edu/athdept/football/fbteam/1956fbt.htm
Part II. October 10, 2020 National Day Calendar Update: