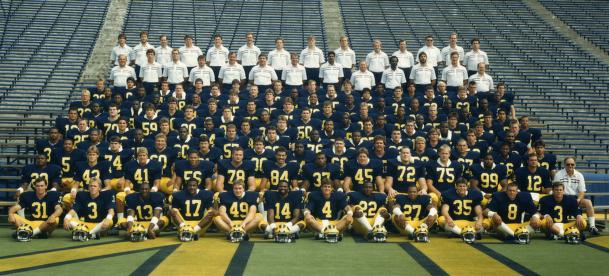 Go Blue Michigan Football | M Go Blue Football | M Go Blue Football History | Michigan Football History
October 9, 2020 – Happy Birthday Jerry Quaerna
Today is a great day to wish "Happy Birthday to a Wolverine named Jerry Quaerna. Jerold Oscar "Jerry" Quaerna was born on this day near Janesville, Wisconsin. He was a very good football player in high school. In fact, he was good enough to earn a scholarship to play offensive line for the University of Michigan Wolverines.
(Note - Jerry Quaerna (#75)  is seated in the second row. He is the fourth person from the right side of the picture. His former roommate, Jim Harbaugh (#4) is almost dead center in the first row. 1986 Team photo courtesy of the Bentley Historical Library at The University of Michigan.)
Part I. Wolverine of the Day: Jerry Quaerna
A Slow Start in Ann Arbor
Quaerna came to Ann Arbor in 1982 to play for Bo Schembechler. Like most freshman offensive lineman who played for Bo, he was redshirted in his first year to get "big" enough to play against the "big boys" in the Big Ten. At 6' 5" and 250 pounds, Jerry was not quite ready to line up against the "men" who played defensive line for Wisconsin, Michigan State, Ohio State, and the rest of the Big Ten Conference.
Unfortunately, getting bigger and stronger wasn't Quaerna's only challenge. Bo's football teams always had plenty of talented offensive lineman on the roster. Competition on the offensive line was always tough. It is especially difficult when you are competing against All-Big Ten and All-American caliber talent (Clay Miller and John Elliott) like Jerry had to do.
So, like so many players who came before him, he figured out his role and lived up to it as best he could. He did everything the coaches asked him to do and became a solid back-up player for the Wolverines. He went to the weight room and let Mike Gittleson "grow" him to 282 pounds of people moving power. According to the 1986 Michigan Team Roster, Quaerna also grew two inches (6' 7") during his time at Michigan.
A Bigger, Stronger "Q" Earned Playing Time in 1985 and 1986
Jerry Quaerna's hard work earned him some valuable of playing time in 1985 and 1986. He started two games in each season at offensive tackle while playing behind Miller and Elliott. Another thing that Jerry Quaerna earned at Michigan was a great nickname. His teammates simply called him "Q" which may have had something to do with the James Bond movies of the day.  He also roomed with a guy named Jim Harbaugh twice. Harbaugh and "Q" were roommates as Freshman and again as fifth year seniors. So, here are some interesting questions about "Q."
Some Great Trivia Questions About "Q"
Question #1. How many football players in Michigan football history have a one-letter nickname.
Answer: Not too many, but Jerry Quaerna is one of them!
Question #2. How many Michigan football players know Jim Harbaugh better than Jerry Quaerna?
Answer: Not too many!
Jerry Quarena played on some very good football teams in Ann Arbor (1983, 1985 and 1986). He also  played on the 1984 team, which may have been the most injury-prone team in Bo Schembechler's entire coaching career. Jerry and his teammates showed a lot of grit and were good enough to win thirty-six games, a Big Ten Championship (1986) and finish second in the nation in 1985. As the singing duo, Montgomery Gentry, would say "that's something to be proud of!"
 Hopefully, Jerry "Q" Quaerna is home in Wisconsin celebrating his birthday with family and friends. Have a Go Blue Day Jerry and thanks for your contributions to the history of the winningest program in college football history!
Click on the links below to learn more about the life and times of Michigan Man Jerry Quaerna. Read his "Roomie with a View" stories about Jim Harbaugh in the second link below. Good stuff!
 https://en.wikipedia.org/wiki/Jerry_Quaerna
http://mgoblog.com/content/roomie-view–-excerpt-take-job-and-love-it
Part II. October 9, 2020 National Day Calendar Update: