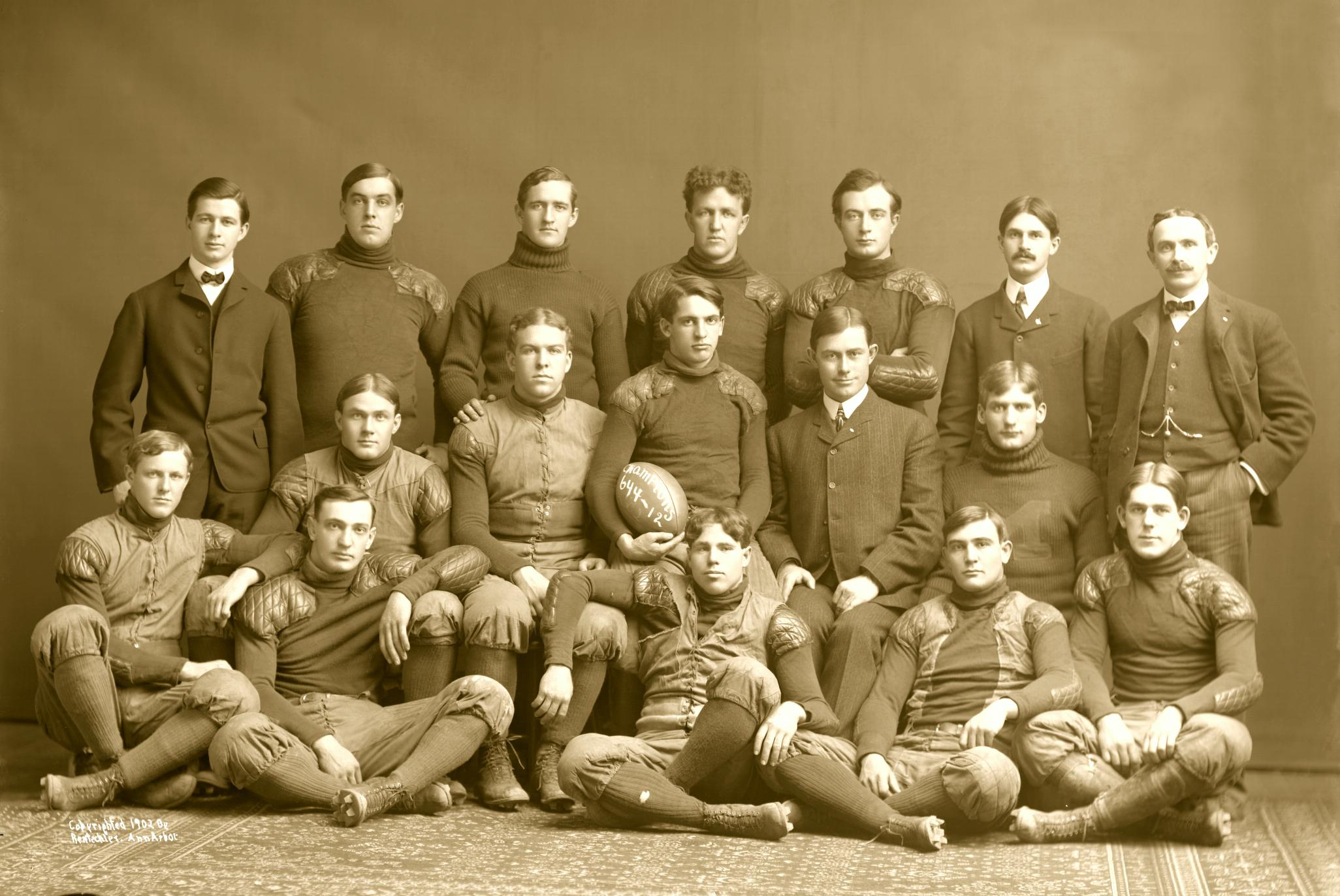 BigBlueToday | M Go Blue Football | M Go Blue Football History | Michigan Football Firsts | Michigan Football History | Michigan Wolverine Football History
October 8, 1902 – Michigan Destroyed Michigan Agricultural
It is only fitting that the calendar takes us back to the second game of the Mitten State series where Michigan destroyed Michigan Agricultural. After watching the 110th game in the Michigan vs Michigan State rivalry last night, I thought it would be comforting to look back to a better time in series history. Yes, my spirits needed some "lifting" after last night's debacle. This post helped a little bit. So, depending on your viewpoint, we go way, way back to October 8, 1902 to discuss the "biggest win" or the "worst loss" in Michigan vs Michigan State series history.
BACKGROUND INFORMATION: 
The second game between The University of Michigan and Michigan Agricultural College (MAC) was scheduled for Regent's Field in Ann Arbor on Wednesday, October 8th. Yes, you read it right, a Wednesday! This contest was the third game of Michigan's eleven game season. Michigan had already defeated Albion and Case by a combined score of 136 to 6. So, they headed into this game riding a thirteen-game winning streak. MAC lost their opening against Notre Dame (33-0), but won against Detroit by a score of 11-0. The big question was, "Were the Aggies ready to compete with the mighty Wolverines?"
I could not identify any particular issues that would add any intensity to the current level of "in-state hate." The Aggies were still looking for respect on the football field and Michigan was looking to keep rolling over every team that dared to step on the same field with Yost's Wolverines. Second year coach, Fielding Yost had already earned a reputation for running up the score on his opponents with the worst being a 128-0 whipping of Buffalo in 1901. The Aggies probably arrived in Ann Arbor with high hopes, but also some trepidation.  Would they be able to stop, or at least slow down, Yost's "point-a-minute" juggernaut?
GAME SUMMARY:
The second game probably turned out worse than expected for the Aggies, much worse! The Aggie players may have thought that their chances for an upset were slim, but a final score of 119-0 was probably quite a shock! The Aggies were probably relieved when they learned that two of Michigan's stars (Willie Heston and Everett Sweely) would not play on October 8th.) However, it didn't matter. The substitutes stepped up nicely and contributed to a display of "fast break" football that stands as one of the greatest games in Michigan Football history. Yes, on this day, Michigan destroyed Michigan Agricultural! There is no way to sugarcoat this loss.
Just like that, Michigan handed their rivals from East Lansing the worst defeat in their young football history! It would be hard to know how much blood was shed that day, but it is probably a good bet that the Aggies gave more than the Wolverines that day!
As bad as the game turned out, it actually could have been worse! The rules of the day called for the game to be played in a pair of twenty-minute halves. Yost and Denman agreed to halt the game with two minutes remaining. Michigan's "point-a-minute" team actually scored 119 points in 38 minutes so they averaged 3.1 points per minute in this game  ̶  ouch! Also, a touchdown was only worth five points at this time, but increased to six points in 1912. If the scoring rule had changed sooner the final score would have been 139-0!
Eight different Michigan players scored at least one touchdown and kicker James Lawrence probably had a sore toe from kicking 19 points after touchdown. Albert Herrnstein (7) Herb Graver (3) and Paul Dickey (3) each had more touchdowns than the Aggies had first downs (3). It was just ugly. Here is the box score for the game:
| | | | |
| --- | --- | --- | --- |
| Team | 1st Half | 2nd Half | Total |
| MAC | 0 | 0 | 0 |
| UM | 71 | 48 | 119 |
This was the last time that Yost would see Denman as he was replaced at the end of the season. So, after two games Michigan had outscored the Aggies by one hundred and fifty-eight points and the Aggies had nothing but goose eggs in the scorebook. Definitely, a rough start for the boys from East Lansing. The Aggies had to be wondering if they would ever be able to match the mighty Wolverines on the football field. (Of course, they no longer think that way!)
SERIES MILESTONES AND FIRSTS: 
            As it turned out the second game between Michigan and MAC had some interesting "firsts" and a couple milestones as well. Here they are:
The second game in the series was the first meeting of the Twentieth Century between the two schools.
It was also the first game for Coach Fielding Yost against MAC and his first victory.
Game number two was the first and only series game for Aggie Coach Denman who was fired at the end of the season.
Michigan Halfback Albert Herrnstein became the first player in series history to return a kickoff for a touchdown.
He also claimed a special place in series history when he became the first, and only, player to score seven touchdowns in a Mitten State game.
Michigan kicker James Lawrence became the first, and only, player to kick nineteen extra points in a series game.
This was also the last time that both teams played on Regents/Old Ferry Field. It was also the last time they played on a Wednesday. Again, this was the most lopsided game in the history of the two-game series, but it would never again be this bad for the Aggies. Some tough games were still to come, but Michigan Agricultural College would make some changes and come back for more. Defeated yes, discouraged no!
SEASON SUMMARIES:
            The Wolverines romped through their remaining games and finished the season with another perfect record of 11 wins, 0 losses and 0 ties. Although the Aggie game was their season scoring high, they did score 107 points against Iowa and hammered Ohio State by a score of 86-0. Michigan finished the season with 644 points and only allowed 12 points. Yes, Michigan destroyed Michigan Agricultural, but they also blasted everybody else! They won their second straight conference championship and were named national champions for the second straight season. Fielding Yost was on a roll and some people wondered if Michigan would ever lose another game.
The remainder of the Aggies season did not go nearly as well. They were able to bounce back nicely form the Michigan loss and win two straight, but the second game was against the Michigan freshman team. They only defeated the Wolverine Frosh by a score of 2-0. The game does not count in the overall "series" results, but a win is a win, right? They would lose three of their last four games and finished the season with a record of 4 wins and 5 losses.
So, I do feel a little better after writing this post and I hope you do too! We didn't need as much offense as the Wolverines showed in 1902, but one more touchdown last night would have sealed the deal. Oh well, the best thing about being a Michigan Football fan is knowing that despite another loss, we are still the winningest team in college football history! Yes, the "leaders and best" will be back – starting next week at Indiana. Go Blue!
http://bentley.umich.edu/athdept/football/fbteam/1902fbt.htm
https://en.wikipedia.org/wiki/Albert_E._Herrnstein