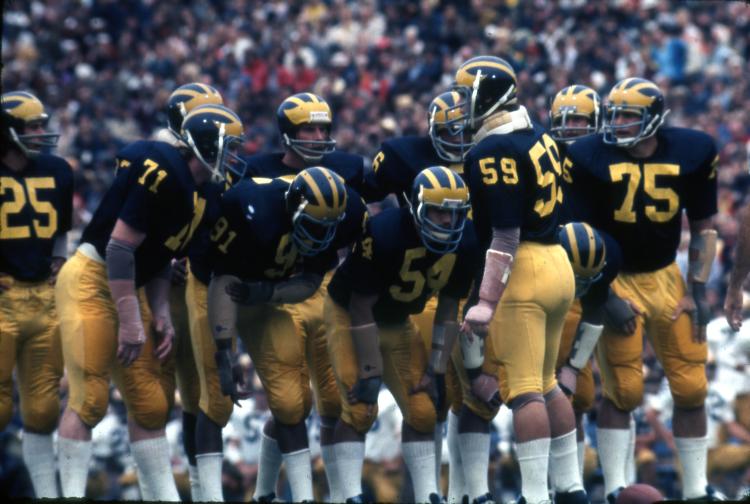 Michigan Wolverine Football History | Pigskin Pioneer Frank Decke Michigan Wolverine Football History | Uncategorized
October 5, 2020 - Happy Birthday MVP Steve Strinko
Today is a great day to wish happy birthday to a Michigan Football MVP named Steve Strinko. According to the Wikipedia article linked below, Steven Douglas Strinko was born on this day in Middletown, Ohio. He grew up in the Cleveland suburb on Monroe, Ohio. Steve grew up to become an excellent athlete and starred at Monroe High School. When it came time to take his game to the next level, he decided to head north and play for Bo Schembechler's Michigan Wolverines. Apparently, Steve's decision that greatly upset a man named Wayne Woodrow "Woody" Hayes. Woody didn't lose a lot of highly rated recruits to Michigan, but he lost a lot more once Bo arrived!
(Steve Strinko calls the defensive signals against Navy in 1973. Photos courtesy of the Bentley Historical Library at The University of Michigan.)
Part I. Wolverine of the Day: Steve Strinko
A Good Start in Ann Arbor in 1971-1972
Buckeye Steve Strinko arrived in "enemy territory" in 1971. Freshman didn't play in the Big House in those days, so he practiced hard and focused on impressing the coaches for his Sophomore season. Steve started one game in 1972. He played a lot and recorded 46 tackles (26 solo and 20 assists) in his first season on the varsity.
Two-Year Starter from 1973-1974
Steve Strinko earned the starting middle linebacker job in 1973 and he didn't relinquish it until he graduated in 1975. Strinko led the team in tackles with a record-setting 137 in his Junior season. He also led the defense in tackles in 1974.
The talented Strinko helped Michigan post an incredible record of 30 wins, 2 losses and 1 tie during his playing years. Yes, this was the time when the Wolverines did not qualify for a bowl game because of the Big Ten's stupid rules and Wayne Duke's decision to let the athletic directors "vote" for the Big Ten representative in the 1974 Rose Bowl.
Michigan Man and a Team MVP
Steve Strinko left Ann Arbor with his head held high. In addition to helping the Wolverines win a ton of games, he also played on three Big Ten Co-Champions from 1972 to 1974. Strinko lettered on three of Bo Schembechler's best teams. He also earned first team All-Big Ten Honors and second team All-American honors for his stellar play in 1974. He was the heart and soul of two of Bo's best defenses. His teammates voted him as the Most Valuable Player at the end of the 1974 season.
Still a Michigan Leader Today
Not too many Michigan Wolverines had a better career than Steve Strinko. After he graduated, Strinko was drafted by the Detroit Lions, but a lingering knee injury shut-down his professional career before it ever started. After football, Steve Strinko founded FAN, Incorporated a foundation for athletes who need help with their medical expenses after football.
Today is a great day to appreciate the outstanding career of Steve Strinko. He is one more reason that Michigan is the winningest program in the history of college football. Happy Birthday Steve Strinko and Go Blue!
https://en.wikipedia.org/wiki/Steve Strinko
Part II. October 5, 2020 National Day Calendar Update: