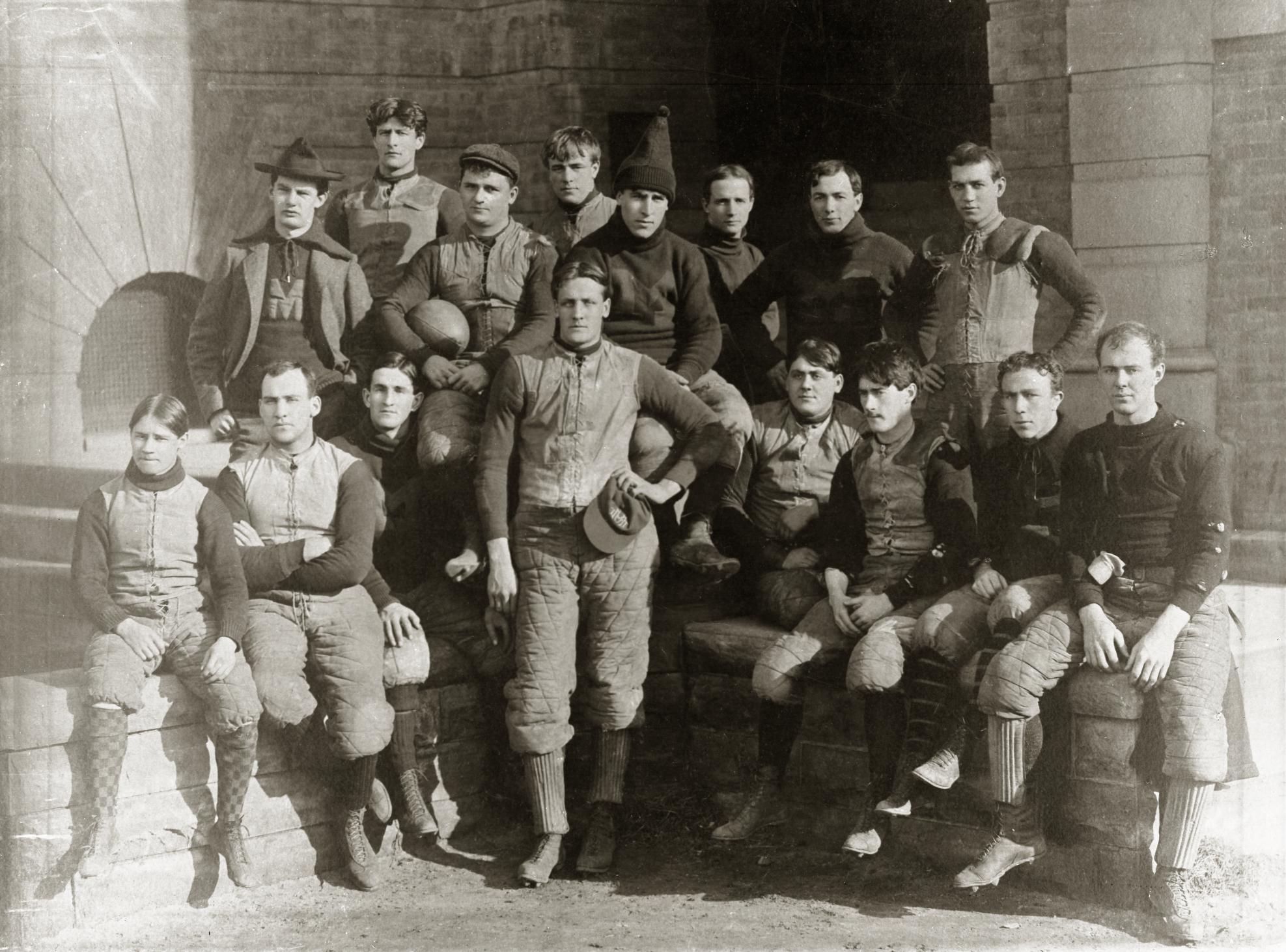 BigBlueToday | M Go Blue Football | M Go Blue Football History | Michigan Football Firsts | Michigan Football History | Michigan Wolverine Football History
October 3, 1896 – Michigan Football – First Game Against Michigan Normal
Today's post recalls an interesting date in Michigan Football History – the  anniversary of the first game against Michigan Normal College from Ypsilanti, Michigan. Although you really can't call it a rivalry, the Wolverines and Hurons (now Eagles) were two of the "closest" rivals in terms of proximity since the distance between the two schools is only six miles. At the time, a game between Michigan and Michigan Normal, seemed like a "normal" thing to do.
Coach William Ward prepared his first, and only, Michigan team for the season opener against their neighboring school. The game was played in Ann Arbor at Regent's Field. Michigan won the game by a score of 18-0. It was the 59th win in Michigan Football history. The Wolverines went on to record one of their best seasons (9-1-0) and earned a tie for second place (2-1-0) in their first season in the Western Conference.
The "neighbors" played again in 1897 and 1898. Michigan won both games. Michigan and Michigan Normal did not play again until the 1930s when they played in 1930 and 1931. Coach Harry Kipke led his team to two more wins, although the 1930 game was close (7-0). Then, there was a long drought of sixty-seven years before the two teams met in 1998. Michigan defeated Eastern Michigan by a score of 59-20. The Eagles and Wolverines did not play again until 2007 and Michigan won the game by eleven points (33-22). Michigan and EMU played in 2009 and 2011 and Michigan won both games. As of this writing, Michigan's record against their Ypsilanti neighbors is a perfect 10 wins and 0 losses.
There were a number of interesting Michigan Football "firsts" that took place on this day and during the 17th season of Wolverine Football. Let's take a closer look:
·         William Ward coached the team in 1896 for his first, and only season. Michigan finished with an outstanding record of 9 wins and 1 loss. It was only the second time that the Wolverines won 9 games in one season. (1894 was the first).
·         The first game of Ward's first season was also the first ever game against Michigan Normal (now Eastern Michigan University).  
·         Of course, it was Ward's first victory as Michigan's head coach.
·         The Wolverines also played "first" games that season against the following schools: Grand Rapids High School, Lehigh, Physician & Surgeons of Chicago, Wittenberg.
·         Michigan also played their first Western Conference game in history against Purdue on October 24, 1896. The Wolverines defeated the Boilermakers by a score of 16-0.
·         The last game of the season took place at Chicago and it was played indoors. So, it was Michigan's first indoor game. (The Wolverines lost to eventual conference champion Chicago by a score of 6-7.)
·         Finally, the Wolverines recorded eight shutouts in one season for the first time in Michigan Football history.
Yes, the 1896 season was an important time in Michigan Football history. Although the Michigan vs Eastern Michigan series is not a big rivalry game, it still plays an important role in the history of Michigan Football.
I hope you come back tomorrow to learn about another Michigan Wolverine football player who contributed to the great legacy that is Michigan Football history.
Isn't it great to be 4-0 in October? Go Blue!
http://bentley.umich.edu/athdept/football/fbteam/1896fbt.htm