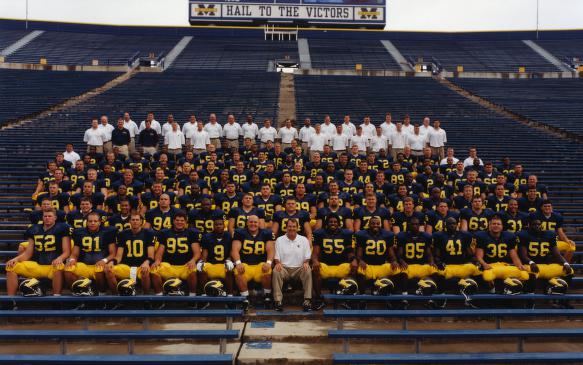 Michigan Football History | Michigan Wolverine Football History
October 23, 2020 – Happy Birthday Tommy Hendricks
Today's post celebrates the birthday of Michigan Man named Tommy Hendricks. Thomas Emmett Tommy Hendricks III came to Ann Arbor from Houston, Texas. Hendricks actually followed the footsteps of his father, Tom Hendricks, who lettered for Bennie Oosterbaan in the mid-1950s. However, once Tommy arrived on campus in 1996 he decided to forge his own Maize and Blue path.
(Note - Senior Tommy Hendricks (#41) is pictured with the 1999 Michigan Wolverine Football Team. He is third player from the right (#41) in the first row. Photo courtesy of the Bentley Historical Library at the University of Michigan.)
Part I. Wolverine of the Day: Tommy Hendricks
He Followed in His Father's Footsteps - Sort Of
Tom Hendricks wore uniform #42 when he played halfback at Michigan. Tommy wore jersey #41 and he played in the defensive backfield. So, both father and son were "backs" at Michigan, but they played on opposite sides of the ball.
Starter and National Champion in 1997
Unfortunately, Tommy Hendricks did not earn any starts on Lloyd Carr's 1996 team, but he played enough to earn a letter. He also caught the attention of his coaches who thought he could play a bigger role in 1997. Tommy played a big role on a great team in 1997. The young Sophomore was good enough to start twelve games at Free Safety in that historic season. Teams didn't go after Charles Woodson very often. So, they tried to "pick" on Hendricks, but it usually didn't work.
Hendricks Ended His Career as an All-Big Ten Performer
Tommy Hendricks continued to play at a very high level in 1998. He started thirteen games at Free Safety and became one of Michigan's most capable defenders. The coaches needed him to assume a different role in 1999. Hendricks moved to Strong Safety and earned twelve more starts. His stellar play earned him first team All-Big Ten recognition at the end of the 1999 season.
I am certain that Tommy admired what his father, Tom, did at Michigan. After three years as a starter, I am sure that Tom was very proud of what Tommy and his teammates were able to accomplish from 1997 to 1999. Tommy was on three teams that won thirty-two of thirty-seven games. They were even better in conference play − posting a record of 21-3-0! The Wolverines won the National Championship in 1997 as well as two Big Ten Championships (1997 and 1998).
Tommy Hendricks left Michigan with a very impressive resume. He was also good enough to play in the National Football League for five years. Congratulations to Tommy on his outstanding Michigan football career. He was a strong contributor to the Wolverine football program from 1996 to 1999. He is another excellent player who helped make Michigan football the winningest program in college football. Happy Birthday Tommy Hendricks and Go Blue!
You can learn more about Tommy Hendricks by checking out the links below.
http://bentley.umich.edu/athdept/football/fbteam/1999fbt.htm
https://en.wikipedia.org/wiki/Tommy_Hendricks
http://www.nfl.com/player/tommyhendricks/2504023/profile
http://recording.rrfedu.com/houston/tommy-hendricks/
Part II. October 23, 2020 National Day Calendar Update: