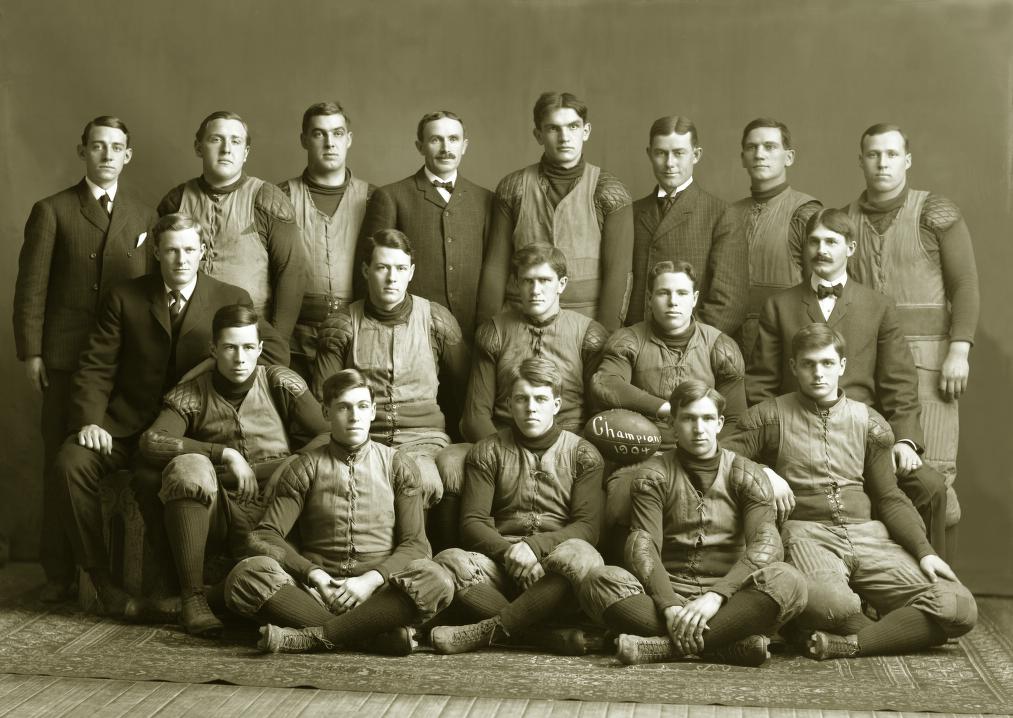 Go Blue Michigan Football History | Michigan Wolverine Football History
October 22, 2020 – Yost Destroyed West Virginia in 1904
Today's post recalls the day that Fielding Yost destroyed West Virginia. Yes, Fielding Harris Yost was a graduate of West Virginia University. Somehow, Michigan lured the Mountaineers to Ann Arbor for a football game. West Virginia officials should have been wary of their former football player who was famous for his "Point-A-Minute" teams.
Part I. Wolverine Football History: Yost Destroyed West Virginia
Background:
The Mountaineers arrived in in Ann Arbor on October 22, 1904 to play Yost's famous "Point-a-Minute" team that had not lost a game since Yost started coaching the Wolverines in 1901. Michigan's record under Yost was almost perfect at 39 wins, 0 losses and 1 tie. Even more impressive was the fact that his teams had outscored their opponents by a margin of 2,110 to 24! No, this is not a misprint. The numbers that Fielding H. Yost put on the board from 1901 to 1904 were astounding!
West Virginia may have been thinking that Coach Yost would take it easy on his former team, but that did not turn out to be the case. Michigan recorded their most dominating win in Wolverine football history against Yost's alma mater. Final Score – Michigan 130 and West Virginia 0. Yes, Yost destroyed West Virginia, but it could have been worse. Fortunately, Coach Yost cut his former team a break and ended the second half early.
A Record Setting Day:
Yes, the day that Yost destroyed West Virginia was a record-setting day with lots of Michigan Football "firsts." Check them out:
· This game was the first, and only, game ever played against West Virginia.
· Of course, it was Michigan's first, and only, win over the Mountaineers.
· Michigan scored a record-setting twenty-two touchdowns in the game. (They were only worth five points at that time so it could have been 152-0.)
· Michigan placekickers John "Big Joe" Curtis (19) and Paul Magoffin (1) kicked a record setting 20 points-after-touchdown.
· Curtis also set a single game scoring record with 49 points (six touchdowns and 19 extra points).
· Michigan's lopsided win extended their undefeated streak to 40 games. Another first for Fielding Yost and his players.
Another Perfect Season:
Yost's Wolverines won their final three games and finished the 1904 season with a record of 10 wins, 0 losses and 0 ties. Michigan won their third consecutive national championship and Western Conference title. They outscored their opponents by a margin of 567 to 22. According to the Wikipedia article linked below, the "point-a-minute" men actually had a scoring average of one point every 50.3 seconds. So they were even better than advertised in 1904.
So, Fielding Yost said that he loved "Meeshegan" and he backed up those words with the 130-0 win over his alma mater. After Yost destroyed West Virginia, he was probably kicked out of the West Virginia University Alumni Association for his dominant win over WVU. However, this impressive victory is still the biggest winning margin in Wolverine Football History. It also proved to everyone who knew Fielding Yost that he was a "Meeshegan Man" for life! Go Blue!
http://bentley.umich.edu/athdept/football/fbteam/1904fbt.htm
Part II. October 22, 2020 National Day Calendar Update: