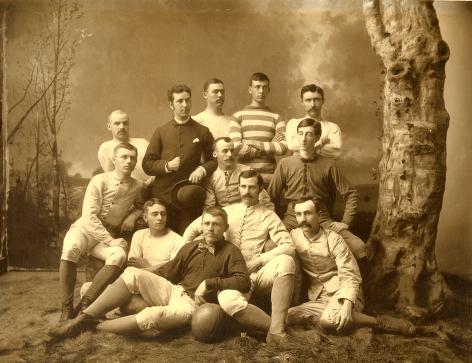 Michigan Football History | Michigan Wolverine Football History
October 20, 2020 – Rest in Peace George C. Schemm
Okay, today we jump way, way back in time to remember George C. Schemm who died on this day in 1904. George Schemm was another Michigan "Pigskin Pioneer" from Saginaw, Michigan. He played on Team #5 back in the early, early days of Michigan rugby/football.
(Note - George Schemm is shown in this 1884 photo of the Michigan football team. He is the first player on the left in the third row. He is leaning against the man in the black suit. Photo courtesy of the Bentley Historical Library at The University of Michigan.)
Part I. Wolverine of the Day: George C. Schemm
A Michigan "Mystery Man"
I could only find Schemm's name on one Michigan roster and that was in 1884. He was listed as a "forward" which was like a lineman in the early days. There is a good chance that he was a pretty tough guy to play that position on the team.
George Schemm started both games of the short two game season in 1884. Both games were played in the month of November for the first time in Michigan football history. It was also the first time that an entire season was played at "Home" at the Fairgrounds. Under first year captain, Horace G. Prettyman, the Wolverines finished the season with a perfect record of 2 wins, 0 losses and 0 ties. The first win was against Albion. Final score: Michigan 18 Albion 0. The second win was against a club team from the University of Chicago. Final score: Michigan 18 and Chicago Club 10.
So, Michigan, which had not had a winning season since 1880, was back on a winning track. The program record after the 1884 season stood at 6 wins, 6 losses and 1 tie. Michigan was not yet the "Champions of the West," but they were improving and the best was yet to come!
A Michigan Man to the End!
There isn't a lot of information about George Schemm. Apparently, he graduated from Michigan in 1885 and went on to earn a medical degree. He returned to Saginaw to practice medicine. Sadly, he died at the age of forty-two. Today is a good day for Wolverine fans to remember George C. Schemm on the anniversary of his death one hundred-fifteen years ago. May he rest in peace! Go Blue!
If you want to learn a little bit more about George C. Schemm and the 1884 Michigan football team go to the Wikipedia and Bentley Library links below.
https://en.wikipedia.org/wiki/1884_Michigan_Wolverines_football_team
http://bentley.umich.edu/athdept/football/fbteam/1884fbt.htm
Part II. October 20, 2020 National Day Calendar Update: