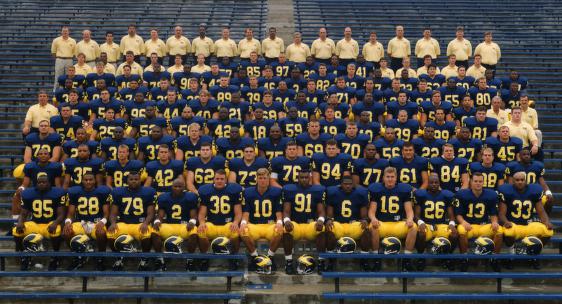 Michigan Wolverine Football History
October 19, 2020 – Happy Birthday Walter Smith
Today's post celebrates the birth of a former Michigan Wolverine co-captain named Walter Smith. Walter was born on this day in 1970. He was an outstanding player at Detroit McKenzie High School. Smith played both ways and earned all-league, all-city and all-area honors at the end of his senior year. Walter Smith was good enough to earn a scholarship offer from Gary Moeller and he was smart enough to take it!
Part I. Wolverine of the Day: Walter Smith
Walter Smith arrived in Ann Arbor in the summer of 1990. He was listed as a defensive back/wide receiver on the Michigan Football Roster in 1990. Smith used his red-shirt in his first season while he acclimated to college life and learned the Michigan system. Although he is not credited with any starts in 1991, Walter Smith got on the field and caught fifteen passes for one-hundred seven yards and one touchdown. He was credited with eight starts at wide receiver in 1992. His productivity increased to twenty-five catches that year which totaled three hundred-twenty yards and another touchdown. He also stepped up when needed at tailback. He had five carries during the season and racked up over one hundred yards (110). His rushing numbers worked out to an average of twenty-two yards per carry – wow!
The 1993 season was Walter Smith's best at Michigan. He started nine games at wide receiver and one game at running back. Smith had a solid year with career highs in receptions (31) and yardage (325). He also scored one touchdown. Walter's hustle and hard work helped him earn the respect of his coaches and his teammates. He was given the Robert P. Ufer Award at the end of the 1993 season for his enthusiasm and love for Michigan football.
Walter Smith received a greater honor at the start of the 1994 football season when he was named a co-captain (along with Steve Morrison). Being a Michigan captain is a huge achievement for any Wolverine. Maize and Blue captains are leaders who set the example on and off the field. They are always very good players who are the hardest workers on the team. Sadly, a serious leg injury early in the 1994 season put Smith on the sidelines for his last season at Michigan.
Walter Smith finished his Michigan career with a legacy of productivity and respect. He caught seventy-two balls for almost eight hundred yards (754) and three touchdowns. He also rushed the ball effectively when asked and also returned a punt and a kickoff for the Wolverines. Bottom line − Walter Smith did whatever his coaches needed him to do and probably did it with an enthusiasm unknown to mankind, or close to it! He was good enough to start eighteen games. Most importantly, he earned a lot of respect from his coaches and teammates and that is the best thing about Walter Smith!
Walter Smith played on four winning teams at Michigan. He, and his teammates, won two conference championships and three bowl games in four years. He stayed, he played and he left as a champion. Walter Smith was a Maize and Blue winner – that's for sure!
Thanks to Walter Smith for his leadership and contributions to Michigan football. His hard work and achievements contributed positively to the great Michigan Football legacy.Happy Birthday Walter Smith and Go Blue!
To read a little more about Walter Smith go to the links below:
http://www.sports-reference.com/cfb/players/walter-smith-1.html
https://en.wikipedia.org/wiki/1994_Michigan_Wolverines_football_team
Part II. October 19, 2020 National Day Calendar Update: