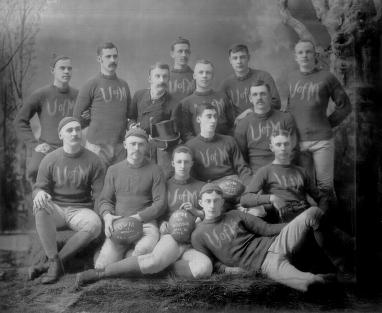 Michigan Wolverine Football History
October 16, 2020 – Looking Back Michigan vs Albion 1886
Part I. Michigan vs Albion 1886
Today's post takes a look at Michigan vs Albion in 1886. Albion? You mean that little school in west Michigan? Yes, that Albion. The early years of Michigan football were random to say the least. Schedules were made weeks and months, not years, ahead of the game date. Rules had to be agreed on before every game because they varied greatly from team to team. Michigan never played more than five games in the first six years and they did that only once (1883). The Wolverines played three games twice (1881 and 1885). They played two game seasons in 1879 and 1884. They had a one game season in 1880.
In 1885 the Wolverines played a club team from Windsor, Ontario in a home and home series. They won both games by scores of 10-0 in Windsor and 30-0 in Ann Arbor. The Wolverines finished the season with a win (42-0) over a team from Detroit called the Peninsulars.
So, a precedent had been set and team Captain Horace G. Prettyman looked to play another team twice in 1886. This time the games would be played against Albion College. Both teams agreed to a home and home format. It is unknown if Prettyman tried to arrange any more games for the 1886 season.
The Last of the "Two Game" Seasons - Michigan vs Albion 1886:
The entire 1886 football season was played against the same team (Albion) for the first and only time in Michigan football history. This was also the only Wolverine football season where the entire "season" was played in the month of October. It would also be the second and last two-game season in Michigan Football history.
The first game of the season was played in Albion on Saturday, October 16, 1886. Michigan won the first game in Albion by a score of 50-0.
Game two was played two weeks later in Ann Arbor on October 30, 1886. The Wolverines treated their guests from Albion a little nicer or maybe Albion just played better. Michigan still won by a score of 24-0.
If you think about it, the Wolverines probably practiced for a couple weeks and then played two games in three weeks. That is a very, very short season by today's standards.
One final point about the 1886 season was that it was the last season of the Captain Horace G. Prettyman Era. Horace Prettyman (pictured to the right) is the only man in Michigan football history to captain Wolverine football teams for three consecutive years (1884 to 1886). Prettyman's teams finished with a three-year record of 7 wins, 0 losses and 0 ties. He was/is the first and only Michigan captain/coach to have three straight winning seasons. 
As interest in college football continued to grow, so did the schedule. In 1890 the Wolverines played five games for the second time in two years. When professional coaches were hired in 1891 the schedule was expanded to nine games. It hit twelve games in 1892 and ten games in 1893. So, 1886 was the last of the two game seasons. Things are much different now, aren't they?                   
https://en.wikipedia.org/wiki/1886_Michigan_Wolverines_football_team
http://bentley.umich.edu/athdept/football/fbteam/1885fbt.htm
Part II. October 16, 2020 National Day Calendar Update: