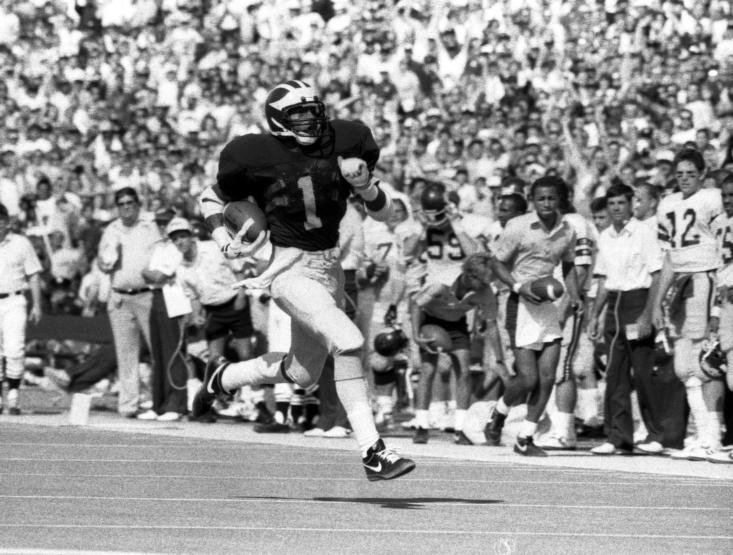 Go Blue Michigan Football | Michigan Wolverine Football History
October 15, 2020 – Happy Birthday Greg McMurtry
Today's post celebrates the birth of a Michigan Man named Greg McMurtry. According to the Wikipedia article linked below, Ryan Wendell "Greg" McMurtry was born on this day in Jackson, Mississippi. He came to Ann Arbor from Brockton, Massachusetts. McMurtry was an outstanding athlete at Brockton High School and turned down a professional baseball contract to play football for Michigan and Bo Schembechler.
(Note - Greg McMurtry (#1) is shown above scoring a touchdown against Long Beach State in 1987. Photo courtesy of the Bentley Historical Library at The University of Michigan.)
Part I. Wolverine of the Day: Greg McMurtry
He Wore #1 As a Highly Touted Freshman!
Greg McMurtry's arrival at Michigan in 1986 drew some immediate attention when he was given jersey #1 to wear as a freshman. The #1 jersey had not been worn by a Michigan receiver since the departure of Anthony Carter in 1982. Schembechler must have thought McMurtry was good enough to wear it and that is all that counted.
A couple of interesting notes about jersey #1 at Michigan. The first Wolverine to ever wear #1 at Michigan was an end turned offensive tackle named Angus Goetz. Mr. Goetz wore the jersey during the 1919 and 1920 season and helped make it famous by being a two-time Michigan captain as well as an All-American in 1920. Paul Goebel was actually the first true "receiver" to wear jersey #1 in 1922. Goebel was an excellent player who was an All-American in 1921 and a Michigan Captain in 1922. Another famous Michigan player named Harry Kipke also wore jersey #1 for his final season as a Michigan Captain in 1923. Kipke played halfback at Michigan, but seemed to wear the jersey well. Other players wore the #1 jersey over the years, but it really didn't become "famous" until Anthony Carter did his magic in that jersey from 1978 to 1981.
No Pressure, Right?
So, Greg McMurtry probably felt that he had some "big shoes" to fill with #1 on his back. No pressure, right? As it turned out, Greg McMurtry was not a three-time All-American, like Anthony Carter, but he was an excellent player on some very good Michigan Football teams. He worked his way into five starts as a freshman and just kept getting better every year. He played within Bo's offense, blocked when he was supposed to block and caught just about everything that the Michigan quarterbacks threw at him. McMurtry wasn't so good that he saw the ball eight to ten times a game. However, he was good enough to start thirty-nine games in four years and put up some solid numbers along the way.  Check out his numbers at Michigan:
| | | | | |
| --- | --- | --- | --- | --- |
| Season | Starts | Catches | Yards | Touchdowns |
| 1986 | 5 | 22 | 508 | 0 |
| 1987 | 12 | 21 | 474 | 5 |
| 1988 | 10 | 27 | 470 | 3 |
| 1989 | 12 | 41 | 711 | 7 |
| Totals | 39 | 111 | 2,163 | 15 |
McMurtry Left as a Champion, Just Like Bo Promised
The best thing about Greg McMurtry was that he fit perfectly into what Bo needed him to do. As you can see from the numbers above, he was consistent. However, he led the team in receiving stats in 1989 because that's what Bo and the team needed him to do.
Greg McMurtry's best game as a Wolverine receiver was against Minnesota in 1989. He caught seven balls that totaled one hundred sixty-five yards. Three of his catches went for touchdowns in a 49-15 Michigan win. He also had a pretty good game against Maryland in 1989. He made five catches for one-hundred twenty-six yards against the Terrapins and helped Michigan secure a 41-21 victory!
Greg McMurtry came in when Bo was the head coach at Michigan and he went out with the legendary Schembechler after the 1989 season. McMurtry was fortunate to play on some very good teams from 1986 to 1989. The Wolverines posted a record of 38 wins, 10 losses and 1 ties during that period. They won three Big Ten titles for Bo, including two in a row at the end (1988 and 1989). Greg McMurtry also played in two winning bowl games (1988 & 1989) where he had three catches, but no touchdowns.
I enjoyed watching Greg McMurtry play at Michigan − that's for sure! I hope that he has a great time on his special day today! Thank you, Greg, for your contributions to the great history of Michigan Football. You stayed, you played and you left as a champion! Congratulations and Go Blue!
Thanks to the Wolverine Historian for the nine-minute Greg McMurtry highlight tribute. To read more about Greg and his NFL career go to the Wikipedia article linked below:
https://en.wikipedia.org/wiki/Greg_McMurtry
Part II. October 15, 2020 National Day Calendar Update: