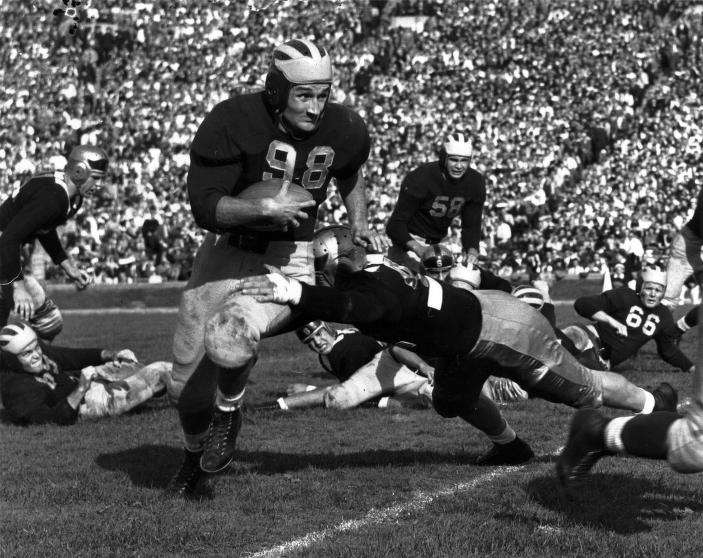 Michigan Football History | The Heisman and the Michigan Man
October 14, 2020 – The Heisman Showdown that Fizzled in 1939
Today's post will take a look back at The Heisman showdown that fizzled in 1939. Yes, we're going back eighty-one years to take a closer look at the 1939 Michigan football season. It was a very interesting fall for many reasons.
(Note - Tom Harmon (#98) put himself on the Heisman Trophy radar screen with an outstanding game against Iowa in 1939. He is shown above in a game against Michigan State in 1938. Notice both teams are wearing their own version of a "winged" helmet. Photo courtesy of the Bentley Historical Library at The University of Michigan.)
Part I. A Look Back at Michigan Football's First Heisman Showdown
Michigan Football in 1939
First, it was the second year of the Fritz Crisler Era at Michigan and expectations were high for Crisler's Wolverines. Michigan posted an excellent record of 6 wins 1 loss and 1 tie in Crisler's first year. Their 3-1-1 record in conference play was good enough for a second place tie. However, second place is usually not good enough at Michigan. Wolverine fans were hoping that Team #60 would win their first Big Ten Championship since 1933.
Second, this was also the fourth year of the Associated Press College Football Ranking system. After being unranked in 1936 and 1937, Michigan finished the season at number sixteen in 1938. However, neither Michigan or Iowa would be ranked prior to their matchup on October 14, 1939.
Third, another fairly new innovation in college football was the Heisman Trophy voting by the nation's sportswriters. It was too early to really know who the favorites were in 1939, but the game at Ann Arbor on the fourteenth day of October would give fans and sportswriters a look at two pretty good players.
A Really Big Conference Game and an Early Heisman Showdown
Nile Kinnick, coming off an injury riddled junior season in 1938, was an all-purpose halfback who could do it all on the football field. He could run and pass. Kinnick also punted and kicked extra points and field goals for the Hawkeyes. Junior Tom Harmon had an excellent sophomore season and everyone in Ann Arbor was expecting big things from the versatile Harmon. Like Kinnick, Harmon could run and pass. He was also slated to handle the punting and placekicking duties for the Wolverines in 1939. Yes, Kinnick and Harmon were outstanding players who were ready for a Heisman Showdown. Both teams were undefeated coming into the game in Michigan Stadium Iowa was 2-0-0 and Michigan was 1-0-0.
One Heisman Hopeful Shined, the Other One, Not So Much
Saturday, October 14, 1939 was a clear, dry day in Ann Arbor. It was almost a perfect fall day and certainly a great day for a Heisman showdown. Things started very well for Kinnick and his Hawkeyes when he connected on a 71-yard touchdown pass to Floyd Dean. Kinnick made the point-after-touchdown. Iowa was up by a score of 7-0. Unfortunately for Iowa and Kinnick that was as good as things would get that day.
Late in the first quarter, Nile Kinnick fumbled a Michigan punt and the Wolverines were in business. Harmon scored a few plays later on a 2-yard run and kicked the extra point. Yes, the score was even (7-7) and so was the Heisman showdown. However, things changed when Harmon took over in the second quarter. He rushed for two more touchdowns (2-yards and 8-yards) and made another extra point. The second touchdown was set up when Michigan blocked Kinnick's punt.  Michigan went into locker at room halftime with a lead of 20-7.
Harmon finished the scoring when he intercepted a Kinnick pass deep in Michigan territory. He went 95-yards to the end zone for a pick-six! This record setting interception is still the longest in Michigan football history – wow! Harmon kicked the extra point and the score was now 27-7.
Neither team scored in the fourth quarter and the game ended in Michigan's favor. Final score: Michigan/Harmon 27 Iowa/Kinnick 7. I am certain that this is the first, and only, game in Michigan football history where one player from each team scored all of his team's points.
Some More Interesting Things About the Heisman Showdown in 1939
There were two more amazing things about this game. First, only about twenty-eight thousand fans saw the game that showcased the two Heisman Trophy contenders from Iowa and Michigan. It was easily the smallest home crowd of the 1939 season. Second, there was probably no doubt in anyone's mind who was the best player on the field that day. Even the Iowa fans had to know that Thomas Dudley Harmon had just played the game of his life! Tom Harmon did it all that day. He rushed eighteen times for one-hundred and twelve yards. He ran for three touchdowns and kicked three extra points. He intercepted two Kinnick passes and returned one for a record-setting touchdown. So, the junior thoroughly outplayed the senior, but in the eyes of the Heisman voters, it was only one game. And, true to form, seniors mattered to the early Heisman voters.
The Rest of the 1939 Season
Michigan finished the season with a record of 6 wins and 2 losses. Both losses came in back-to-back games against Illinois and Minnesota. So, Michigan ended Big Ten play with a record of 3 wins and 2 losses which was only good enough for fourth place.
Iowa did not lose another game after they left Ann Arbor, but finished the season with a 7-7 tie against Northwestern. The Hawkeyes ended the season with a final record of 6 wins, 1 loss and 1 tie. They finished with a conference record of 4 wins, 1 loss and 1 tie which was good enough for second place.
Nile Kinninck bounced back from the Michigan game and went on to have a spectacular season. His stellar play was recognized by America's Heisman voting sportswriters. He received thirty-one percent of  the Heisman votes and went to New York to get his trophy. In addition to being the fifth man to win the Heisman Trophy, Kinnick won every major award in college football that year. He was also an All-American, All-Big Ten and the Most Valuable Player in the Big Ten for the 1939 season.
Junior Tom Harmon didn't have a bad season, but he finished second to Kinnick in the Heisman voting and in the Big Ten MVP voting as well. Like Kinnick, Harmon was an All-American and he also earned All-Big Honors. Tom Harmon led America, and the Big Ten Conference, in scoring and was a stellar performer for the Wolverines in almost every game. Illinois and Minnesota did figure out a way to stop him and the rest of the Michigan offense. So, that probably didn't help Harmon's Heisman resume in 1939.
Harmon Shined Again in 1940
In the end, Harmon saved his best for last. He had a spectacular senior year in 1940. He received fifty-one percent of the Heisman votes that year and became the sixth man (first Wolverine) to win the Heisman Trophy. Tom Harmon was certainly good enough to win the Heisman Trophy as a junior, but it wasn't meant to be. It would have been really cool if he was the first two-time winner and not some buckeye! Ugh!
Sadly, Nile Kinnick, a Navy pilot, lost his life in the service of his country on June 2, 1943. He was only twenty-four years old. Tom Harmon was also a pilot during World War II. Harmon survived two plane crashes and lived a long and successful life.
So, that's what happened when two future Heisman Trophy winners met on the field in 1939. Both men were great players. They each did amazing things on the football field and left a legacy of excellence for future Hawkeyes and Wolverines to emulate. May Nile Kinnick and Tom Harmon always Rest In Peace. 
To read more about these two legendary football players and the 1939 seasons for Iowa and Michigan check out the links below.
 https://en.wikipedia.org/wiki/1939_Michigan_Wolverines_football_team
https://en.wikipedia.org/wiki/Tom_Harmon
https://en.wikipedia.org/wiki/Nile_Kinnick
https://en.wikipedia.org/wiki/1939_Iowa_Hawkeyes_football_team
Part II. October 14, 2020 National Day Calendar Update: