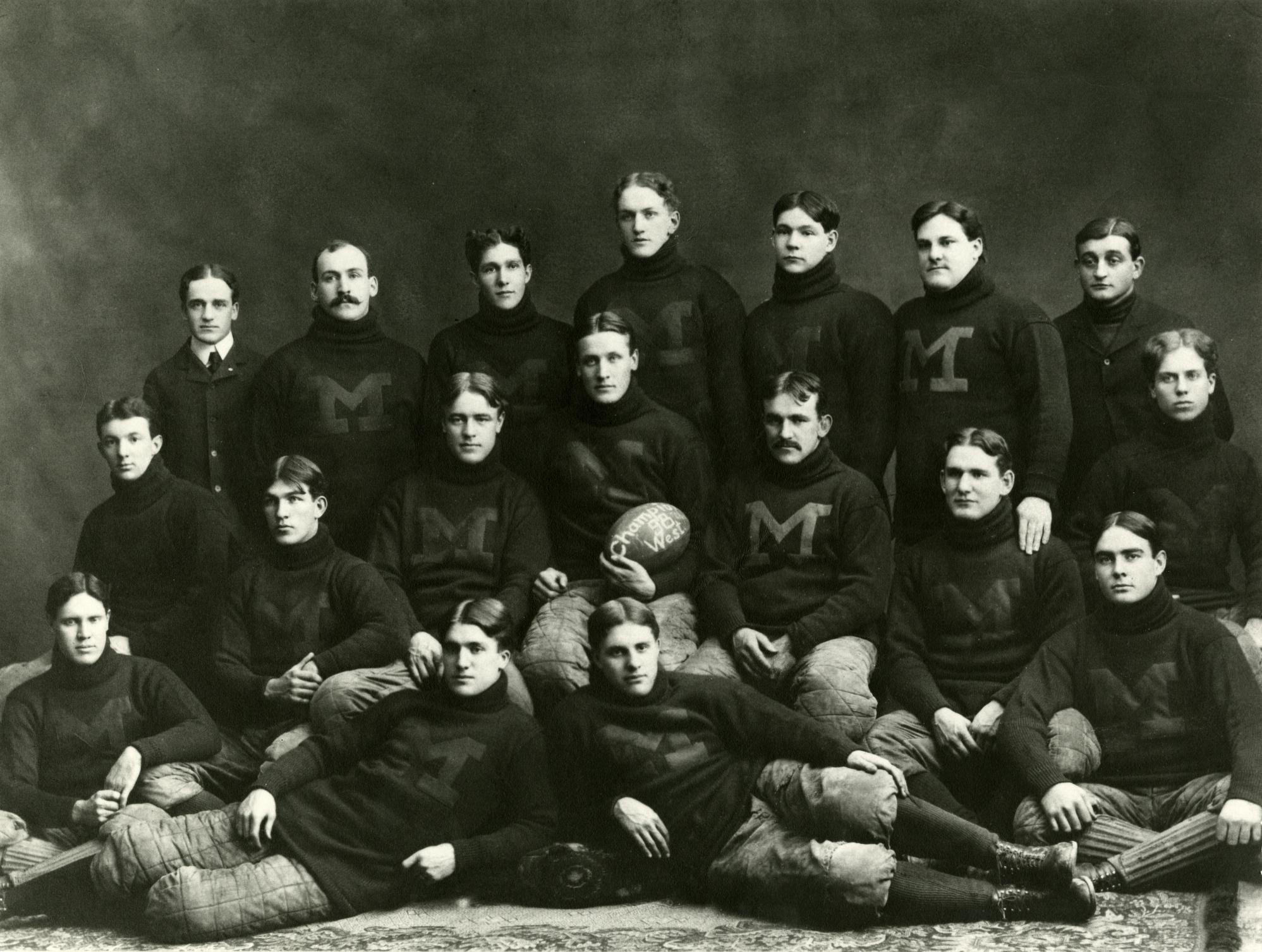 M Go Blue Football | M Go Blue Football History | Michigan Football Firsts | Michigan Football History | Michigan Wolverine Football History
October 13, 2020 – Michigan's First Championship Quarterback Charles Street
Today's blog post remembers the contributions of a Michigan Man named Charles Street. Mr. Charles E. Street died on this day in 1950. Mr. Street was born on April 6. 1873. It appears that he graduated from Williams College in 1898. He decided to go to Ann Arbor to do some graduate work and help the Wolverine Football team do something that needed to be done.
(Note - Charles E. Street is shown above with the 1898 Western Conference Champion Michigan Football team. He is seated in the middle row - first man on the left. Photo courtesy of the Bentley Historical Library at The University of Michigan.)
Part I. Wolverine of the Day: Charles Street
Go West Young Man!
It is unclear about the graduate program that Charles Street enrolled in when he arrived in Ann Arbor in the fall of 1898. However, it is much more clear that he knew a thing or two about football. Being from the East, he was aware of the game of football and probably played the game as well. He turned out to be a pretty good player on a very talented team. Street learned the Michigan "system" and earned starts in the last three games that year. His most important start was against the University of Chicago Maroons on Thursday, November 24, 1898. 
Game of the Century!
This game was the first "game of the century" in the west because it pitted two undefeated teams and two outstanding coaches. Amos Alonzo Stagg was building a legend in Chicago and upstart Michigan Man Gustave Ferbert was trying to build his resume in Ann Arbor.
Michigan Man Charles Street was the starting quarterback in the "first" most important game in Michigan Football history. He was ready for the challenge. Although, the game was a titanic defensive struggle, Street, and his teammates, held the advantage for the entire game.
Halfback Charles Widman was the star of the game along with Neil Snow who kicked two important points-after-touchdown. Widman scored on a five-yard run in the first half. After a Chicago field goal made it 6-5, Widman struck again. He bolted sixty-five yards and left Maroons all over the field before he crossed the goal line. Widman's dazzling run and Snow's extra point made the score 12-5 in favor of Michigan. The Maroons came back with a touchdown and an extra point, but that is all they could do against the inspired Michigan defense. Michigan held on to the narrow 12-11 lead and that's how the game ended.
Stagg's Maroons were the first team to win the conference championship in 1897. So, Michigan became the second team to win the Western Conference Championship. The Wolverines, and their fans, celebrated joyously after the game. And one student, Louis Elbel, took it one step further. Elbel was so inspired by Michigan' stunning victory that he penned "The Victor's. It would become Michigan's fight song and in the opinion of many, many, many people (including me) the greatest college fight song in college football history!
Mr. Charles E. Street and Some Important Michigan Football "Firsts"
So, Michigan Man Charles Street is connected to some very important Michigan Football "firsts." Check them out.
·         He led the Wolverines to the first Western Conference Championship in school history in 1898.
·         Street helped lead Michigan to five historic wins over first time rivals (Beloit, Illinois, Kenyon, Michigan Agricultural, and Western Reserve) in 1898.
·         Charles Street also lead Michigan to the first ten win season (10-0-0) in school history.
Charles Street Set the Standard for All Future Michigan Quarterbacks
So, Charles Street set the bar very high for all future Michigan quarterbacks. Thanks to Mr. Street, all Michigan quarterbacks would now be measured by three things:
1)      How productive was the offense?
2)      How many games did the team win?
3)      How many Conference Championships were won during his time at Michigan?
Of course, I don't think anyone wrote any of these "expectations" out for all future Michigan quarterbacks to read, but they were out there just the same. And, as we all know, those expectations are still there for guys named Speight, O'Korn and anyone else who takes charge of a Michigan offense.
Charles Street was a very capable quarterback for two years. He started nine games and  the Michigan offense scored in all twenty games that he played in. (Note-The Wolverines played to a 0-0 tie in the Alumni "exhibition" game, but it did not count as a season "game.")  The Wolverines posted a two-year record of 18 wins, 2 losses and 0 ties with quarterback Street on the roster (1898 & 1899). Finally, he and his teammates earned Michigan's first Western conference championship in 1898 and finished in a tie for 3rd place in 1899.
So, now you know why Charles E. Street is a historic figure in Michigan Football history. Today is a good day to remember his contributions and celebrate what he was able to do at Michigan. May Michigan Man Charles Street continue to rest in peace! Go Blue!
https://en.wikipedia.org/wiki/1898_Michigan_Wolverines_football_team
Part II. October 13, 2020 National Day Calendar Update: