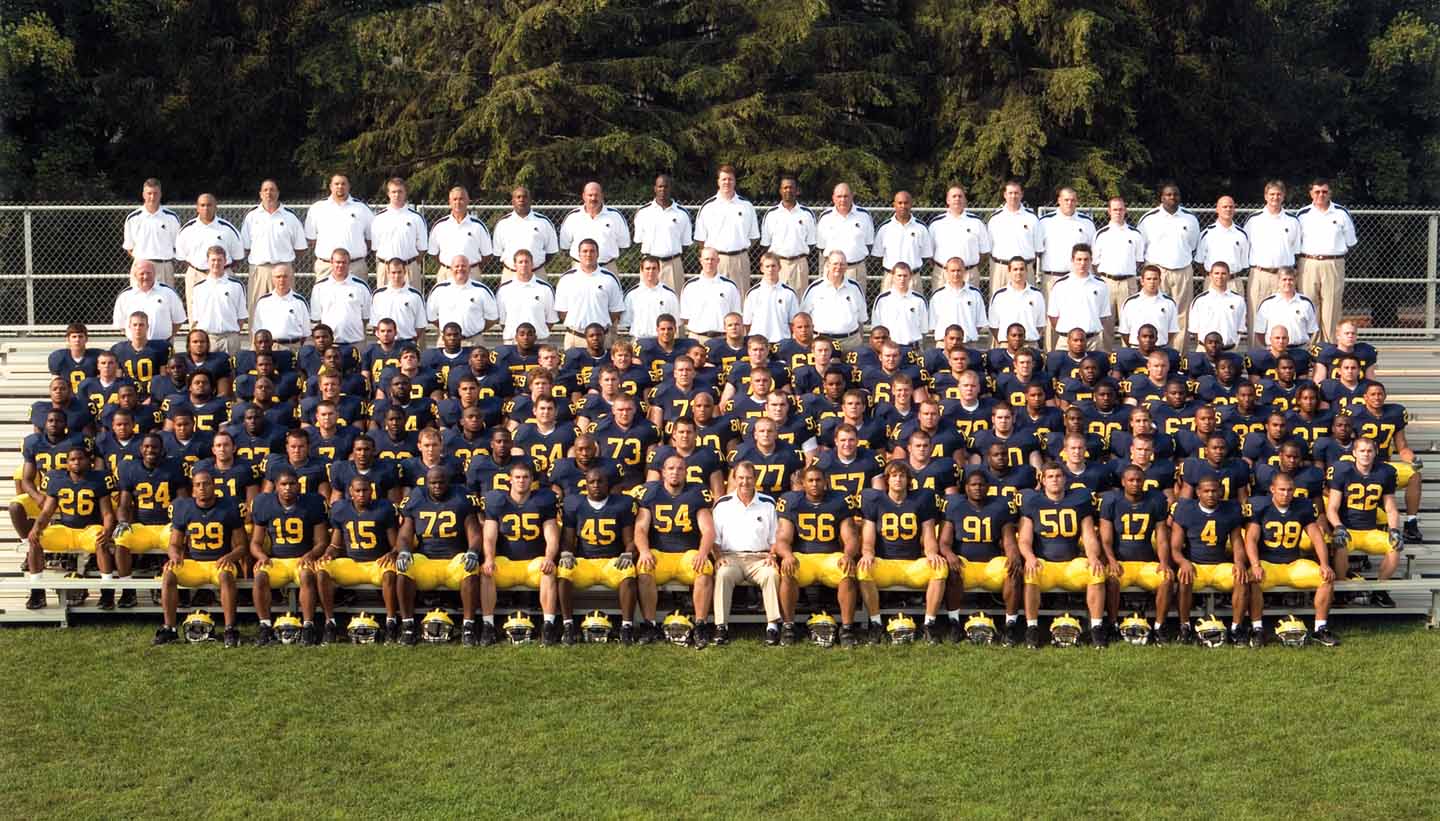 BigBlueToday | M Go Blue Football | M Go Blue Football History | Michigan Football Firsts | Michigan Football History | Michigan Wolverine Football History
October 12, 2017 – Happy Birthday Michigan Man Obi Oluigbo!
The purpose of today's post is to wish a Happy Birthday to Michigan Man Obi Oluigbo. Obianna "Nnambi "Obi" Oluigbo.  who was born on this day in Laurel, Maryland. In my opinion, Obi Oluigbo has one of the greatest names in Michigan Football history! It is just a great name! Obi was also a pretty good football player who came to play linebacker for Lloyd Carr's Wolverines in 2002.
John Falk, Michigan's long-time equipment manager, gave Obi Oluigbo uniform #81, which seemed like a high number for a linebacker. After about eighteen months in the program Lloyd Carr decided that Obi's best spot was fullback. So, Obi got a different number (#40) and a bigger playbook. As you can read in the interview linked below, Obi was not thrilled about making the switch from linebacker to fullback. He even thought about transferring. However, he gave it some more thought and decided that he would make it work.
Obi Oluigbo's physicality, and nose for the ball, made him an ideal special teams player. Eventually, it also made him a pretty good fullback. Once he learned the blocking schemes, he became a "linebacker" seeker and cleared plenty of holes for a guy named Mike Hart. He also protected Chad Henne from lots of snarling defensive lineman and lurking linebackers!
Obi saw action in thirty-five Michigan games. Most of that playing time took place from 2004 to 2006. He became a marked man on special teams because he was a very disruptive player who could strip runners of the ball and tackle in the open field. Michigan fans came to love his aggressive play and love to cheer his first name "Obi," "Obi," when he made a big play on special teams.
By the time he was a fifth-year senior in 2006, Michigan Man Obi Oluigbo became Carr's  starting fullback. Of course, he continued to star on special teams. Obi didn't carry the ball much and only caught a few passes, but his teammates and the Michigan fans loved him. At the end of his career he was recognized by the Michigan coaches as the "Outstanding Offensive Contributor" Award winner for 2006.
Michigan Man Obi Oluigbo is also connected to some interesting Wolverine Football "firsts."
·         Obi Oluigbo played in the first ever games against San Diego State and Texas in 2004. The Wolverines beat the Aztecs 24-21, but lost to the Longhorns 37-38.
·         Oluigbo also played in the first game ever against Northern Illinois in 2005. Michigan defeated the Huskies 33-17 in that debut game.
·         Obi Oluigbo played in the first ever game against Ball State in 2006. The Wolverine footballers beat Brady Hoke's team by a score of 34-26.  
·         Oluigbo also played in the first ever overtime game against Michigan State in 2005 – a 45-37 victory in 3 overtimes. In 2005, he helped defeat Sparty in overtime for the second straight season (34-31). This is the first, and only, time that Michigan won back-to-back games against MSU in overtime.
Michigan Man Oli Oluigbo played on some very good Michigan teams (2003, 2004, 2006) and one that did not live up to expectations (2005). However, he left Ann Arbor with his head held high because he earned three varsity letters and two Big Ten Championship rings (2003, 2004).
Obi Oluigbo, wherever you are, have a great time on your special day! Thank you for your contributions to Michigan Football. Go Blue!
Check out the links below to read more about this Michigan Man with the great name!
http://www.sports-reference.com/cfb/players/obi-oluigbo-1/gamelog/
http://thosewhostaywillbechampions.blogspot.com/2006/09/obi-oluigbo-made-huge-play-on-kickoff.html