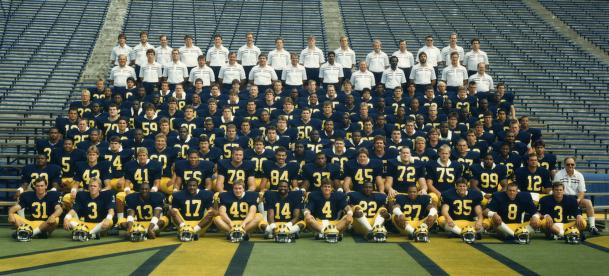 Michigan Wolverine Football History
October 11, 2020 – Happy Birthday Pat Moons
Pat Moons may be one of the most patient kickers ever to boot a football at Michigan. Moons came to Michigan from Coral Gables, Florida in 1982 to kick for Bo Schembechler. He was a big star in high school. So, he probably figured he would be a big star in college. WRONG! Like so many before him, the rude awakening about Michigan football hit him like a ton of bricks. Everybody on the roster was a "star" on his high school team! Now, Pat Moons would have to prove himself to Bo and the rest of the coaches all over again. Welcome to big time college football!
(Note - Fifth year senior Pat Moons was a member of the 1986 Michigan Football that is shown above. Photo courtesy of the Bentley Historical Library at The University of Michigan.)
Part I. Wolverine of the Day: Pat Moons
A Solid Kicker, But Unlucky
Pat Moons had the misfortune to arrive and compete against one of Bo's best kickers – ever! Senior Ali-Haji-Sheikh had the placekicking duties covered during the 1982 season.  Bob Bergeron waited his turn and kept Moons on the bench during the 1983 and 1984 seasons. Pat Moons was probably looking forward to the 1985 season as "his year." Unfortunately, a freshman named Mike Gillette (who was listed as a QB/Punter on the 1985 Roster) won the job and Moons had to watch someone else kick for the Wolverines – again!
Moons hung in there and waited for his opportunity to come. Pat took over the placekicking duties in the final game of the regular season against Ohio State! He did well against the Buckeyes and got the start in the 1986 Fiesta Bowl. Bo suspended Gillette for violating team rules in late December 1985, so Moons was the guy to kick in the bowl game against Nebraska on January 1, 1986. Pat Moons came through for Bo and for Michigan in this critical game. He opened the scoring in this important game by kicking a 42-yard field goal to put the Wolverines up by a score of 3-0. Pat also kicked a 19-yarder that made the score 20-17 in the third quarter. He kicked all three extra points and totaled nine of Michigan's twenty-seven points in the game. Final score: Michigan 27 Nebraska 23. Whew! That was a close one!
From Starting Kicker to Second String in 1986
Pat Moons was Michigan's starting kicker for the 1986 regular season. He kicked at least one field goal in each of Michigan's first five games and had two in the games against Florida State and Wisconsin. The Wolverines were 5-0 when Bo decided to let Mike Gillette out of the Schembechler "Dog House" for the Iowa game. Unfortunately, Moons was back on the sidelines.
Moons put up some pretty good numbers in the games that he played. He was perfect on all of his point-after-touchdown kicks (26/26). He made two-thirds of his field goal attempts (12/18) and finished with sixty-two career points. Bo never promised Pat Moons, or anyone else, that he would be a starter at Michigan. He always said his players would have a chance to compete. Of course, Bo also promised that "Those who stay will become champions."
Pat Moons left Michigan as a Fiesta Bowl champion and a Big Ten Champion. He did everything that Bo, and the other coaches, asked of him. So, wherever you are Pat Moons, thanks for your contributions to the winningest football program in college football history! I hope you take the time to enjoy this special day in your life. Go Blue!
You can read more about Michigan Man Pat Moons by going to the links below.
http://www.sports-reference.com/cfb/players/pat-moons-1.html
http://articles.sun-sentinel.com/1986-09-24/sports/8602270259_1_pat-moons-michigan-spring-game
Part II. October 11, 2020 National Day Calendar Update: