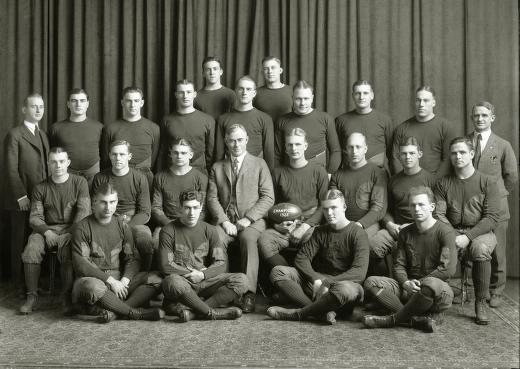 Michigan Wolverine Football History
November 29, 2016: Rest in Peace Cappy Cappon!
Today's post celebrates the life of Cappy Cappon who died on this date in 1961. Franklin C. Cappon was born in Holland, Michigan on October 17, 1900. He was an outstanding athlete in Holland during his high school years. Since he excelled in football and basketball (All-State in both sports) in high school, he expected to do the same in college. And, that's exactly what he did!
Part I. Wolverine of the Day: Cappy Cappon
Cappy Cappon started his collegiate career in 1919 at Phillips University where he was recruited by his brother-in-law, former Michigan All-American, John Maulbetsch. After one year at Phillips, he returned to his home state and enrolled at Michigan in the fall of 1920.
Mr. Versatility!
Frank Cappon's one year of college football experience allowed him to fit right in at Michigan. He started every game in 1920 at left end. The Wolverines went 5-2-0 that season, but finished sixth in the Big Ten Conference. He also found time to play basketball that season so he was a pretty busy young man!
Cappy Cappon proved his versatility and exemplified the concept of "team player" in 1921. He started all seven games on a team that won 5, lost 1 and tied 1. What was most interesting about Cappon is that he started four games at left tackle, one at left halfback, and two more at right halfback. Man, this guy really knew the playbook and Coach Yost loved it! After the football season ended, the talented Cappon was back on the hardwood where he became a starting guard for the Michigan Basketball team.
A Special Season in 1922
The 1992 season was very good for Cappy Cappon and for Michigan. He started seven games at fullback because that's where Coach Yost needed him. The Wolverines went undefeated (6-0-1) and won the conference title with a perfect record of 4 wins, 0 losses and 0 ties. Once again, Franklin C. Cappon took to the hardwoods after football season end. He finished his athletic career as the starting guard on the Michigan basketball team.
In addition to being a Big Ten Champion, Cappy Cappon also participated in two very special games during the 1922 season.
First, Cappon traveled to Nashville with the rest of the team to play in the dedication game of Vanderbilt's Dudley Field on October 14, 1922. Vanderbilt was coached by former Michigan player Dan McGugin who also happened to be Fielding Yost's brother-in-law. The game ended in a 0-0 tie which was a good way to keep peace in the family!
Second, Cappy Cappon and the Wolverines went to Columbus, Ohio on October 21, 1922 to play in the dedication of Ohio Stadium. Michigan won that game by a score of 19-0 as Harry Kipke and Paul Goebel put on a show for the Buckeye fans. Man we could have used those guys on Saturday!
Frank Cappon earned second and third team recognition from numerous football experts during his career. The problem was that they were for multiple positions. Nobody could agree on Cappon's best position, but they all knew he could play!
A Remarkable Career
So, Franklin C. Cappon had a superb career in football and basketball at Michigan. He may be the only player in the history of Michigan football to start at least one game at five different positions. That is very impressive! Despite all his athletic endeavors, he found time to excel in the classroom and was awarded the Western Conference Medal. This was in recognition of his all-around excellence as a student-athlete at Michigan. Once again, very impressive!
Cappy Cappon went on to a career in coaching. He tried his hand at football, but basketball became his greatest passion. He was hired by former Michigan player and coach, Tad Wieman, to be the head basketball coach at Princeton in 1938. Cappon remained in that position (except for the war years 1943-1946 when he served in the U.S. Navy) until his death in 1961.
Today is definitely a good day to celebrate the life of an outstanding Michigan Man named Franklin C. "Cappy" Cappon. He contributed greatly to the history of the winningest program in college football and then went on to a Hall-of-Fame coaching career on the hardwood. May Cappy Cappon always rest in peace! Go Blue!
To read more about the life and times of Franklin C. "Cappy" Cappon go the excellent Wikipedia article linked below.
https://en.wikipedia.org/wiki/Franklin_Cappon
Part II. Michigan Football Trivia Question – November 28, 2018
Who was the first Michigan football coach to be named Coach of the Year by the American Football Coaches Association?
Part II. Michigan Football Trivia Answer – November 28, 2018
Fritz Crisler was the first Michigan football coach to earn Coach of the Year honors from the American Football Coaches Association. He earned this prestigious award after leading his Wolverines to a perfect record of 10 wins and 0 losses and a share of the National Championship.
Part III. Michigan Football Trivia Question – November 29, 2018
When did Michigan become the first, and only, school to have two coaches earn back-to-back Coach of the Year Awards from the American Football Coaches Association?