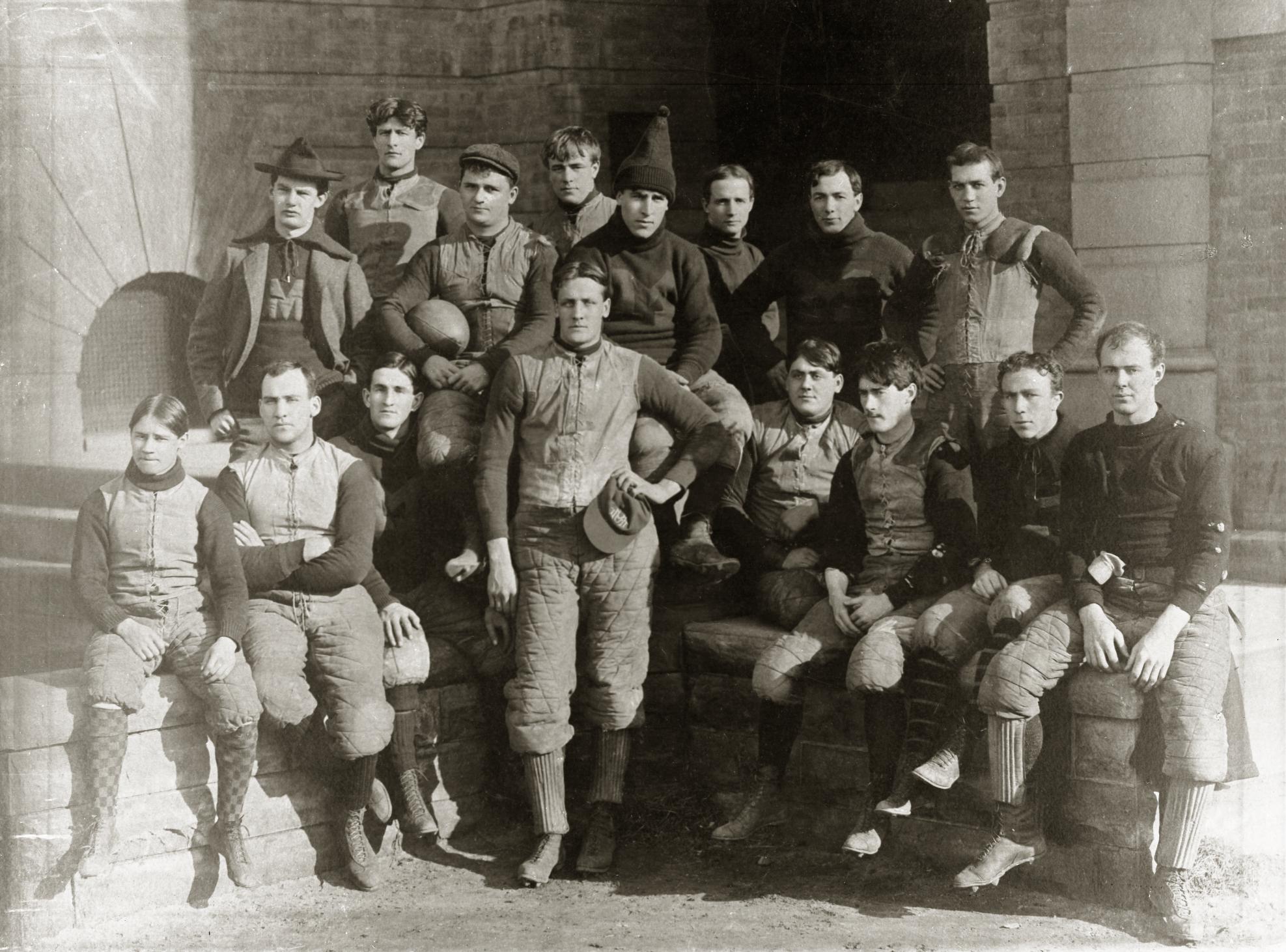 Michigan Football Firsts | Michigan Wolverine Football History
November 26, 2018 Michigan's First Indoor game in 1896
November 26, 1896 was a memorable day in Michigan Football History because it was the day of Michigan's first indoor game. Michigan's first indoor game was also the first indoor game in the history of college football.
Part I. Michigan Wolverine Football History: Michigan's First Indoor Game in 1896
Coach William Ward took his undefeated Michigan Wolverines to Chicago for a Thanksgiving showdown for the Western Conference Championship. The game was played on Thursday, November 26, 1896 in the Chicago Coliseum in front of a listed crowd of 9,000 people.
Michigan had a record of 9-0-0. That record included two wins and no losses against conference foes (Minnesota and Purdue). Amos Alanzo Stagg also had a pretty good team that year. In fact, Chicago had a record of 14 wins, 2 losses, and 1 tie going into this historic game. However, the Maroons only had a record of 2 wins and 2 losses in conference play. If the Wolverines defeated Chicago, they would win the conference since Wisconsin had a tie on their conference record.
Unfortunately, Ward's team came up short in Michigan's first indoor game. It was a very close game, but the Wolverines came up short: Final score: Michigan 6 and Chicago 7. Wisconsin won their final game and ended the conference season with a record of 2 wins, 0 losses and 1 tie. So, a loss at Chicago in Michigan's first indoor game gave the Wolverines a second-place finish in the first year of Western Conference competition.
Yes, Michigan ended the 1896 season with a final record of 9 wins and 1 loss. The Wolverines finished with a final record of 2-1-0 in conference play. The good news was that it was also the first season that a Michigan football team won nine games in a single season.
http://bentley.umich.edu/athdept/football/fbteam/1896fbt.htm
Part II. Michigan Football Trivia Question – November 25, 2018
After the Rose Bowl, what bowl game has Michigan played in the most?
Part II. Michigan Football Trivia Answer – November 25, 2018
Michigan has played twenty times in the Rose Bowl. After that, the Outback Bowl is next in line. The Wolverines have played four times in this game (1997, 2003, 2013, and 2017). Unfortunately, the Outback Bowl has not been kind to Michigan since their record is 1 win and 3 losses so far. Next week, we will find out what bowl game we will play in and who we will play against.
Part III. Michigan Football Trivia Question – November 26, 2018
Who is the only Big Ten coach to have a winning record against Bo Schembechler from 1969 to 1989?