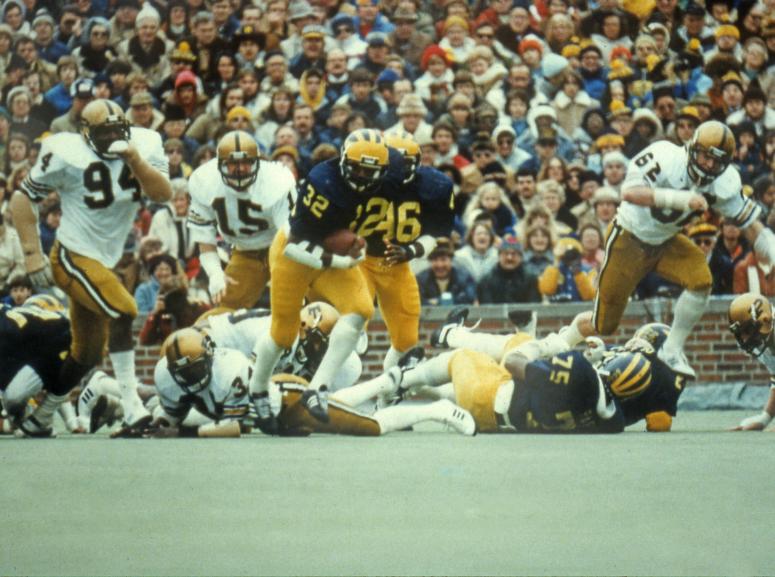 Michigan Wolverine Football History
May 20, 2020 – Happy Birthday Stanley J. Edwards
The purpose of today's post is to wish a very Happy Birthday to a Wolverine named Stanley J. Edwards. According to the Wikipedia article linked below, Stanley J. "Stan" Edwards was born on this day in Detroit, Michigan. Stan grew up in Detroit and attended Kettering High School. He became a four-sport star, but football was his best. Bo Schembechler offered young Edwards a scholarship to play for Michigan and Edwards was smart enough to take it!
(Note - Stanley J. Edwards (#32) is running free against Purdue in 1979. Photo courtesy of the Bentley Historical Library at The University of Michigan.)
Part I. Wolverine of the Day: Stanley J. Edwards
A Strong Start in Ann Arbor
Stanley J. Edwards arrived at Michigan in 1977 and he did something that a lot of running backs couldn't do for Bo Schembechler. He played as a freshman and played very well. He averaged 4.7 yards per carry and scored one touchdown. Stan started the 1978 Rose Bowl and ran for 74-yards on 15 carries which averaged out to 4.9 yards per carry. Unfortunately, it wasn't enough since Michigan lost another bowl game by the score of 20-27. Bo liked the hard-running Edwards and probably had BIG plans for him in 1978.
Slowed by Injury in 1978
Unfortunately, things don't always go according to plan in life, or in football. Stan Edwards suffered a serious ankle injury prior to the 1978 season and he missed the entire campaign. The good news was that Edwards returned to action in 1979 and started the first seven games of the season at tailback. As luck (bad luck) would have it, Stan was injured in the Illinois game and only had seven carries for the rest of the season. Stan was on track for a really big year in 1979, but he still totaled 633-yards and continued to average 4.7 yards per carry. He also scored 4 touchdowns before his injury. Michigan ended the season with a record of 8 wins and 4 losses, but nobody was happy about it, especially Bo!
Back on the Field in 1980, But At a New Position
Stanley J. Edwards came back in 1980 to have a healthy season and help Michigan win more games. As it turned out Bo had a plan to achieve both objectives. He switched Edwards to fullback and Stan went on to gain more yards in his third season (901) than he had earned in the first two (859). Yes, it was a breakout year for Edwards and he earned second team All-Big Ten honors for his efforts. Michigan finished the year with a record of 10 wins and 2 losses. More importantly, they won the Big Ten title with a perfect record of 8-0-0. Of course, the best news was that Stan Edwards, and his teammates, gave Bo his first bowl win with a victory over Washington 23-6.
A Leader On and Off the Field in 1981
Bo Schembechler knew one thing for sure in 1981. He had one of the best fullbacks in the country in his backfield. Stan Edwards earned Honorable Mention All-American honors in 1980 and he was back to finish his outstanding Michigan career. Edwards performed well during Spring Drills and earned the Meyer Morton Award for showing the most development and promise for the upcoming season. Although his productivity went down in his final season, his importance to the team did not. He continued to run hard when called upon (446-yards), caught passes when needed (7 receptions for 2 TDs) and averaged 15.3 yards on kickoff returns. More importantly, he was a punishing lead blocker for Butch Woolfolk who earned All-American and All-Conference honors in 1981. Edwards earned second team All-Big Ten honors in 1981.
Stan Edwards - Michigan Man!
Stan Edwards had an outstanding career at Michigan, He earned four varsity letters, helped win 37-games, played on three Big Ten Championship teams and earned the respect of his coaches and teammates
Yes, Stanley J. Edwards had quite a career at Michigan. He did just about everything a Wolverine can do on the football field. He went to a successful six-year career in the National Football League. Congratulations to Stanley J. Edwards on his stellar Wolverine career. Please take a moment to appreciate his contributions to the great history of Michigan Football (including his son Braylon!). I hope that Stanley J. Edwards has a very happy birthday today! Go Blue!
To read more information about Stan Edwards go to the following links:
https://en.wikipedia.org/wiki/Stan_Edwards
http://bentley.umich.edu/athdept/football/fbteam/1981fbt.htm
Part II. May 20, 2020 National Day Calendar