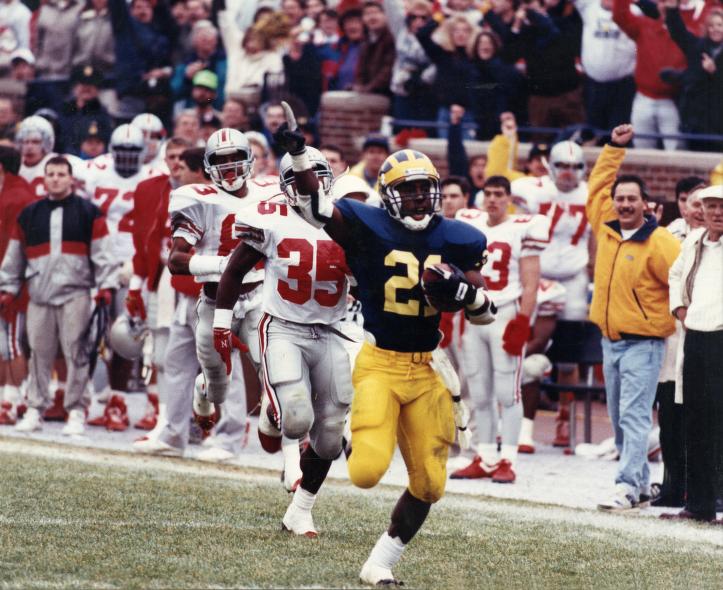 BigBlueToday | M Go Blue Football | M Go Blue Football History | Michigan Football Firsts | Michigan Football History | Michigan Wolverine Football History
May 15, 2020 – Happy Birthday Desmond Howard!
Today's post celebrates the birthday of Michigan Man Desmond Howard. Desmond Kevin Howard came to Ann Arbor from Cleveland, Ohio. He was an All-State performer at running back, but he was undersized. Bo recruited the super-talented Howard to Michigan, but probably wasn't sure where he would play. 
(Note - Desmond Howard (#21) is shown above as he nears the end of his 93-yard punt return against Ohio State that all but sealed the 1991 Heisman Trophy for the Michigan star. He finished his illustrious career with a bucket-full of records and a lifetime of highlight plays. Photo courtesy of the Bentley Historical Library at The University of Michigan.)
Part I. Wolverine of the Day: Desmond Howard
A Slow Start in Ann Arbor
Desmond Howard enrolled at Michigan in 1988. He is listed as a defensive back on the 1988 Michigan Football roster. Howard was red-shirted in 1988, so, he didn't see any action that season.  
Howard's first year on the varsity was not spectacular. He isn't credited with any starts in 1989, but he did earn his first, and only, letter playing for Bo Schembechler. He rushed the ball 5 times for 11-net yards which averaged out to 2.2 yards per carry. Definitely not good enough to be Bo's starting tailback. Fortunately, Desmond put up some good numbers as a receiver (9 catches for 136 yards and 2 touchdowns) and as a punt returner (13 returns for 295 yards which averaged out to 22.7 yards per touch.). So, the coaches saw some good things from Desmond Howard in 1989, but they just weren't sure how he would continue to develop. 
Moeller's "Secret" Weapon in 1990?
Gary Moeller's first year as head coach (1990) was Desmond Howard's second as a player. Gary Moeller must have spent a lot of time in the off-season figuring out what to do with the speedy Howard. Moeller decided to use him as a flanker/receiver on offense and expanded his role on special teams by making him a kick and a punt returner. He wanted Howard to touch the ball a lot in every game. It turned out to be a great decision by Coach Moeller.  
Coach Mo Launches a "Speed in Space" Playmaker in 1990
Desmond Howard exploded onto the scene in 1990 with a breakout season. He got everyone's attention with 63-catches for 1,025 yards and 11 touchdowns. Howard increased his kickoff return average from 22-yards in 1989 to almost thirty-yards (29.6) in 1990. His best effort was a 95-yard touchdown against Michigan State. Desmond also returned 6 punts for 55-yards which averaged out to 9.2 yards per return. He had a busy and very productive season in 1990 and helped Michigan to a record of 9 wins and 3 losses and a third-consecutive Big Ten championship. So, Howard earned his second varsity letter and had the coaches wondering if he could improve on his numbers in 1991. 
A Legendary Season in 1991
Well, as it turned out, Desmond Howard exceeded everyone's expectations in 1991. He was very good in 1990, but he was flat-out SPECTACULAR in what turned out to be his final season as a Wolverine. Desmond Howard set a ton of NCAA and Michigan Football records in his last year.
Desmond Howard's Best Michigan Football "Firsts"
You can read all about Howard's record-setting career them in the attached Wikipedia article. However, I will highlight some of the "firsts" that Desmond put on the board in 1991:  
·         Desmond Howard became the first receiver in Michigan Football History to post eight 100-yard receiving games for a career in 1990 and 1991.
·         Howard is the first, and only, man to catch 19-touchdown passes in one season (1991).
·         Desmond Howard was the first man to catch a pass in 24-consecutive games from 1990 to 1991.
·         Howard is the first, and only, man to catch a touchdown pass in 13-consecutive games from 1990 to 1991.
·         Desmond Howard became the first man in NCAA football history to score 23 touchdowns in one season in 1991.
·         Howard became the first man to score at least one touchdown as a runner, receiver, kickoff returner and punt returner in 1991.  
A HUGE Wolverine Legacy
Desmond played an important role on some outstanding Michigan football teams. He was a vital part of three Big Ten Championship teams. Of course, I could go on, and on, about the accomplishments of Desmond Kevin Howard, but I will cut it off at this point. You know the man is a Michigan Legend!
I hope that Desmond has a great day celebrating his birthday today, Happy Birthday Desmond Kevin Howard and thanks for your contributions to the great history of Michigan Football!  Go Blue! Check out the highlight video below to see what "Speed in Space" looks like in Ann Arbor.
More to Read
Click the link below to learn more about the life and times of Desmond Howard and the 1991 Michigan football team. 
https://en.wikipedia.org/wiki/Desmond_Howard
http://bentley.umich.edu/athdept/football/fbteam/1991fbt.htm
Part II. May 15, 2020 National Day Calendar Update