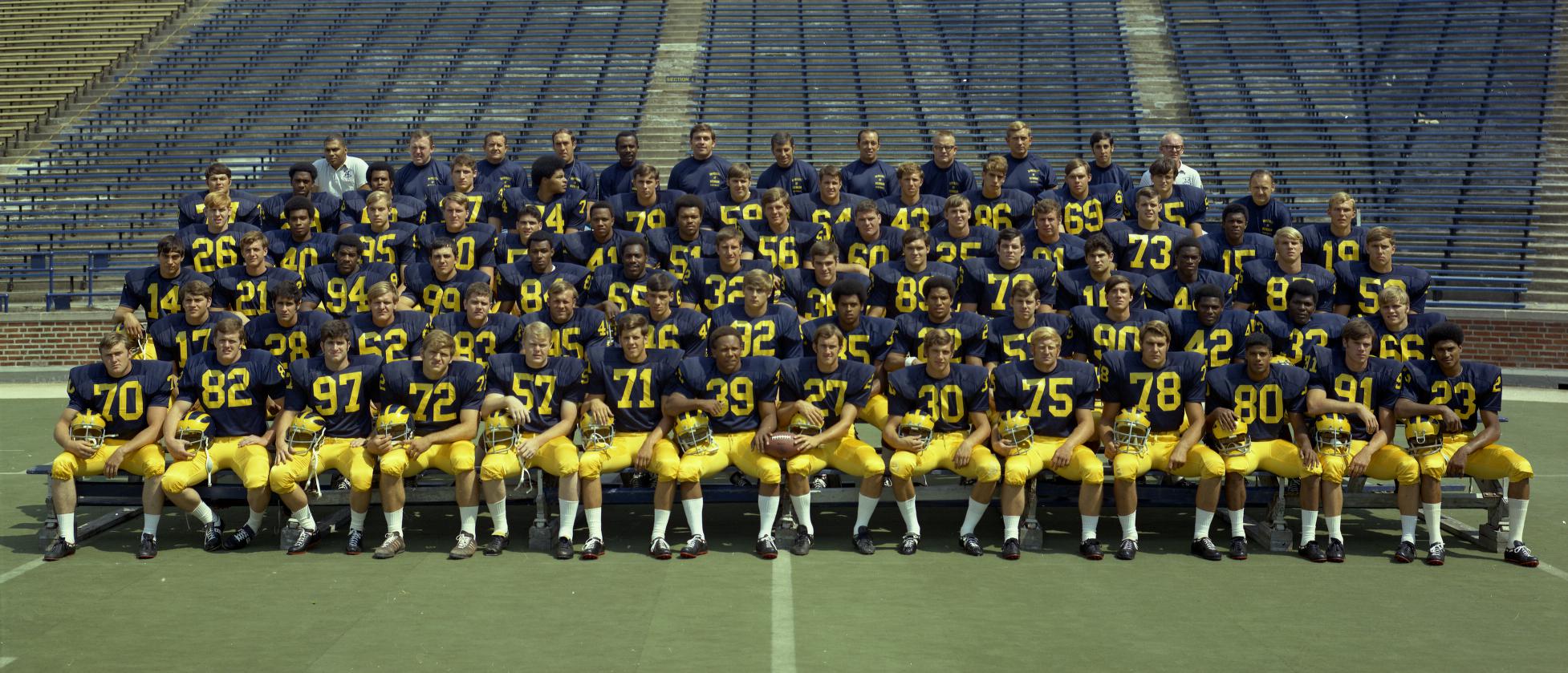 M Go Blue Football History | Michigan Wolverine Football History
March 9, 2020 Happy Birhday Pete Newell
Today is a great day to wish happy birthday to a Michigan Wolverine named Pete Newell. Peter "Pete" Newell was born on this day in Chicago, Illinois. After starring at Notre Dame College Prep High School Pete arrived in Ann Arbor to earn a degree from Michigan and play some Wolverine football for Bump Elliott in August 1967. 
(Note - Pete Newell (#82) is shown here with the 1970 Michigan Football team. He is seated in the first row and is the second man from the left. Photo courtesy of the Bentley Historical Library at The University of Michigan
Part I. Wolverine of the Day: Pete Newell
Freshman Peter Newell Arrived in Ann Arbor in 1967 and Lettered For Bump in 1968
Of course, freshman didn't play when Pete Newell was in his first year at Michigan, so, he went to practice, learned Michigan's defensive scheme and went to classes. He came back ready to play in 1968 and earned a letter on Bump Elliott's last team. The Wolverines finished with a record of 8 wins and 2 losses that year which was the second-best effort by an Elliott team. Unfortunately, the 1968 season ended with a "thud" when top-ranked Ohio State blew out Michigan (50-14) . Yes, those dastardly Buckeyes even tried to score a two-point conversions when the game was already out-of-hand!
Pete Newell probably loved playing for the likeable Bump Elliott, but new Michigan's new Athletic Director, Don Canham, was looking to the future. Unfortunately, Bump Elliott was not going to be coaching at Michigan after the 1968 season. Elliott was "bumped"(pun intended) into an assistant athletic director's job to make way for a new guy named Schembechler.
Bo Schembechler Arrived in Ann Arbor in 1969
Spring football in April 1969 was pure torture for the Michigan Football team. Bo scared them all and ran off the ones who were not ready to commit to his system. Newell stayed, and played, and became a champion when the Wolverines upset the hated Buckeyes in November 1969.
Pete Newell proved to be a versatile player for Bo Schembechler. He played defensive end for Bump in 1968, but moved to defensive tackle in Bo's defensive scheme. Newell made the adjustment and led the team with 70 tackles in 1969 which is very difficult for a defensive lineman to do. So, Pete Newell became the first player to lead a Bo Schembechler coached Michigan team in tackles!
Pete Newell and Some Notable Michigan Football "Firsts" 
·         Pete Newell played on the first Bo Schembechler team in 1969.
·         Newell played in Bo's first Big Ten game/winning game against Purdue in on October 11, 1969.
·         Pete played in Bo's first rival game/loss against Michigan State on October 18, 1969. (MSU won 12-23)
·         Newell also played in Bo's first rival game/win against Minnesota (35-9) on October 25, 1969.
·         Newell played in Bo's first Homecoming game/win against Wisconsin (35-7) on November 1, 1969.
·         Pete was on the first Bo Schembechler team to beat a Number #1 ranked opponent in 1969 when the Wolverines stuffed Woody's Buckeyes 24-12 in 1969.
·         Pete was the first man to lead a Schembechler coached team in tackles with 70 in 1969.
·         Newell played played on Bo's first Big Ten Championship team in 1969.
·         Pete Newell played in Bo's first win over Michigan State (34-20)  on October 17, 1970.
So, Pete Newell finished his Michigan career with twenty-starts, three varsity letters, a Big Ten Co-Championship and a ton of memories. In 1969, Pete Newell, and his teammates, raised the bar for all Michigan Men who followed. Newell's teams earned twenty-five victories for the Maize and Blue which included eighteen Big Ten wins in twenty-one games. Today is a wonderful day to celebrate the dedication of Pete Newell and appreciate his contributions to the great legacy that is Michigan Football. I hope that Pete Newell has a great day today. Happy Birthday Pete Newell and Go Blue!
To learn more about Pete Newell check out the links below:
https://en.wikipedia.org/wiki/Pete_Newell_(American_football)
https://en.wikipedia.org/wiki/1970_Michigan_Wolverines_football_team
http://bentley.umich.edu/athdept/football/fbteam/1970fbt.htm
Part II. March 9, 2020 National Day Calendar Notes