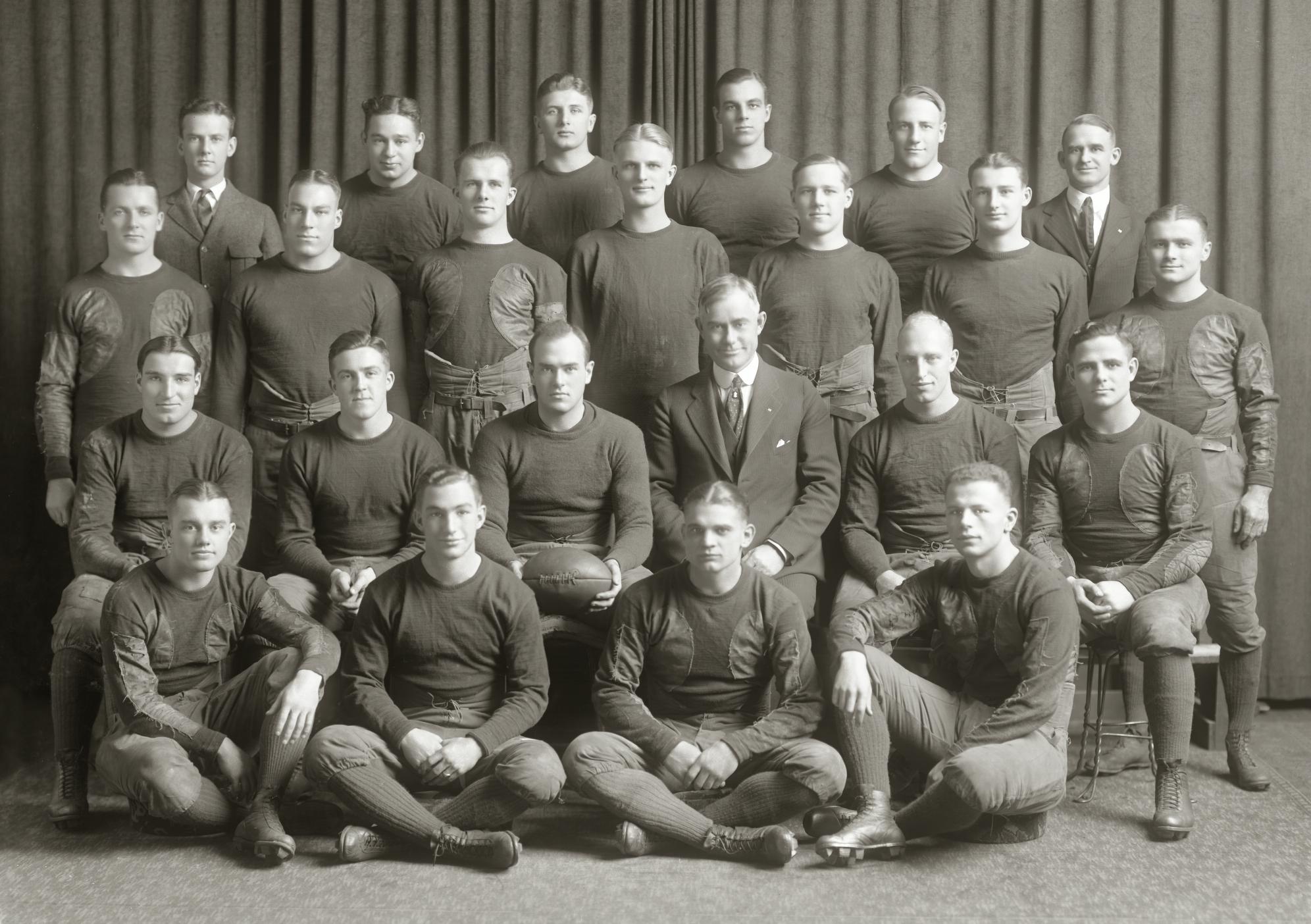 BigBlueToday | M Go Blue Football | M Go Blue Football History | Michigan Football Firsts | Michigan Football History | Michigan Wolverine Football History
June 3, 2017 Rest in Peace Ted Bank!
Today is another day to remember a Michigan Man named Ted Bank who went to rest in peace on this day in 1986 at the age of eighty-eight. According to the Wikipedia article linked below, Theodore Paul "Ted" Bank was born on December 13, 1897 in Flint, Michigan. He grew up to be a very good athlete, but chose to serve in the United States Army after he graduated from high school. Bank rose to the rank of first lieutenant during World War I. When he returned from his military service, Ted Bank chose to continue his education and his football at The University of Michigan.
Like all good first year players in 1919, Ted Bank played on the Michigan freshman team and learned the ways of "Fielding Yost Football." I am sure that he worked hard to learn Yost's system and prove that he could get the job done. In addition to some tough competition on the field, Bank also had to deal with a knee injury that he sustained during the war. He had to wear a special knee brace to protect it during practices and games.
It appears that Ted learned how to play football the way Fieldling Yost liked. He started three games at quarterback for the demanding Yost and played a lot of football. He earned his first varsity letter. Michigan finished the 1920 season with a record of 5 wins and 2 losses. They went 2-2-0 in the conference with was only good enough for sixth place. Definitely not up to Yost's expectations, but better than the losing season of 1919 (3-4-0)
Ted Bank returned in 1921 to improve on his play and hopefully to help the Wolverines do the same! He started five more games (4 at QB and 1 at LHB) in his Junior year and earned his second letter on a team that continued to improve. The Wolverines ended the season with a final record of 5-1-1. They finished with a conference record of 2-1-1 and moved up to fifth place. Better, but not good enough for Fielding Yost!
Senior Ted Bank was determined to be the full-time quarterback for Fielding Yost in 1922. However, things didn't work out as Bank hoped. He broke his foot prior to the start of the season and that was it for his football career at Michigan.
Michigan went on to post a final record of 6-0-1 during 1922, but Ted Bank missed out on the fun. More  importantly, he was not part of the Big Ten championship that the Wolverines won in 1922. They finished the season with a perfect record of 4-0-0 in conference play. The only blemish on the 1922 season was a tie (0-0) against Vanderbilt.
Ted Bank had an abbreviated career at Michigan. Here are some interesting firsts that connect Ted Bank and Wolverine Football:
·         Played in the first game ever against Tulane in Ann Arbor on October 30, 1920. Michigan won by the score of 21-0.
·         Played in the first ever Homecoming game against Ohio State in 1921. Maize and Blue fans and alumni went home with a frown after a 0-14 defeat at the hands of the Buckeyes!
·         Played in the first ever tie game against Wisconsin (7-7) on November 12, 1921.
So, on the 120th anniversary of his birth, let us remember another amazing Michigan Man. Theodore P. Bank played some very good football for Michigan, but not as much as he wanted to play. He lettered on two  Fielding Yost teams and finished his career with his head held high! He enjoyed a very successful life after his playing days and served his country and the sporting community for many, many years. Please take a moment today, to honor his memory and celebrate his accomplishments. May Ted Bank always rest in eternal peace. Go Blue!
https://en.wikipedia.org/wiki/Ted_Bank
http://bentley.umich.edu/athdept/football/fbteam/1921fbt.htm