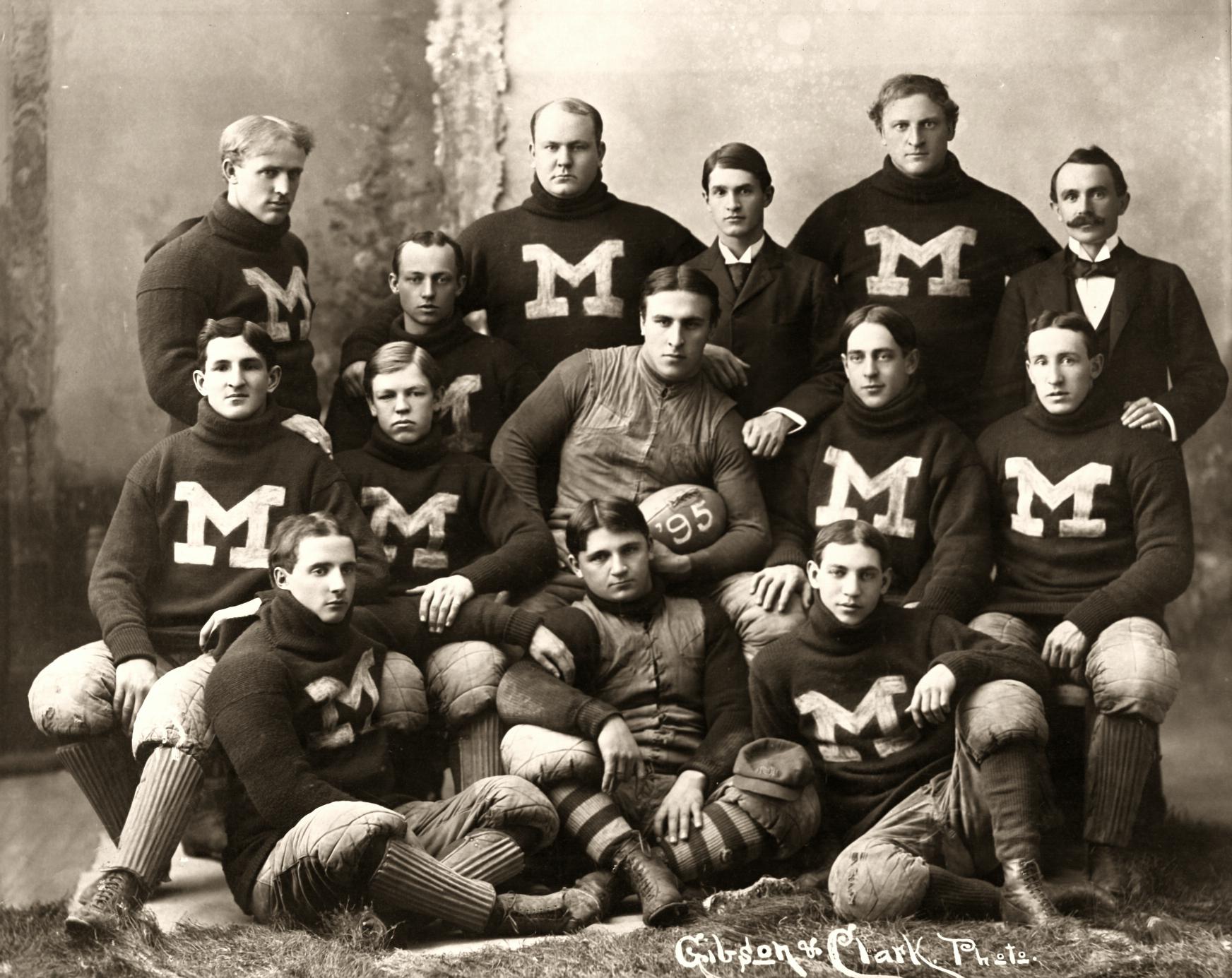 BigBlueToday | M Go Blue Football | M Go Blue Football History | Michigan Football Firsts | Michigan Football History | Michigan Wolverine Football History
July 21, 2020 – Rest in Peace William Morrow!
Today's post celebrates the memory of Michigan Man William Morrow who went to rest in peace on this day in 1944. He was seventy-seven years of age when he died. William M. Morrow was born on September 6, 1866 in Niles, Michigan. Yes, the story of this Wolverine "Pigskin Pioneer" goes almost all the way back to the Civil War!
Part I. Wolverine of the Day: William Morrow
A True Pigskin Pioneer
According to the Wikipedia article linked below, William Morrow grew up in Union City, Pennsylvania. He came to Ann Arbor in the fall of 1885. His was listed as a "forward" on Michigan's sixth football team. It appears that he played in all three games of the season. The Wolverines were led by second year captain Horace Prettyman. Apparently, Captain Prettyman led them very well! Michigan posted a perfect record of 3 wins and 0 losses. They scored 82-points during the season and shut out every opponent. It was one of Michigan's most impressive seasons in their young history. William Morrow earned his first Michigan Football letter in 1885.
Prettyman's Starting Quarterback in 1886
William Morrow returned to the 1886 Michigan Football and so did Horace Prettyman. Prettyman was the first man to captain three straight Michigan Football teams. Prettyman decided that Morrow would be the team quarterback in 1886. William Morrow, along with his teammates, played well enough to post another perfect season. This time the Wolverines won 2 games and lost 0 against the same team. They played Albion on the road and won by a score of 50-0. Two weeks later, Albion came to Ann Arbor. Although Albion played a little better, Michigan won the game by a score of 24-0. William Morrow earned his second letter in 1886 and left Ann Arbor as an "undefeated" Wolverine.
William Morrow's Michigan Football "Firsts"
In addition to earning two varsity letters and playing on teams that went 5-0-0 in two years, Morrow is connected to some interesting Michigan Football "firsts.' Check these out:
William Morrow played on the first Michigan Football team to win three games in one season in 1885.
Morrow played on the first Michigan team to play the same team (Windsor Club) twice in the same season in 1885.
William Morrow played on the first Michigan team to score over 80 points in a single season in 1885 when the Wolverines posted 82 in three games.
Morrow played in the first, and only season, where both games were played against the same team (Albion) in 1886.
After he left Ann Arbor, William Morrow distinguished himself as a soldier in peace and in war. He worked his up the ranks form Private to Colonel and served honorably until his retirement in 1930.  So, on the seventy-sixth anniversary of his passing, let us remember William Morrow. He was truly a Maize and Blue "Pigskin Pioneer" who helped establish a winning football tradition in Ann Arbor. May William Morrow continue to rest in eternal peace. Go Blue!
https://en.wikipedia.org/wiki/William_M._Morrow
Part II. July 21, 2020 National Day Calendar Update: