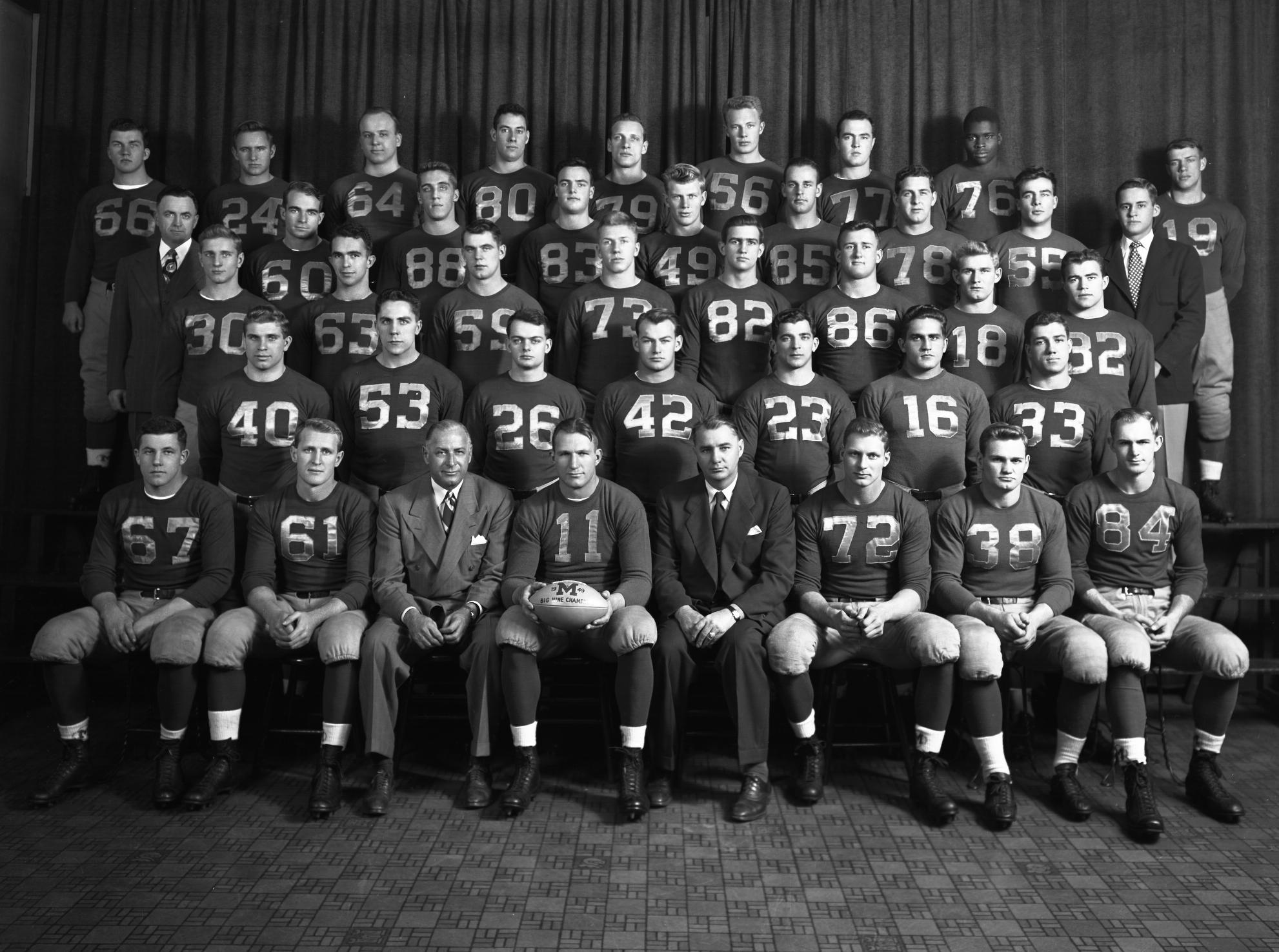 BigBlueToday | Michigan Football Firsts | Michigan Football History
January 11, 2020 Remember the First Family of Michigan Football
I thought today would be the perfect day to connect two important numbers (1 and 11) and remember the first family of Michigan football at the same time. Since this is the first month of the calendar year we also need to remember what I call the "first family" of Michigan Football. Of course, that family would be the Wistert Family.
[Note - Michigan's "first family" of football - the Wisterts - shown above. From left to right - Alvin (1947-1949), Albert (1938-1942) and Francis (1930-1933).]
Background
The Wistert's are the first and only family in Michigan Football History to send three All-American sons to play for Michigan. Since all three sons who played for Michigan wore #11, it is most appropriate to remember the Wistert's on the eleventh day of the first month of 2020.
The Wistert family came to America from Lithuania. The father, Kazimer served in the Spanish American War and later worked in the Chicago Police Department where he was killed in the line of duty. Mrs. Wistert raised her family on the north side of Chicago.
Brother Number One - Francis Michael "Whitey" Wistert
The first Wistert to play at Michigan was Francis Michael "Whitey" Wistert. He enrolled at Michigan in 1930 to play football for Coach Harry Kipke. Whitey Wistert spent his first year on campus learning how to be a good college student and a good Wolverine football player. He must have learned his lessons well.
Francis started one game at left tackle in 1931. He played enough to letter on the Kipke's third Michigan team that finished with an overall record of 8-1-1 and earned a tie for the conference championship.
Whitey Wistert started seven of eight games on the 1932 Michigan football team. He was a solid performer on that national championship and conference championship team. Wistert earned All-Conference honors at tackle for his excellent play.
The talented Whitey Wistert finished strong in his senior year at Michigan. He starred on the back-to-back national/conference champions in 1933. He earned more All-Conference honors and All-American plaudits as well. He was an outstanding player on a great Wolverine football team. So, Francis Wistert left Ann Arbor with his head held high and a legacy of excellence for all future Wolverines, and possible brothers, to follow.
Brother Number Two - Albert Alexander "Ox" Wistert
Number two Wistert son, named Albert Alexander "Ox" Wistert, followed his older brother to Michigan in 1938. Like all players of the time, he spent his freshman year "in waiting" while he learned about campus life and how to play Fritz Crisler's brand of Michigan football. Albert was also listed on the 1939 roster, but did not earn any starts or a letter in that season either.
Albert worked hard to impress Coach Fritz Crisler and it finally paid off in 1940. He started seven of eight games and earned his first letter. The Wolverines finished with a record of 7 wins and 1 loss in 1940 and finished second in the conference (3-1-0).
Hard-working "Ox" Wistert was beginning to make a name for himself at Michigan. He started all eight games of the 1941 football season. He helped pave the way to another winning season (6-1-1) and another second place finish in the conference (3-1-1).
Albert Wistert, like his older brother, saved his best for last at Michigan. He started all ten games in Michigan's 1942 football season which ended at 7 wins and 3 losses. The "Ox" earned All-Conference and All-American honors for his stellar play. Like his older brother Francis, Albert left a great legacy at Michigan.
Brother Number Three - Alvin Lawrence "Moose" Wistert
Alvin Wistert, the third brother, was nicknamed "Moose." Apparently, he was more inclined to physical work than mental activities like going to class and college. He struck his own path and didn't get the urge to enroll in college until he had worked for a few years and served his country in the United States Marines during World War II.
When Alvin was ready for college he chose to enroll at Boston University in 1946, but transferred to Michigan in time for the 1947 football season. Although it was not unusual for "older" war veterans to play in the late 1940's, Alvin was no spring chicken in 1947. He was thirty-one years old when he showed up for Fritz Crisler's first practice!
Alvin was probably a little rusty in that first year, but he started two games. Alvin earned his first letter and was named as the Meyer Morton Award winner for the 1947 season. The "Moose" was recognized as the most improved player on the national championship team and big things were expected from #11 in the future. (Big surprise!)
Alvin Wistert did not disappoint anyone at Michigan or in his family! He earned two starts on the 1948 back-to-back championship Wolverine team and earned his second letter. Even though he didn't start a lot of games, he played in all of them. The "Moose" played well enough to earn All-Conference and All-American honors – wow! The third Wistert to wear #11 and the third brother to earn All-American honors and All-Conference honors!
However, Moose Wistert was not done at Michigan. He came back in 1949 to do something that his two brothers did not do in Ann Arbor. He was elected captain of the 1949 Michigan football team. Alvin did a super job of leading by example and his stellar play earned him first team conference honors and All-American plaudits for the second consecutive season.
Can you imagine the "pressure" that Alvin "Moose" Wistert ?? must have felt as the third son to follow his two All-American brothers at Michigan? I am certain that no one said much about it, but the expectations were pretty clear. "You will wear jersey #11 just like your two older brothers, you will play tackle. Of course, it would be really nice if you could be an All-American performer too." Man, talk about big shoes to fill. Alvin had to fill two big pairs of All-American shoes and he did it – amazing!
The Wistert Family Legacy
There is so much more to say about the first family of Michigan football, but I will finish it up for today. The Wikipeida articles below are well-worth reading. The bottom line is this – the Wistert brothers set a standard at Michigan, and in college football, that will never be achieved again!
They were the first brothers to wear the same number (#11) at Michigan. They were the first trio of brothers to earn All-Conference and All-American honors. They are the first, and only, trio of brothers to all be inducted into the College Football Hall of Fame. Alvin is the first, and only, over-thirty All-American. He was thirty-two years when named in 1948 and thirty-three when he repeated in 1949. Actually, it would take a book to document all the achievements that the talented brothers achieved in athletics and life overall.
Once again, today is the eleventh day of January – the first month of the new year. It is the absolute perfect day to remember the first family of Michigan Football – the Wisterts! May Francis, Albert and Alvin continue to Rest In Peace. Go Blue!
https://en.wikipedia.org/wiki/Whitey_Wistert
https://en.wikipedia.org/wiki/Al_Wistert
https://en.wikipedia.org/wiki/Al_Wistert
Part II. January 11, 2020 National Day Calendar Update:
Today is the first day of the year that celebrates one of our fifty states. Yes, today is Arkansas Day. It is also National Milk Day and Step in the Puddle and Splash Your Friends Day. So, there are lots of fun things to enjoy.
On a more serious note, today is also Human Trafficking Awareness Day. Unfortunately, human trafficking is a world-wide problem that continues to violate the rights of innocent people. We need to support the efforts of human rights activists and law enforcement officials who are trying to solve this difficult problem.