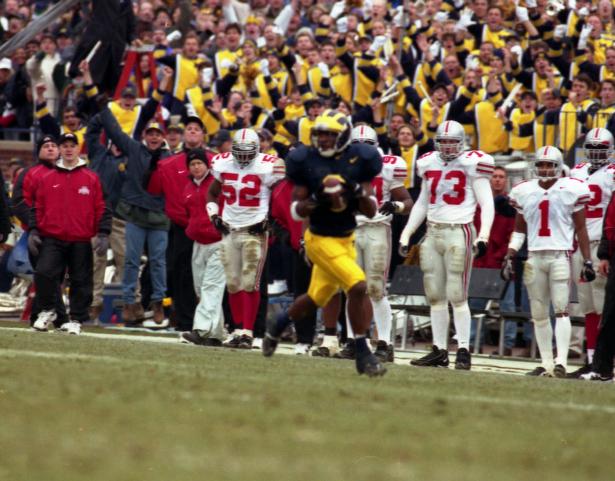 Michigan Wolverine Football History
October 7, 2018 Happy Birthday Charles Woodson
Guest post by Marty Gallagher, Author, 98-21-2, The Story of the Heisman and the Michigan Man."
Today we are going to celebrate one of the Mount Rushmore Michigan Men.  Charles Woodson was born October 7th, 1976 in Fremont, Ohio.  That is 90 miles from the Big House, and 104 miles from the Horseshoe.
Part I. Wolverine of the Day: Charles Woodson
Charles Woodson was a standout two-way player for Ross High School, and rushed for 2,028 yards as a senior while also starring as a defensive back.  He also played basketball and ran track.  Following his older brother, he grew up a Wolverine fan.  Former Michigan Defensive Coordinator Jim Hermann and Lloyd Carr recruited Woodson as a defensive back, and he chose Michigan over several schools to include the buckeyes.
Woodson saw the field early as a true freshman. Michigan played Virginia in the kickoff classic in 1995.  Besides being competitive in practice, the ninety-degree day in Ann Arbor had most players needing rest during the difficult playing conditions. Woodson stepped on the field, and never stepped off until he was twice the champion in 1997!
Charles Woodson started the next game of the 1995 season and thirty-four more on his path to greatness. The last was the 1998 Rose Bowl, helping Michigan secure a share of the National Championship.  In between, Woodson would beat the buckeyes three times in three games. He left Michigan with eighteen interceptions.  He was the first primarily defensive player to win the Heisman in 1997, and will always be remembered for the his seventy-seven-yard punt return against the buckeyes in 1997. His one handed, leaping, interception against the Spartans in 1997 was also pretty good!  Charles Woodson was perfect when throwing the ball (2-2 for 32 yards) and managed five offensive touchdowns while playing both ways.
After leaving Michigan, Woodson played seventeen years in the NFL for the Raiders, Packers, and then the Raiders again. His stellar play earned him selections to nine NFL Pro Bowls. Charles Woodson earned a Super Bowl Ring with the Packers in 2011.  He is the only Wolverine in the history of Michigan Football to win a Heisman, a National Championship and a Super Bowl! He retired after the 2015 NFL Season, and was a key factor in Michigan moving to Nike/Jordan Brand for the 2016 Season.
Charles Woodson was one of a kind, that's for sure. In one hundred and thirty-eight years, nobody has been better than Charles Woodson in Ann Arbor – NOBODY! Of course, #2 will be inducted into the College Football Hall of Fame later this year.
Thanks to Robert Westfall for posting Woodson's iconic punt-return in 1997 against the buckeyes.
So, on the anniversary of his buckeye birth − Happy Birthday Charles Woodson! Thank you for your greatness on the field and at UM Children's Hospital! Go Blue!
To read more about Michigan Legend Charles Woodson, and see him in action, follow the links below.
http://www.theheismanwinners.com/Charles-Woodson.html
http://bentley.umich.edu/athdept/football/fballam/aawoodsn.htm
https://en.wikipedia.org/wiki/Charles_Woodson
Part II. Trivia Question of the Day: October 5, 2018
What Michigan coach has the most Homecoming wins in Wolverine Football History?
Part II. Trivia Answer of the Day: October 5, 2018
Nobody ever did Homecoming better than Bo and nobody ever will. Coach Glenn Edward Schembechler coached twenty-one Homecoming games and he won every one. Yes, nobody comes close to his perfect Homecoming record of 21-0-0. Wow, that is simply amazing, but not a big surprise since Bo was the winningest coach at the winningest program in the history of college football. Man, he was good!
Part III. Trivia Question of the Day: October 7, 2018
The Wolverines are already getting ready for their next game against Wisconsin. It promises to be another BIG challenge for Michigan. The good news is that they are at home and The Big House will be rocking for another night game. When did Michigan first meet Wisconsin on the football field?