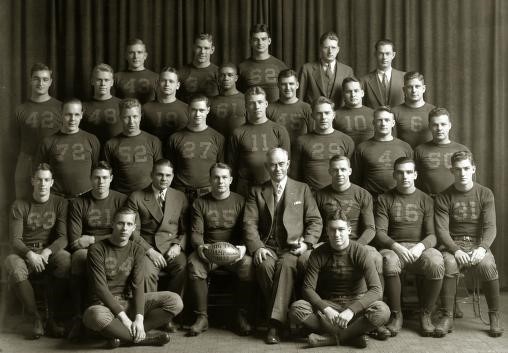 BigBlueToday | M Go Blue Football | M Go Blue Football History | Michigan Football Firsts | Michigan Football History | Michigan Wolverine Football History
September 11, 2017 Happy Birthday Anniversary Herman Everhardus!
Today's blog celebrates the Happy Birthday Anniversary of a Wolverine named Herman Everhardus!
However, this post takes a back seat to the sixteenth anniversary of the terrorist acts that took place on September 11, 2001. That day was one of those days where you remember exactly where you were when you heard the awful news about the tragic events of the day.  Please take a moment to reflect on the lives lost, the families affected and the bravery that was displayed by so many Americans that day. May all the victims rest in peace and may we always remember their sacrifice!
Herman Everhardus was born on this date in 1912 in Kalamazoo, Michigan. He came to Ann Arbor in 1930 to play for Harry Kipke's Michigan Wolverines.
Herman Everhardus earned a spot on the Michigan varsity in 1931, started one game, and played enough to letter on a Big Ten Championship team. He was named the winner of the Meyer Morton Award after the 1931 season. This honoris given to the player who shows the most improvement during the season and promise for future contributions to Michigan football.
During his final two seasons Everhardus lived up to the promise and earned the nickname "The Flying Dutchman." Herman Everhardus became a workhorse in the Michigan backfield where he started thirteen games at left halfback from 1932 to 1933. He also handled some of the punting and placekicking duties. He was a key performer on three of Harry Kipke's best teams. The Wolverines posted an exemplary record of 23 wins, 1 loss, 2 ties with Everhardus on the roster. More importantly, they won two consecutive national championships (1932 and 1933) and three straight Big Ten titles during that time (1931-1933).
Herman Everhardus distinguished himself from 1931 to 1933 and earned some significant awards for his stellar play. As mentioned, he won the Meyer Morton Award in 1931 which accurately predicted his bright future on the Michigan football team. The Flying Dutchman capped his Michigan career in outstanding fashion by leading the Big Ten in scoring (64 points) in 1933 and earning first team honors for his outstanding play in conference games. His accomplishments were good enough to earn him second team All-American honors in 1933. Finally, he was selected as the Most Valuable Player on Michigan's National Champions – quite an honor!
His kicking skills were especially important in Michigan's unbeaten season in 1933. His successful point after touchdown against Illinois provided the margin of victory in a 7-6 win over the Fighting Illini. (Note-Willis Ward had blocked the Illinois kicker's PAT attempt earlier in the game.) The next game against Iowa allowed the toe of the "Flying Dutchman" to beat the Hawkeyes in Iowa City. Everhardus kicked a 24-yard field goal and one point-after-touchdown to provide the margin of victory in a 10-6 win.
Herman was also connected to some important Michigan Football "firsts." Here they are:
Herman Everhardus played in the first ever game against what is now Central Michigan University in 1931. The Wolverines defeated the Chips by a score of 27-0.
Everhardus played on the first Michigan team to win six Big Ten games in the same season in 1932. The Wolverine record of 6-0-0 was good enough to earn the conference championship that season.
Herman Everhardus kicked the extra-point that gave Michigan their first ever 7-6 win over Illinois in 1933. (Note-They lost to Illinois by a 6-7 score in 1920.)
Everhardus also kicked the extra-point and the field goal that provided the winning margin in Michigan's only 10-6 win over Iowa in 1933.
One final bit of trivia about this outstanding Michigan Man was his relationship with a fellow named Gerald R. Ford. Mr. Ford and Everhardus met in 1931 when Everhardus was a Sophomore and Ford was a Freshman. Apparently Ford needed a job to help with his college expenses and Everhardus helped him get a job at his fraternity house (Delta Kappa Epsilon). Eventually, they became fraternity brothers. They also shared two other interesting things. First, Everhardus won the Meyer Morton Award in 1931 and Ford won it in 1932. Second, Everhardus won the MVP award in 1933 and Ford won it in 1934.
Herman Everhardus died in July 1980 at the age of sixty-seven. So, on the one hundred-fifth anniversary of the "Flying Dutchman's" birth let's remember him and appreciate his contributions to Michigan football. Rest in Peace Wolverine and thanks for the memories!
For more information on this outstanding Wolverine player and Michigan Man check out the following links:
https://en.wikipedia.org/wiki/Herman_Everhardus