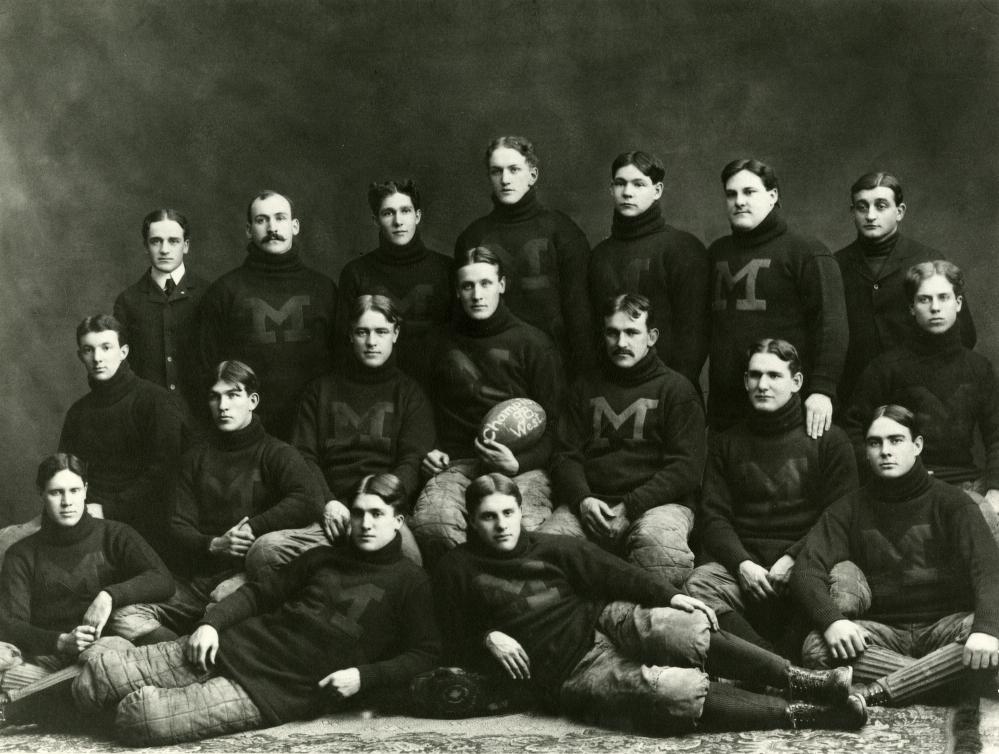 M Go Blue Football | M Go Blue Football History | Michigan Wolverine Football History
October 2, 2020 Remembering Gustave Ferbert
October 2nd is an important day in Michigan Football History because it is the day that Gustave Ferbert took charge of Michigan Football. Gustave "Dutch" Ferbert coached his first game on Saturday, October 2, 1897. He also became the first Michigan alumnus to coach his alma mater on this historic day. His team defeated Michigan Normal (later Eastern Michigan University) by a score of 24-0 in Ann Arbor. Dutch was off to a good start and things were about to get even better for the Michigan Football program!
(Note - Gustave Ferbert is shown here with the 1898 team that won the first Western Conference Championship. Ferbert is the last man on the right in the top row - next to Michigan's first All-American William Cunningham. Photo courtesy of the Bentley Historical Library at The University of Michigan.)
Part I. Wolverine of the Day: Gustave Ferbert
Ferbert played for his beloved Wolverines from 1893 to 1896. The rosters for these years listed him as a halfback/end. Dutch was an excellent player and so were many of his teammates. Look at the impressive accomplishments by Gustave Ferbert and his teammates from 1893 to 1896:
| | | |
| --- | --- | --- |
| Year | Season | Season Record |
| Freshman | 1893 | 7-3-0 |
| Sophomore | 1894 | 9-1-1 |
| Junior | 1895 | 8-1-0 |
| Senior | 1896 | 9-1-0 |
| Career Total | | 33-6-1 |
Gus Ferbert's Class of 1897 won more games in four years than any previous graduating class in Michigan football history. Their winning percentage was almost eighty-four percent (.838). These guys could play! The Wolverine  footballers of the Class of 1897 set the bar very high for future players and teams!
According to the Bentley Historical Library, Michigan's Student-Alumni Advisory Board (of which Ferbert was a member) determined that only former students would coach the football team. The popular Ferbert was elected by this body to replace William Ward who had coached the team to a record of 9-1-0 in 1896. The rest as they say is history, albeit a short history. (See link below.)
Obviously, Coach Ferbert knew about the high expectations that he and his teammates had set for the program. He also knew something about the expectations for playing in the newly formed Western Athletic Conference (later the Big Ten). Ferbert, and his teammates, finished second in the conference in 1896, losing their only conference game to eventual champion Chicago.
Unfortunately, first year Coach Ferbert saw history repeat itself as the Wolverines had an outstanding season (6-1-1) that was blemished by two famous football coaches. First, a guy named Fielding H. Yost brought his scrappy team from Ohio Weslayan to Regents Field. He walked away with a  tie (0-0) against the vaunted Wolverines. We would hear more about Mr. Yost later, wouldn't we?
Second, the Wolverines traveled to Chicago for the second straight year to play the highly regarded Maroons coached by Amos Alanzo Stagg. The Wolverines played their first  "indoor" game on Thanksgiving Day (November 25, 1897) and lost to Chicago by a score of 12-21.
Ferbert's Wolverines knew what they had to do in 1898 and they did it! They crashed through their schedule and defeated every team by at least eighteen points except Northwestern (6-5) and Illinois (12-5). Once again, they would have to journey to Chicago and defeat the Maroons in order to cap an undefeated season and win the conference championship. Fortunately for Michigan, that's exactly what they did!
The Wolverines faced off against the Maroons on Thursday, November 24, 1898. It was billed as the game of the season in the west. It turned out to be a classic with Michigan winning by a score of 12-11. Dutch Ferbert's footballers finished the season with a perfect record of 10-0-0. They were the unbeaten (3-0) Western Conference champions for the first time in Michigan Football history! Oh yes, the win inspired a Michigan student, Louis Elbel, to write the greatest fight song in the history of college football!
For some strange reason, Chicago was off the Michigan schedule in 1899.  A second straight conference championship seemed to be in Michigan's grasp. However, things didn't quite work out that way as the Wolverines finished the season with a record of 8-2-0. They lost the final conference game to Wisconsin and finished in a third place tie in the final conference standings.
Gustave Ferbert left Michigan after the 1899 season to discover gold in Alaska. Legend has it that his nine-year adventure in Alaska paid off for Dutch. You can read more about Gustave Ferbert in the articles linked below.
Here is a summary of Gustave Ferbert's outstanding coaching achievements at Michigan:
First alumnus to lead the Wolverine football team.
First coach to play/win against Ohio State (1897) Final Score: UM 34 OSU 0
First coach to play/win against Michigan Agricultural College (1898) UM 39 MAC 0
First coach to achieve a ten-win season (1898) – Final record 10-0-0
First Wolverine coach to win the Western Conference Championship (1898)
First Michigan coach to coach an All-American (1898): William Cunningham
First coach to win sixteen straight games (1898-1899).
So, October 2, 1897 turned out to be a very important day in Michigan Football History. Gustave Ferbert left a great legacy as a player and a coach. He posted a stellar record of 24 wins, 3 losses and 1 tie in three years which worked out to a winning percentage of just over eighty-seven percent (.875). Other Michigan coaches been trying to live up to his legacy for one hundred twenty-three years! Thanks to Gustave Ferbert and Go Blue!
http://bentley.umich.edu/athdept/football/coaches/gferbert.htm
https://en.wikipedia.org/wiki/Gustave_Ferbert
Part II. October 2, 2020 - National Day Calendar Update: