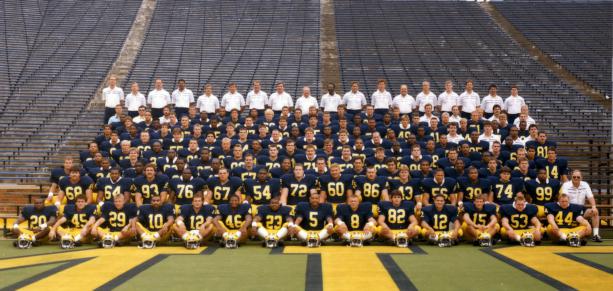 BigBlueToday | Game Day | M Go Blue Football | M Go Blue Football History | Michigan Football Firsts | Michigan Football History | Michigan Football History Game Day | Michigan Wolverine Football History
October 21, 2020 Happy Birthday Bob and Rick Stites
Today is a very good day to wish Happy Birthday to Bob and Rick Stites. The Stites brothers are not the first set of twins to play football at Michigan, but they may have the "Bluest" blood of any Michigan Men to ever play for the Wolverines. Bob and Rick Stites were born on this date in Ann Arbor, Michigan. They played football right across the street from the Big House at Ann Arbor Pioneer High School. They probably started dreaming of playing football for the Wolverines before they came out of their dear mother's womb!
Part I. Wolverines of the Day: Bob and Rick Stites:
According to the 1987 Michigan Roster, Bob and Rick Stites, both linebackers, did not earn any starts in their final year at Michigan. In fact, they didn't earn much playing time, if any, on game days. The Stites brothers earned their Michigan letters for the work they did on the practice fields. So, today's post is really a celebration of their careers and what they symbolize for the Michigan football program.
A few years ago, I purchased a copy of a book titled, "Enthusiasm Unknown to Mankind" by Coach Jim Harbaugh and photographer David Turnley. I loved the book and really enjoyed the photographs that were presented in the book. A number of Harbaugh's thoughts caught my attention, especially when he talks about his love of football.
For the Love of Football
One of the things that struck me the most was a quote he shared from the legendary Fielding H. Yost. This is what Yost had to say in 1905 about the importance of players having a "love" for the game of football. "No man can be a football player who does not love the game. Half-heartedness or lack of earnestness will eliminate any man from a football team. The love of the game must be genuine. It is not a devotion to a fad that makes men play football; it is because they enjoy their struggle." (Principle # 13).
I am certain that Bob and Rick Stites passed the Fielding Yost "test" for how much they loved the game and how much they loved Michigan. I am also sure that they had their struggles from 1984 to 1987. Remember, Bo Schembechler never promised any player a certain amount of playing time. He promised that they would be given the opportunity to compete for positions and playing time − that was it! And yes, he did promise that "Those who stay will be champions."
Bob and Rick Stites Loved Michigan Football
Another thing that Bo did was make his players feel like they were part of the team and part of something much bigger than themselves. Upon his arrival in 1969, Bo changed the team photograph protocol. Prior to Schembechler, every "official" team photo of a Michigan football team was taken at the end of the season. This timeless picture was reserved for letter winners only! Bo's first team photo in 1969 had every player who made it through fall practice. I love it because "The Team, The Team, The Team" was not just a slogan for Bo Schembechler. It was the way he did his business. He knew that he had to have every player on board, not just the letter winners! It seems like such a little thing, but it made a really BIG difference in Bo's football program.
Bob and Rick Stites Became Champions - For Life!
So, even though they didn't play a lot on Saturdays, the Stites brothers did what Bo and the coaching staff needed them to do. They probably spent a lot of time getting banged around on the scout team, ouch! Bob and Rick Stites came to practice, did their jobs and stayed with Bo for the long haul. Michigan will always need great players like Jim Harbaugh and John "Jumbo" Elliott. However, for every Harbaugh they will need ten men like Bob Stites. And, for every Elliott they will need ten more men like Rick Stites. The All-Americans and All-Conference players will always be needed at Michigan, but men like the Stites brothers are the core. You can't do anything without a strong core, got it?
In the end, Bob and Rick Stites, loved football and they loved Michigan. They both lettered (1987) on a Bo Schembechler football team. They were part of a Big Ten Championship football team (1986) and contributed to the 1985 team that finished second in the nation. When they graduated, they also had a friend for life named Glenn Edward Schembechler! I know that Bo Schembechler would love what these two outstanding M" Men" have done with their lives!
Bob and Rick Stites - Michigan Men and Bo Men!
Congratulations to Bob and Rick Stites on their Michigan football careers. They are a part of a very long Maize and Blue line that goes all the way back to 1879. I know the Stites "twins" are doing well. Happy birthday Bob and Rick Stites. Go Blue!
Check out the links below to read about their post-football lives and Bob's role with the University of Michigan Letter Winners Club. Good stuff!
http://www.mgoblue.com/genrel/061414aaa.html
Part II. October 21, 2020 National Day Calendar Update: