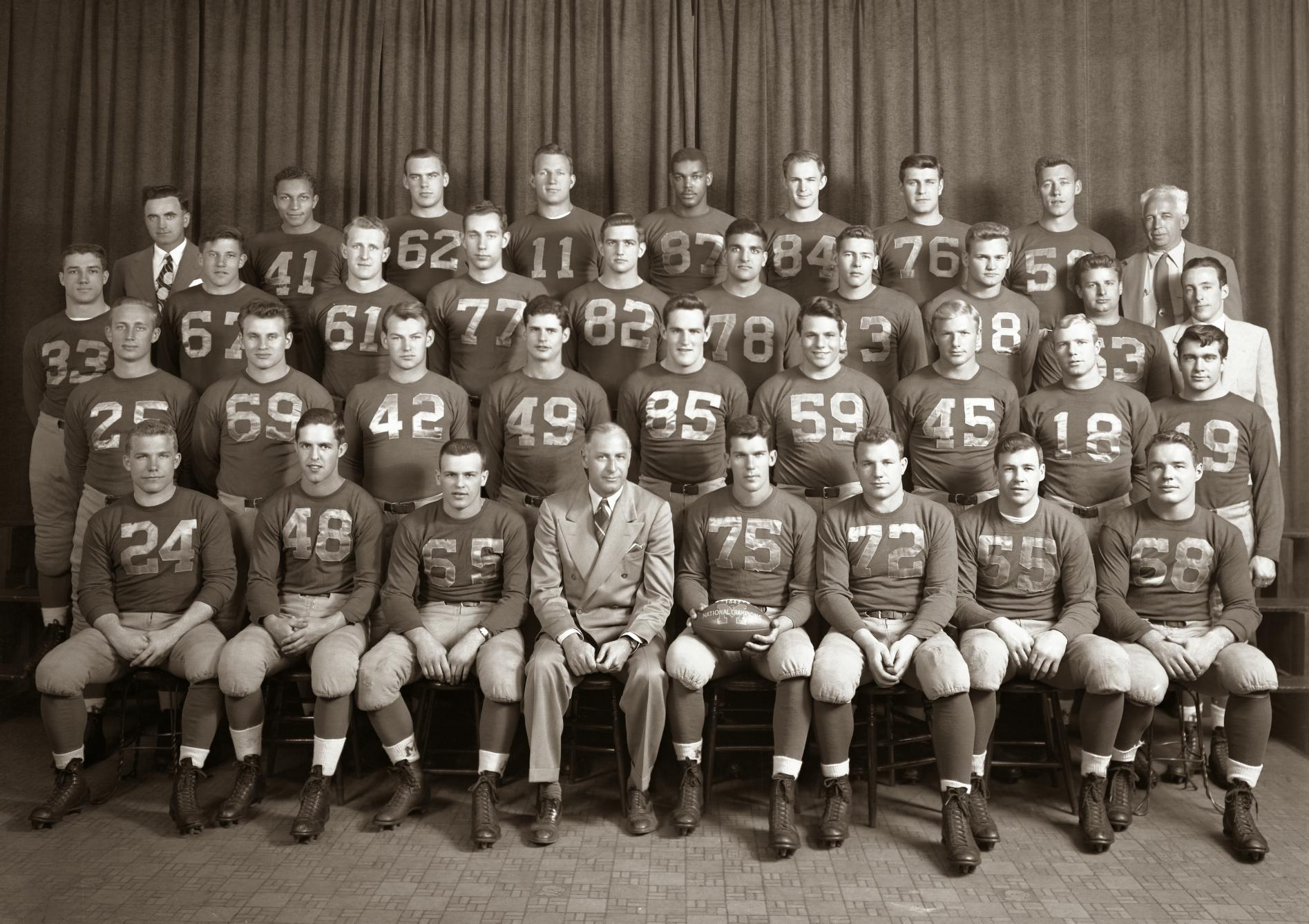 Michigan Football Firsts | Michigan Wolverine Football History
December 1, 2019 Rest in Peace Howard Yerges
Today's post celebrates the day that Howard Yerges went to rest in peace in 2000. Howard Frederick Yerges, Jr. died on this day at the age of seventy-five.  He played quarterback for Fritz Crisler from 1944 to 1947. However,  that's not all he did. Let's find out more about this unique Wolverine football player.
Part I. Wolverine of the Day: Howard Yerges
Born a Buckeye
Howard F. Yerges was the son of an Ohio State Buckeye named Howard Yerges, Sr. The elder Yerges was the starting quarterback for the Buckeyes from 1915 to 1917. He led Ohio State to a record of 20 wins, 1 loss and 2 ties as a starter, including back to back Conference Championships in 1916 and 1917. Yes, Howard's father was pretty good. Guess where Howard Yerges, Jr. started his college football career? Well, if you guessed Ohio State you are correct!
Howard Yerges, Jr. enrolled at The Ohio State University in the fall of 1943. He wore jersey number 25 and was listed as a quarterback. He lettered during that season, but Yerges was only a Buckeye for one season thanks to the U. S. Navy. The war years caused some very interesting things to happen in college football. One of them was a special officer training program that was conducted at The University of Michigan. As a Naval trainee, Howard F. Yerges, Jr. left Columbus in the summer of 1944 to train in Ann Arbor. He never looked back!
A Wartime "Gift" From the U. S. Navy
Fritz Crisler didn't really need a quarterback in 1944 because he had a stud named Joe Ponsetto. So, Howard Yerges was an able back-up to the talented Ponsetto. Howard played enough to earn a letter in 1944. Yerges continued to back-up Ponsetto during the 1945 season. When Ponsetto was injured late in the year, Howard was ready. Howard Yerges started two games in 1945 and Michigan won both. Interestingly, one of them was a 7-3 victory over the Buckeyes.
With the graduation of Joe Ponsetto, the Michigan quarterback position was wide-open in 1946.  Howard Yerges played well enough to earn five starts, but he shared the job with Jack Wiesenburger (3 starts) and Pete Elliott (1 start). Yerges helped lead the Wolverines to a record of 6 wins, 2 losses and 1 tie. Michigan ended the conference season with a record of 5-1-1 which was only good enough for second place.
Starting Quarterback for 1947 National Champions
The 1947 Michigan Football Team (# 68) had a wealth of talent and Fritz Crisler used it well. Fortunately, he had the talented Howard Yerges for one more season because of a "gift" from the Big Ten. The conference decided to waive Howard's first year of eligibility at OSU in favor of a fourth year at Michigan. So, Yerges started nine of ten games in 1947. One sportswriter called  him Fritz Crisler's "second brain." Yerges was smart and deceptive. He became an integral part of Michigan's "Mad Magician" backfield. Howard Yerges earned All-Conference honors in 1947.
Of course, Michigan went undefeated in 1947 and won the Big Ten Conference Championship. And, in an unprecedented event, the Wolverines were named National Champions by the Associated Press in the first ever vote after the bowl season.
Michigan Football Firsts
Howard F. Yerges had a very successful career at Michigan. He is also connected to some interesting Michigan Football "firsts." Please check them out:
Howard Yerges is the first, and only, man to play quarterback at both Michigan and Ohio State.
Yerges was also the first, and I think the only, man to catch a touchdown pass and throw a touchdown pass in the Rose Bowl in 1948.
Finally, Howard's 1947 team was the first team to be declared a national champion after the bowl season had ended. Interestingly, Notre Dame claims the Associated Press regular season National championship from 1947 while the Wolverines claim AP's special vote that declared Michigan as the best team in college football.
Today is a great day to appreciate another Michigan Man who contributed to the long and rich history that is Michigan Football. Please take a moment to remember the contributions of Howard Yerges to the history of the winningest team in college football. May Howard Yerges continue to rest in eternal peace! Go Blue!
https://en.wikipedia.org/wiki/Howard_Yerges
https://en.wikipedia.org/wiki/1947_Michigan_Wolverines_football_team
http://www.sports-reference.com/cfb/players/howard-yerges-1.html
Part II. December 1, 2018 National Day Calendar Update: