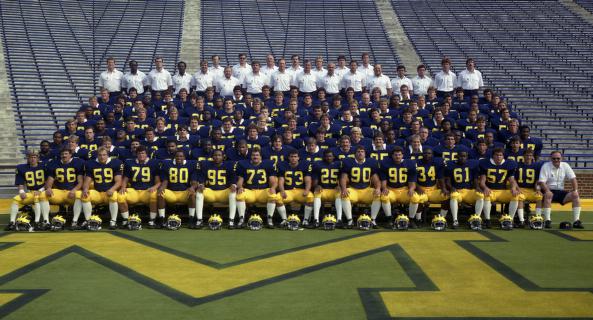 Go Blue Michigan Football | Michigan Football History | Michigan Wolverine Football History
October 6, 2020 Bo Schembechler Lost Three Times in One Day in 1984
 October 6, 1984 - The Day That Bo Schembechler Lost Three Times in One Day
October 6, 1984 was an interesting day for Michigan Football Coach Bo Schembechler. I am pretty certain that it was the only day that the famous Wolverine coach lost three important things on the same day. Let me explain.
(Note- The 1984 unlucky Michigan Football team is shown above. Bo Schembechler is on the far right in the first row. Jim Harbaugh (#4) is the eighth man in from the left in the third row. His head is just above that of #53 Al Sincich. 1984 Team Photo courtesy of the Bentley Historical Library at The University of Michigan.)
Bo's Wolverines Started Strong in 1984
The 1984 season started off beautifully for Schembechler and his fourteenth ranked Wolverines. Michigan upset the top ranked Miami Hurricanes in Ann Arbor (22-14). They rose to number three in the rankings the next week, but lost to the sixteenth ranked Washington Huskies (20-11). Fortunately, Michigan bounced back with consecutive victories over Wisconsin and Indiana before hosting Michigan State at Michigan Stadium.
Michigan Was 3-1-0 Heading Into The MSU Game at The Big House
Bo Schembechler and the Wolverines suffered three losses on October 6, 1984. First, they lost their starting quarterback when Jim Harbaugh broke his arm trying to recover a fumble early in the second half. (Ouch-1!) Second, the Wolverines tried to win the game for their fallen leader and themselves, but they lost the game to their in-state rivals (19-7). (Ouch-2!) Third, since it was the Spartans who beat them, the Paul Bunyan Trophy left Ann Arbor for the first time in five years.  Yes, that's Ouch #3. Yes it was a terrible day for Bo, Jim Harbaugh and the Michigan Football team.
Next Man Up!
Things were looking bleak in Ann Arbor with Harbaugh out for the season,. However, Bo had faith in his young team. So, he focused on getting Chris Zurbrugg ready for his first start. Michigan won the next week with an impressive win over Northwestern (31-0) and left the 1984 Homecoming crowd with some hope that the season might turn out okay.
Unfortunately, the Wolverines lost four of the last six games to finish the 1984 regular season with six victories and five defeats (6-5-0) and sixth place in the conference (5-4-0). Wow, it was the worst season in Bo's Michigan career! They almost upset the number one ranked Brigham Young Cougars in the Holiday Bowl, but eventually lost by seven points (24-17). The final record ended at six wins and six losses, (6-6-0) - not good.
Jon Falk's Great Story About The Ugly Season in 1984
One of the best Bo Schembechler stories ever told resulted from this dismal season. It was told by Michigan's iconic equipment manager, Jon Falk, in his book, "If These Walls Could Talk."  It was a frigid, snowy, night in January 1985 and Jon Falk was driving, very slowly, down I-94 headed for Detroit. He was on the outskirts of Ann Arbor when he saw a man trying to hitch a ride.  He thought the man looked familiar, but he wasn't sure.  As the man got closer, he was wearing a blue "M" hat, just like the one Bo always wore.  As Falk got closer to the man, he could see a car behind him that looked just like Bo's car. Falk pulled over and walked towards the shivering man. He did indeed discover that it was Bo!
Bo Was Freezing and Steaming Hot!
Bo Schembechler was freezing on the outside, but man was he hot on the inside! Coach was trying to get to Metro Airport for a recruiting trip. He told Falk to take him to the airport – now! As Falk started his trip with the frozen coach, Bo started to rant about the fact that he had been standing on the side of the road for about forty-five minutes. Unfortunately, not one person had bothered to stop and help. What really ticked him off was the fact that three State Trooper vehicles had cruised right on by the stranded coach. Falk's reply was classic.  He said, "Well Bo, you gotta remember now, you were only six and six last year." Bo forced a smile, he knew that Falk had him. What could he say, except "get me to the airport Falk!"
I thought it was appropriate to tell s story about Coach Bo Schembechler on National Coaches Day. So, October 6, 1984 was not a good day for Bo Schembechler and Michigan Football. The good news is that a healthy Jim Harbaugh and his teammates came back strong in 1985 to give Bo a much better season! Go Blue!
National Day Calendar Update - October 6, 2020: