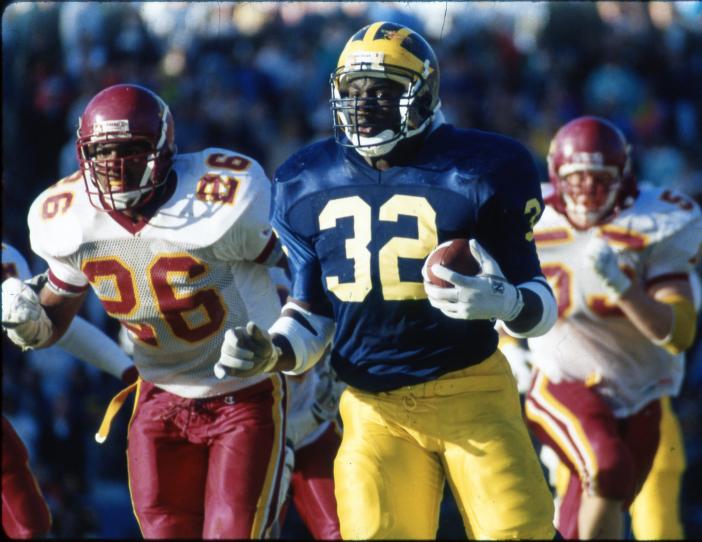 BigBlueToday | M Go Blue Football | M Go Blue Football History | Michigan Football Firsts | Michigan Football History | Michigan Wolverine Football History
August 9, 2020 Happy Birthday Jarrod Bunch!
Today is another great day to make a Happy Birthday wish to Michigan Man named Jarrod Bunch. According to the 1987 Michigan Football Media Guide, Jarrod Ray Bunch was born on this day at Ashtabula, Ohio. He became an outstanding athlete at Ashtabula High School. Jarrod starred as a running back in high school. He was also a record-setting pole vaulter and discus thrower. This was a very unusual skill-set for a high school athlete! He became the first student in the history of his school to earn a scholarship to a Division I college. I am sure that Bo was happy to bring this talented Buckeye to Michigan!
(Note - Jarrod Bunch rambles for BIG yards against Minnesota. Photo courtesy of the Bentley Historical Library at The University of Michigan.)
Part I. Wolverine of the Day: Jarrod Bunch
Jarrod Bunch came to Ann Arbor in the fall of 1987. Michigan had a lot of good running backs on the roster, but Jarrod was too good not to play. He started nine games at fullback and proved himself to be a reliable ball carrier and blocker. He gained a lot of tough yards in his first season and earned a varsity letter. Michigan finished the season with an overall of 8 wins and 4 losses and finished in 4th place in the Big Ten with a record of 5-3-0.
A Five Game Starter in 1988
Jarrod started five more games at fullback and played a lot of good football in 1988. He averaged 4.4 yards per carry and scored 2 touchdowns for the Wolverines. He also earned his second varsity letter on Bo's twelfth championship team. The Wolverines ended the season with a final record of 9 wins and 2 losses and 1 tie and went undefeated in the Big Ten (7-0-1).
Back for Bo's Last Season in 1989
Bunch came back for his third season of Wolverine Football in 1989. It was also turned out to be the final year of Bo Schembechler's legendary career. Jarrod started five more games at fullback and continued to get some tough yards when Michigan needed them the most. He gained 208 yards and averaged 3.9 yards per carry. He scored 2 more touchdowns and also caugh 9 passes for 50-yards. He earned his third letter on a team that finished with a record of 10-2-0. The Wolverines won their second consecutive championship, and Bo's last, with a perfect record of 8 wins and 0 losses.
Co-Captain Bunch Returns for His Final Season in 1990
Jarrod Bunch came back for his final year in 1990 which was also the first year of the Gary Moeller Era at Michigan. Bunch earned one of the highest honors a Michigan Football player can have when he was named co-captain (along with John Milligan) of the 1990 team. Jarrod started 10 games for the Wolverines that season and had the most productive season of his career. He rushed the ball for 515-yards and averaged 5.0 yards per carry. He scored 3 touchdowns and also caught 12 passes for 62-yards. Jarrod earned his fourth straight varsity letter and his third - consecutive Big Ten Championship in 1990.
Michigan Man Jarrod Bunch
Jarrod Bunch had a solid career at Michigan. He earned four varsity letters and three Big Ten Championship rings. Bunch totaled 1,346 yards and averaged 4.3 yards every time he carried the ball. He also caught 30 passes for 215-yards. Bunch also scored twelve touchdowns for the Wolverines (8 rushing and 4 receiving). Finally, he earned the title of Captain, so you can't do much better than that!
Jarrod Bunch and Some Michigan Football "Firsts"
He is also connected to some interesting Michigan Football "firsts." Check these out:
Jarrod Bunch played in the first ever game against Long Beach State in 1987. (Michigan won 49-0).
Bunch played in the first ever game against Alabama in the 1988 Hall of Fame Bowl. Michigan won the game by a score of 28-24.
Jarrod Bunch played on the first team to be coached by Gary Moeller in 1990.
Bunch was also on the first, and only, Big Ten Football team (1990) to win a conference championship in every decade since the 1890s.
Jarrod Bunch played in the first game in Michigan Football History against Mississippi in Michigan's 35-3 Gator Bowl win on January 1, 1991.
So, Jarrod Bunch is one more reason that Michigan Football is the winningest football program in the history of college football. I hope that Jarrod has a really Happy "Maize and Blue" Birthday today. Go Blue!
https://en.wikipedia.org/wiki/Jarrod_Bunch
http://bentley.umich.edu/athdept/football/fbteam/1990fbt.htm
Part II. August 9, 2020 National Day Calendar Update: