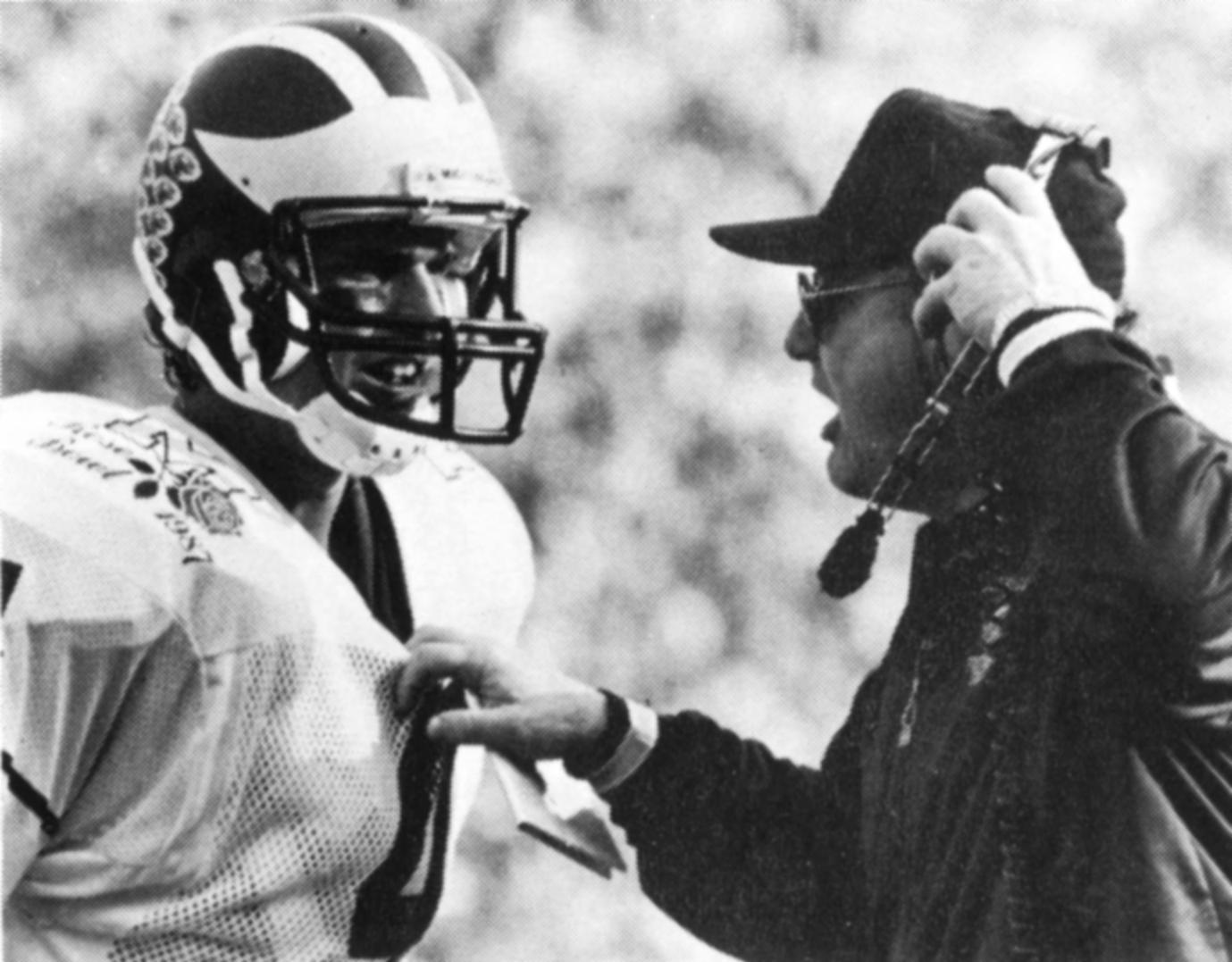 Go Blue Game Day | Go Blue Michigan Football History | M Go Blue Football History | Michigan Football History | Michigan Wolverine Football History
October 24, 2020 Game Day – Michigan at Minnesota
Hello again, and welcome to my thoughts on Michigan at Minnesota. Yes, it's been a long time coming, but I am excited to see a Michigan at Minnesota football today. It's the first time that the Wolverines have ever kicked off a season in Minnesota. It promises to be a great game. The Wolverines begin their 141st football season with a night game. They will continue their March to 1,000 wins with a chance to notch victory #963 with a defeat of the Gophers.
(Note-Bo told Jim Harbaugh to lead the Wolverines to victory at Minnesota in 1985. Harbaugh said, "yes coach." Then he led Michigan to a 48-7 win over the Gophers.) Photo courtesy of the Bentley Historical Library at The University of Michigan.
Michigan Kicks Off Season #141 at Minnesota:
Yes, the long-awaited 141st season in Michigan Football History begins today with Michigan at Minnesota. Is it just me? Or, has it taken waaaaay tooooooooooooo loooooooong for October 24th to arrive? Of course, we were all disappointed when the Big Ten cancelled the original schedule, then put together another one and cancelled that one too! Now, we have a great chance to play nine games. If things go well, maybe a few more. We will see!
Coach Jim Harbaugh enters his sixth season at Michigan. This off season has been the most tumultuous of his tenure. Players left at an alarming rate because of Covid-19, transfer and pro contracts. The good news is that Chris Evans is back and he could really help the running game. Unfortunately, the Wolverines took a hit on defense and in the wide receiver ranks. So, many unproven Michigan Men will have to step up sooner than later to navigate Michigan's challenging schedule in 2020.
The good news is that coach Josh Gattis, is back and the offense could be exciting with Joe Milton running the offensive show. Don Brown lost a ton of talent from the 2019 team, but he doesn't rebuild his defense, he just reloads. I am confident that his defense will be very strong this year. Hopefully, they can play some zone defense when needed to shut down the crossing patterns that opponents took advantage of in 2018 and 2019.
If you want all the pre-game hype information there are many fine websites that you can go to for that information. At Go Blue Football History, we will stick to the history of what has already happened on this day in Michigan Football and predict how they may do against PJ Fleck's Minnesota Gophers.
Calendar History - October 24th:
The University of Michigan has played a total of twenty games on the twenty-fourth day October. So far, the results have been very good. The Wolverines have a record of 14 wins and 6 losses on this day. The Maize and Blue footballers own a conference record of 9 wins and 4 losses on 10/24. The Wolverines have played Minnesota six times on this day. So far the record is 4 wins and 2 losses. They are perfect at home at 3-0-0. Road games on this day against Minnesota have not gone as well since the record is only 1 win and 2 losses.
Here is the very short history about Michigan Football on October 24th:
1891 First Game/First win: Michigan defeated Oberlin 26-6
1892 First Loss: @ Purdue 0-24
1992 Biggest Win/Conference Win: @ Ann Arbor 63-13 over Minnesota
2009 Biggest Loss/Conference Loss: @ Ann Arbor 10-35 loss to Penn State
Today's game provides the Wolverines with an opportunity to improve their record to 2-2-0 in road games on this day.
Michigan's 140 Season Openers:
The Wolverines own a very impressive record in their previous 140 season openers. So far, Michigan's record is 114 wins, 23 losses and 3 ties. That works out to an impressive winning rate of almost eighty-three percent (.825). Home game openers have produced a record of 97-15-2 which works out to a winning percent of eighty-six percent. Road games are also good, just not that good: 16-7-1 = .688.
Michigan's first season opener on the road was Game #1 in Wolverine Foot ball history. Yes, it was an overwhelming 1-0 win over Racine at a neutral field in Chicago. The Wolverines opened their first three seasons on the road and five of the first seven were also away from Ann Arbor. Michigan won six of those first season opening games. Then the Wolverines played fifty-three straight home openers in Ann Arbor. Here are a few more opening games to remember:
1881 First Season Opening road loss: @ Harvard 0-4
1971 First Big Ten Season Opener/Win: @ Northwestern 21-6 win
1977 Biggest Big Ten Season Opening Road Win: @ Illinois 37-9
1981 First Big Ten Season Opening Road Loss: @ Wisconsin 14-21
Series History - Michigan at Minnesota:
Of course, Michigan and Minnesota have been playing against each other for a very long time. The first game between these two future Western Conference foes took place in Minneapolis in 1892. The Gophers won game #1 by a score of 14-6. They also won the second game in 1893 in Ann Arbor by a score of 34-20.
Here are a few more series highlights about this special rivalry:
1895 First win vs Minnesota: @ Detroit 20-0
1896 First Big Ten Win vs Minnesota: @ Minneapolis 6-4
1903 First Tie/Big Ten Tie: @ Minneapolis 6-6 (Michigan lost a water jug at this contest)
1909 First Game for the Little Brown Jug: @ Minneapolis 15-6 (Jug finally returns to Ann Arbor)
1919 First loss in a Little Brown Jug Game: @ Ann Arbor 7-34
1934 Biggest Little Brown Jug Loss: @ Minneapolis 0-34
2011 Biggest Little Brown Jug win: @ Ann Arbor 58-0
2017 Last Little Brown Jug game: @Ann Arbor Won 33-10
Here are the series "numbers" so far:
Michigan leads the all time series with 75 wins, 25 losses and 3 ties
Michigan has the edge in home games at: 40-13-1
Michigan leads in Minneapolis games at 33-12-2
Michigan also owns a 2-0-0 advantage in neutral site games
Michigan is 2-0 at TCF Bank Stadium - the site of today's game
Today's Game: Michigan at Minnesota
Yes, all the numbers favor Michigan including the ones in the newspaper. As of today, the Wolverines is favored by about three points in this game, but it could be closer than that! Minnesota won eleven games last year. Although they lost most of their best defensive players, they have a strong offensive line and some powerful running backs. This will not be an easy game.
On paper, Michigan has the better roster and a slight advantage in coaching talent. However, the Wolverines will have to step up and play well right from the start. Both teams will have the first game "jitters." I think Michigan comes out strong and wins a close one.
My Prediction For Middle Tennessee at Michigan:
I predict a solid win for the Wolverines on Saturday night. Michigan will pass, run, punt and placekick better than the Gophers. There will be many Wolverine stars in this game. Yes, Michigan will become the first team in college football history to post victory #963. Go Blue! Final score: Michigan 23 Minnesota 17.