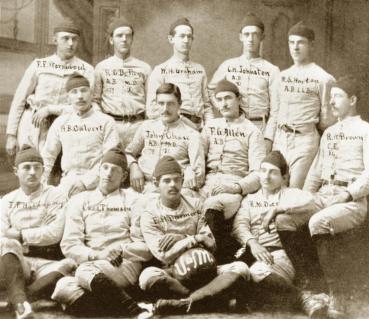 BigBlueToday | M Go Blue Football | M Go Blue Football History | Michigan Football Firsts | Michigan Football History | Michigan Wolverine Football History
August 11, 2020 Rest in Peace William Mace
Today is a great day to honor the memory of a Wolverine named William Mace who went to rest in peace on this day in 1938. According to the Wikipedia article linked below, Mr. Mace was eighty-five at the time of his death. William Harrison Mace. William Mace was born near Lexington, Indiana in 1852. Yes, that was a very, very, very long time ago. According to the Wikipedia article linked below, Mace left the family farm to attend the Indiana State Normal School. He graduated in 1876 with his teaching credentials.
(Note - William Mace practiced with many of the men on the 1881 Michigan Football team who also played in 1882. For whatever reason, the 1882 team did not play any outside games. Photo courtesy of the Bentley Historical Library at The University of Michigan.)
Part I. Wolverine of the Day: William Mace
A Late Starter at Michigan
William Mace taught for a number of years in Indiana, but got the urge to return to school. He enrolled at the University of Michigan in 1881. After a year on campus, he decided to give the game of "football" a try.  So, at thirty years of age, he joined the Wolverine football team. William Mace was probably the oldest member of the Michigan Football team in 1882.
The 1882 team was captained by William J. Olcott. The Bentley Historical Library lists a starting lineup of nine players and a full roster of thirteen for the 1882 team. It is unknown if the Wolverines did not have enough players to compete with outside teams in 1882 or if they just couldn't schedule any games. Whatever the reason, the Michigan Wolverine varsity did not play any other teams in 1882 for the first and only time in their football history.
A Historic Season in 1882
Even though the 1882 football team played no outside games, eleven men were awarded varsity letters and William Mace was one of them. Mace was listed as a rusher so he could probably mix it up at the line of scrimmage with the "youngsters" on the team. Interestingly, he played the same position as Michigan football legend, Horace G. Prettyman, who was also a rusher on the 1882 football team.
So, William Mace played on a historic team. It was the first, and only, organized Michigan football team to not schedule any games against outside competition. Interestingly, it was also the first "organized" Michigan Football team not to have a team picture.
A Distinguished Career for Another Michigan Man
After graduating from Michigan in 1883, Mace went on to become a superintendent of schools in Iowa. He left his duties as school superintendent in 1885 to join the faculty of DePauw University Normal School where he served as a professor of history. Mace worked in a variety of positions at the university level until his retirement in 1916. William H. Mace authored a number of history books and articles during his distinguished career.
So, today is a good day to remember another man who contributed to the great history of the University of Michigan's Football program. May William Harrison Mace continue to rest in eternal peace on the seventy-ninth anniversary of his death. Go Blue!
To read more about this fascinating Michigan Man check out the links below.
https://en.wikipedia.org/wiki/William_Harrison_Mace
http://bentley.umich.edu/athdept/football/fbteam/1882fbt.htm 
Part II. August 11, 2020 National Day Calendar Update