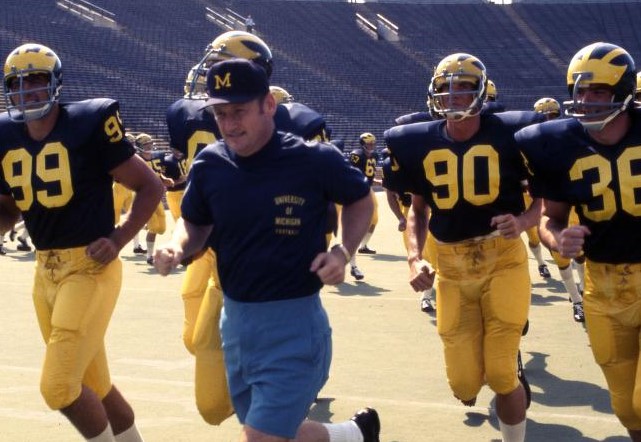 Go Blue Michigan Football History | M Go Blue Football History | Michigan Football Firsts | Michigan Wolverine Football History
April 1, 2019 Happy 90th Birthday Anniversary Bo Schembechler
Today is a great day to celebrate the 90th "Happy Birthday" anniversary of Michigan Legend Bo Schembechler. Glenn Edward "Bo" Schembechler was born on this day in 1929. Yes, Bo Schembechler was an April "Fool," but he was no football "fool!" The man could flat-out coach football. In fact, he did it better than any other man in the history of Michigan Football, got it?
(Note - Bo, shown above, loved leading his Michigan Wolverine Football team - that's for sure! Photo courtesy of the Bentley Historical Library at the University of Michigan.)
Part I. Wolverine of the Day: Bo Schembechler
A Michigan Football Legend
It is always fun to reflect on Bo's career and remember all the great things he did at, and for, Michigan. Wolverine football was not in a very good place when "Bo Who" arrived in December 1968. Bo went on a twenty-one year "mission of excellence" to get Michigan Football back in the national limelight. In my opinion, his incredible run gave Michigan football fans the greatest era of the school's magnificent football history. No losing seasons in twenty-one years, one hundred and ninety-four victories and thirteen Big Ten Championships. The numbers – 21-194-13 – are staggering! In fact, Bo's numbers and his "body of work" were so impressive that I wrote a book about it. (Check out – The Legend of Bo Schembechler by Barry Gallagher)
Bo's critics say he should have won a bunch of national championships and he didn't even win one. Like he said, it would have been nice to "win one of those suckers," but it didn't happen. Too many things had to go your way in the days of the "mythical" national championships. His detractors also point out that he lost too many bowl games. Of course, Bo would agree with that! That is one of the topics I focused on in my book.
Bo and Bowl Games - Not a Good Match
Bowl games were absolutely the "Achilles heel" of Coach Schembechler's career at Michigan. His annual mid-Winter hikes to Pasadena and later, to other bowl venues, were full of all kinds of personal drama, on the field controversy, and gut-wrenching disappointments. Bo never made any excuses, but the man could not get a break when it came to bowl games. He had a heart attack for his first one and his shell-shocked Wolverines lost a close one to John McKay and his USC Trojans. He also "won" a game while he was recuperating from heart surgery, so, he broke even on the bowl games he wasn't healthy enough to coach in.
Then, there were the two Rose Bowl classics―the "phantom touchdown" by USC Trojan Charles White and the "phantom holding call" in Bo's last game that kind of topped it all off for his bowl resumé. Sometimes, they just played a really good team, or a Heisman Trophy winner, or an especially mobile quarterback. There was always something happening in Bo's bowl games, but it usually wasn't good for him or his Wolverines!
There was no doubt about it―bowl games did not bring out the best in Bo's football teams.  The joke around Ann Arbor when I lived there (1985 to 1989) was that his wife, Millie, would not serve his cereal in a bowl because she was afraid he would lose it. I know that's cold, but that was the joke. Interestingly, after losing his first seven bowl games, Bo's teams did a much better job by going 5-5-0 in the last ten games. Bo finished his career with a record of 5 wins and 12 losses in bowl games.
Bo and the Regular Season - No Wolverine Coach Was Better - Ever!
I started thinking that, yes, Bo had to be pretty good to get to all those bowl games. But ,exactly how good was Schembechler in the regular season? I started to dig a little deeper to see how good his regular season record was. To my amazement, it was better than I thought. Once I had my regular season numbers for Bo I had to compare them to the legendary Fielding Yost. I just had to do it!
Fielding Yost was perfect in bowl games at 1 win and 0 defeats. He won his only Rose Bowl appearance by a score of 49-0 over Stanford in 1902. It would have been interesting to see how Mr. Yost would have fared in ten to fifteen more games. Based on his track record, he probably would have won quite a few more bowl games. So, comparing Bo and the legendary Yost on bowl game success is a futile effort.
However, things get a little more interesting when you look at how both men fared in their "regular season" bodies of work. Fielding H. "Hurry Up" Yost coached in a total of 203 regular season games and posted a record of 164 wins, 29 losses and 10 ties in those contests. Glenn E. "Bo" Schembechler led his team for 230 regular season games and finished with a total of 189 victories, 36 defeats and 13 ties. The following chart reveals how the "Regular Season" numbers worked out for both Michigan Legends.
Legendary Numbers
| | | | | | | |
| --- | --- | --- | --- | --- | --- | --- |
| Coach | Games | Won | Lost | Tied | B10 Titles | Winning % |
| Yost | 203 | 164 | 29 | 10 | 10 | .8325 |
| Bo | 230 | 189 | 36 | 5 | 13 | .8326 |
When you look at the amazing numbers for both of these magnificent coaches, you see that Bo was better, but not by much (.0001). The bottom line was that Bo could flat out coach, especially in the regular season. What happened to Bo's teams in December and January certainly mystified him and all the fans of Wolverine Nation. Once again, I believe that Bo's numbers gave Michigan Fans the "Greatest Era of Wolverine Football" based on the extensive number of wins, Big Ten Conference Championships, and everything else that Bo accomplished in Ann Arbor.
Some Interesting Schembechler  "Firsts" at Michigan
Of course, Bo is connected to some Michigan Football "firsts." There are actually a ton of them, so, I focused on four of his best!
·         Bo is the first, and only, Michigan coach to win 194 games.
·         Schembechler is the first, and only, Michigan coach to win 13 Big Ten Championships and 143 conference games.
·         Believe it or not, Bo was the first Michigan football coach to win 5 bowl games.
·         Bo, is the first, and only, Michigan Football coach with a regular season winning rate of  .8326 percent.
So, Bo finished his career as the winningest coach in the history of the winningest program in college football. You can't do much better than that! Please take a moment today to remember Glenn Edward Schembechler and appreciate his immense contributions to the history of Michigan Football. As the year's pass, his legend grows and his amazing work in Ann Arbor is harder to fathom. May Bo Schembechler continue to rest in peace. Go Blue!
https://en.wikipedia.org/wiki/Bo_Schembechler
https://en.wikipedia.org/wiki/1989_Michigan_Wolverines_football_team
http://bentley.umich.edu/athdept/football/fbteam/1989fbt.htm
http://bentley.umich.edu/athdept/football/coaches/gschemb.htm
Thanks to Michigan Man, Fritz Seyferth,  for this upload of Bo's famous "Team Speech" in 1983
Part II. Other Notable Wolverine Birthdays Today
Today is a special day in Michigan Football because a number of Michigan Men were also born on this day in addition to Bo Schembechler.
Bob Ufer, Michigan's legendary radio broadcaster was born on this day in 1920.
Roger Szafranski was born in 1954. He played  middle guard for the Wolverines and lettered for Bo in 1976.
John S. "Jumbo" Elliott was born on April 1, 1965. He earned 4 letters as an offensive tackle from 1984 to 1987. He was a two time All-American and a Big Ten Champion. John went on to earn a Super Bowl Ring with the New York Giants. Yes, he was a good one!
Terry Talbot was born in 1991. He played defensive line for Rich Rodriguez and Brady Hoke.
Part III. April 1, 2019 National Day Calendar Update