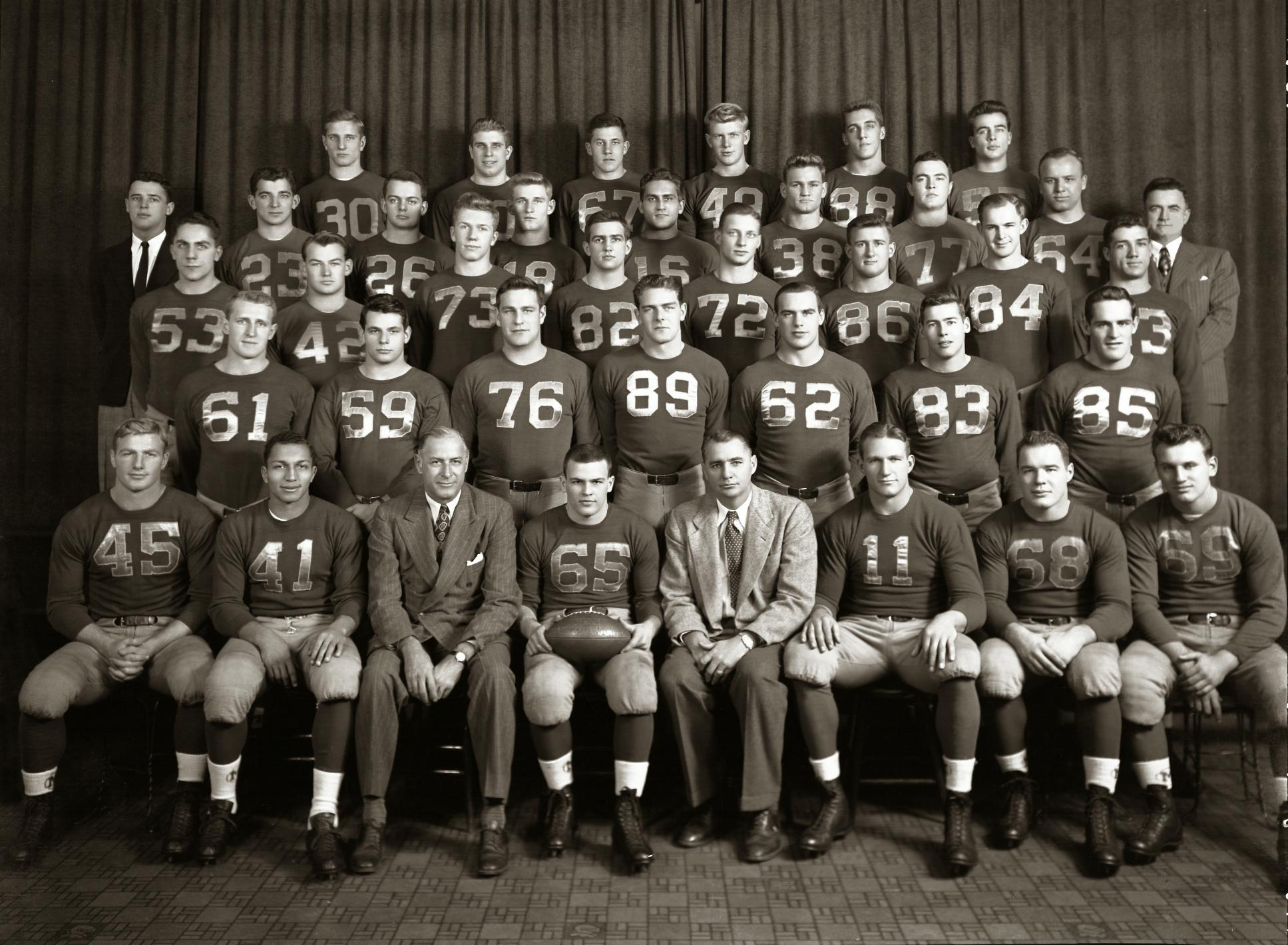 Michigan Wolverine Football History
October 4, 2020 – Happy Birthday Dan Dworsky
Today's post celebrates the Happy Birthday of Michigan Man Dan Dworsky. According to the Wikipedia article linked below, Daniel Leonard "Dan" Dworsky was born on this day in Minneapolis, Minnesota. Dworksy grew up in Sioux Falls, South Dakota. He came to Ann Arbor to study architecture, play football and wrestle for the Wolverines in 1945.
(Note – Dan Dworsky (#59) is shown above with the 1948 National Champion and Big Nine Champion Michigan Wolverine Football team. He is seated in the second row – second man from the left. Photo courtesy of the Bentley Historical Library at The University of Michigan.)
Part I. Wolverine of the Day: Dan Dworsky
A Starter as a Freshman and Sophomore in 1945 and 1946
Dan Dworsky came to Michigan as World War II was winding down. Fortunately, for Dan, and Michigan, freshman could still play in 1945. He earned five starts at fullback and earned his first varsity letter. The Wolverines finished with a record of 7 wins and 3 losses in his first year on the Michigan team. Not a great season, by Michigan standards, but something to build on.
The talented Dworsky earned one start at fullback in 1946 and did a lot of "linebacking" on the Michigan defense. He earned his second letter on a team that finished with 6 wins, 2 losses and 1 tie. Unfortunately, the Wolverines went 5-1-1 in the conference and finished second for the third consecutive season. Another good season, just not good enough for Michigan!
An Excellent Player on Back-to-Back National Championship Teams in 1947 and 1948
Michigan had a glut of talent in 1947 which meant that Dan Dworsky was not starting as much as he would have liked. However, he did make one start at center and continued to play well on defense. Dworsky played in every game on a team that only allowed 53 points in ten games! The Wolverines also scored 394 points which is why they finished the season with a perfect record of 10 wins, 0 losses and 0 ties. Michigan also won the Big Nine Conference Championship, the Rose Bowl Championship and the National championship in 1947. The 1947 season was a great season by anyone's standards and Dan Dworsky was an important part of it.
Dan Dworsky returned for his final season in 1948. New Michigan Head Coach Bennie Oosterbaan started Dan at center (4 games) and kept him on defense. Once again, Michigan was perfect (9-0-0) and the Wolverines added another Big Nine title and one more national championship trophy to Michigan Football's trophy case. The Wolverines ended the 1948 season on a twenty-three-game winning streak that dated back to late 1946.
Dan Dworsky Left Ann Arbor With His Head Held High in 1949
In addition to earning four varsity letters in football, Dan Dworsky also earned two in wrestling. Although he wasn't one of the big "stars" at Michigan, Dan was an excellent player on some great teams. The teams he played on posted a record of 32 wins, 5 losses and 1 tie which worked out to a winning percentage of just over eighty-five percent (.855). Dworsky and his teammates were even better during that period in the Big Nine Conference. Michigan posted an incredible record of 22 wins, 2 losses and 1 tie (.900) during that amazing run. They won two straight conference titles (1947 & 1948) and finished second in 1945 and 1946.
Bottom line – Dan Dworsky was an excellent athlete who played on two of the greatest teams in Michigan Football History. He left Ann Arbor to become a very successful architect in Los Angeles. However, some of Dworsky's most important work is still part of Michigan Stadium (Block M design on the visitor's side of the stadium) and the Crisler Center. Today is a great day to remember Dan Dworsky's accomplishments as a player and a Michigan Man. I hope that he has a very Happy Birthday today. Go Blue!
https://en.wikipedia.org/wiki/Dan_Dworsky
Part II. October 4, 2020 National Day Calendar Update: