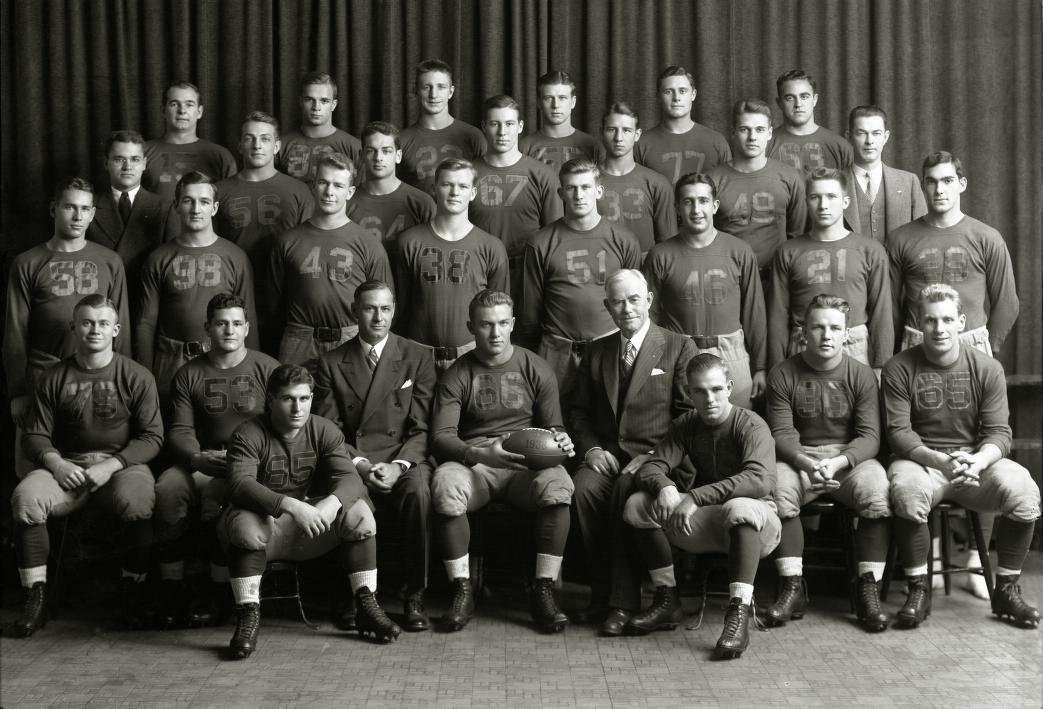 BigBlueToday | M Go Blue Football | M Go Blue Football History | Michigan Football Firsts | Michigan Football History | Michigan Wolverine Football History
May 14, 2020 – Happy Birthday Anniversary Ralph Heikkinen!
Today is a great day to celebrate the birthday anniversary of Ralph Heikkinen. Ralph Isaac "Hike" Heikinen was born on this day in 1917 in Hancock, Michigan. According to the 1935 Michigan Football Roster, Heikkinen came to Ann Arbor from Ramsey, Michigan. He was an outstanding athlete at A. D. Johnston High School in Bessemer, Michigan. Ralph was an outstanding student who earned an academic scholarship to Michigan. The undersized Heikkinen (5′ 9″ and 160 pounds) was determined to earn a degree from in Ann Arbor and play football for the Wolverines. 
(Note – Ralph Heikkinen (#38) is shown above with the 1938 Michigan Wolverine Football team. He is seated in the second row – second man from the right. Fielding Yost is to his immediate left as you view the picture. Photo courtesy of the Bentley Historical Library at The University of Michigan.)
Part I. Wolverine of the Day: Ralph Heikkinen
"Hike" Came to Play for Coach Kipke and Michigan in 1935
Ralph Heikkinen did what everybody else did in the mid-1930s. He spent his time on the freshman team and did his best to learn Harry Kipke's "Michigan football system." "Hike" applied himself with determination on the football field and in the classroom during the 1935-1936 school year.
Apparently, young Heikkinen had some more learning, and growing, to do in 1936. The good news was that he made Harry Kipke's varsity team in 1936. The bad news was that Heikkinen did not start any games or play enough to earn a letter that season. Maybe Michigan would have won more games with "Hike" on the field since the Wolverines finished the season with a record of 1 win and 7 losses. They were even worse in the conference at 0 wins and 5 losses.
From A Little Playing Time to a Lot in 1937 and Team MVP to Boot!
Heikkinen came back in 1937 for some more football. He was prepared to do more for Michigan. Hike was determined to play more and help the Wolverines to play better. He started seven games at right guard and earned his first varsity letter. Even more impressive, he earned All-Conference honors and was named the Most Valuable Player on the 1937 Michigan team. Fortunately, the Wolverines did post a better record in 1937. The won 4 games and lost 4 games. They also broke even in the conference with a record of 3-3-0. Michigan finished in a tie for fourth place in 1937. Of course, this was not a terrible record for most teams, but it wasn't good enough for Michigan. Harry Kipke would not return to coach Michigan in 1938.
Was "Hike" Good Enough to Play for Fritz Crisler?
Fritz Crisler was Michigan's new football coach in 1938. Now, Ralph Heikkinen, and his teammates, would have to impress the demanding Crisler to earn playing time.  Of course, "Hike" impressed Coach Crisler and remained on the varsity in 1938. He started 6 games at right guard and 2 more at left guard. Again, the undersized Heikkinen (5'9" and 180 pounds) moved people on offense and tackled them on defense. He was a ferocious competitor who inspired his teammates with his toughness and determination.
Ralph Heikkinen was a force to be reckoned with in 1938. He helped lead Crisler's first team to a record of  6-1-1 for the season. They won 3, lost 1 and tied 1 in the conference and finished in a 2nd place tie. "Hike" earned All-Conference honors for the second straight season and also became Fritz Crisler's first All-American player. And, yes, he was named Michigan's Most Valuable Player for the second consecutive season.
Ralph Heikkinen's Michigan Football "Firsts"
Of course, I would not be talking about Ralph Heikkinen today if he wasn't part of some Michigan football "firsts." Here are five "firsts" for "Hike Heikkinen:"
·         Ralph Heikkinen was a member of the first and only Michigan football team to finish with a record of 0-5-0 in Big Ten Conference play in 1936. Ugh!
·         Ralph played on Fritz Crisler's first football team at Michigan in 1938 and was Crisler's first All-American player
·         Heikkinen was on the first team to wear Michigan's  legendary winged helmet on October 1, 1938 and Michigan State.
·         Ralph Heikkinen was the first Junior in Michigan Football history to be named "Most Valuable Player" and the first man to be Michigan's MVP in two consecutive seasons.
Michigan Man for Life!
So, on the one-hundred and first anniversary of his birth, let us remember Ralph Heikkinen. He  epitomized the spirit of a true, blue Michigan Man. He was not the biggest man to ever play "guard" at Michigan, but pound-for-pound – he may have been the toughest! He was that good! His teammates certainly appreciated his contributions to Michigan Football and so should we. Please take a moment today to think good things about Ralph "Hike" Heikkinen. Sadly, Ralph died on January 12, 1990 at the age of seventy-two. May Ralph Heikkinen continue to rest in eternal peace. Go Blue!
Of course, I want to wish "Happy Mother's Day" to any Mom's who might be reading today's post. 🙂
https://en.wikipedia.org/wiki/Ralph_Heikkinen
http://bentley.umich.edu/athdept/football/fbteam/1938fbt.htm
Part II. May 14, 2020 National Day Calendar Update: