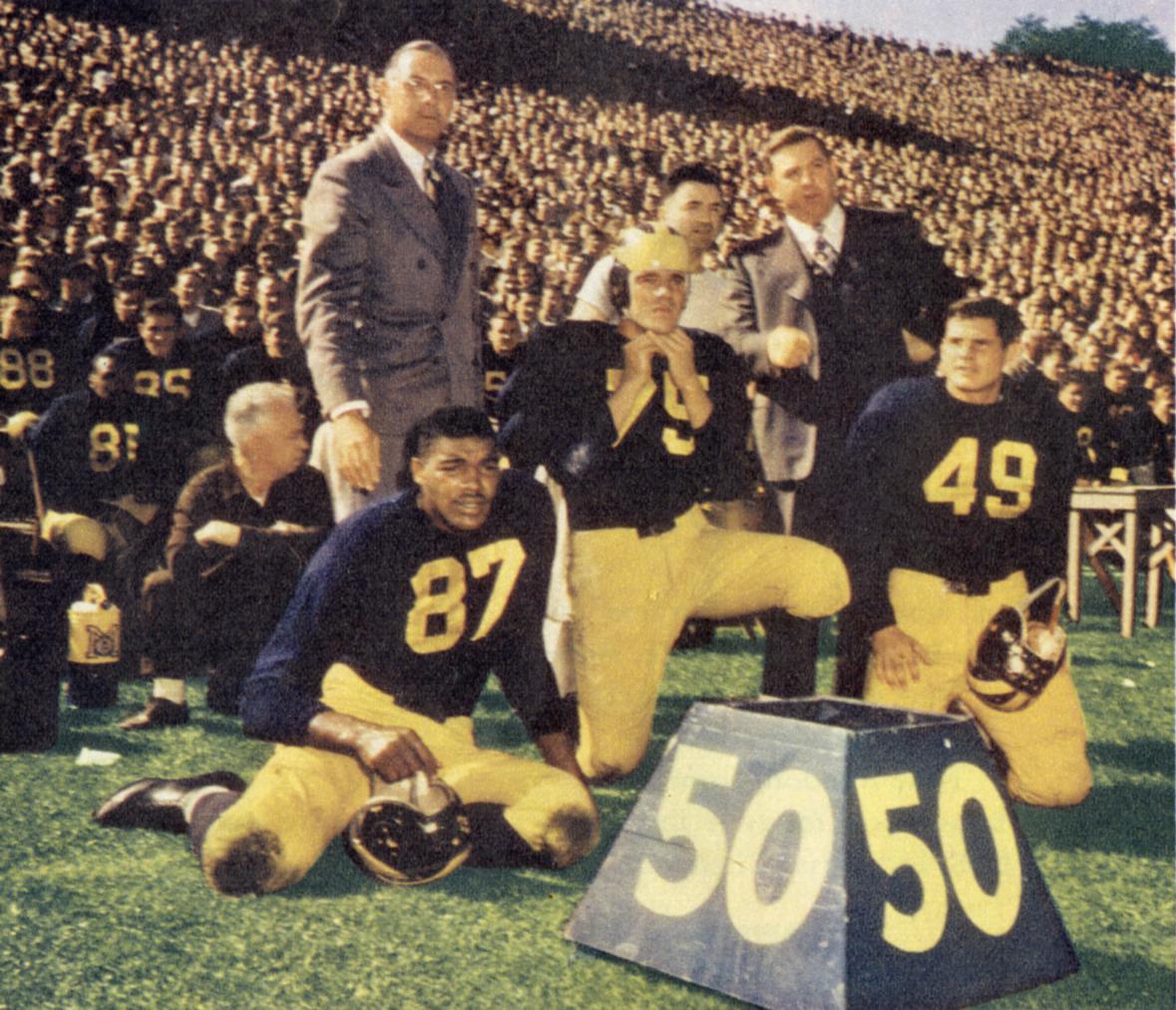 BigBlueToday | Go Blue Michigan Football | Go Blue Michigan Football History | M Go Blue Football | M Go Blue Football History | Michigan Football History | Michigan Wolverine Football History
March 14, 2020 Rest in Peace Len Ford
Today's post celebrates the memory of a Wolverine named Len Ford who went to rest in peace on this day in 1972. According to the Wikipedia article linked below, Leonard Guy "Len" Ford, was born in Washington, D. C. on February 18, 1926. He attended Washington High School where he became an outstanding athlete. After graduation, Ford enrolled at Morgan State University in 1944. After one year at Morgan State, he joined the United States Navy. However, the end of the war in 1945 brought an abrupt end to Ford's military career.
(Note-Len Ford  (#87) takes a break in 1947 in a game against Michigan State.. The Wolverines won the game by a score of 55-0. Photo courtesy of the Bentley Historical Library at The University of Michigan.)
Part I. Wolverine of the Day – Len Ford
Len Ford arrived in Ann Arbor to play End for Coach Fritz Crisler in 1945. He was one of the younger players who competed for playing time against a large number of veterans who were back to finish their college education and their football careers. Michigan had
A Slow Start in Ann Arbor
At 6 feet, 5 inches tall, Ford, was the tallest Wolverine on the 1945 roster. Because he weighed in at just over 220 pounds, Ford was strong enough, and fast enough, to be an effective blocker and a deep threat too. On defense, he was very difficult to block. He raised a lot of havoc in enemy backfields during his time in Ann Arbor. According to team records at the Bentley Historical Library, Len Ford did not start any games in 1945 or 1946. However, he did play enough to earn two varsity letters on two second place conference teams.
Michigan posted a respectable record of 13 wins, 5 losses, and 1 tie from 1945 to 1946. However, their conference record of 10 wins, 2 losses and 1 tie was only good enough for a pair of second place finishes. Many experts, and fans, thought that the super-talented Wolverines were underachieving. Maybe that would change in 1947.
1947 – A Magical Season
Well, as it turned out, things worked out perfectly for Fritz Crisler's "Mad Magicians" in 1947.
The Wolverines ran the table and finished with a perfect record of 10-0-0 and won the Big 9 Conference Title with 6 wins, 0 losses and 0 ties. They won a share of the National Championship after blasting Southern California in the 1948 Rose Bowl.
Len Ford ended his career with three varsity letters, a Big Ten championship and a National Championship. He was an important part of the team that many say was the best in Michigan Football History.
So, today is a good day to honor the memory of Len Ford and appreciate his contributions to Michigan Football. Ford went on to a very successful career in professional football. Sadly, he was only 46-years old when he died of a heart attack in Detroit, Michigan. Please take a moment to remember Len Ford. May he continue to rest in peace. Go Blue!
https://en.wikipedia.org/wiki/Len Ford
Part II. March 14, 2020 National Day Calendar Update: