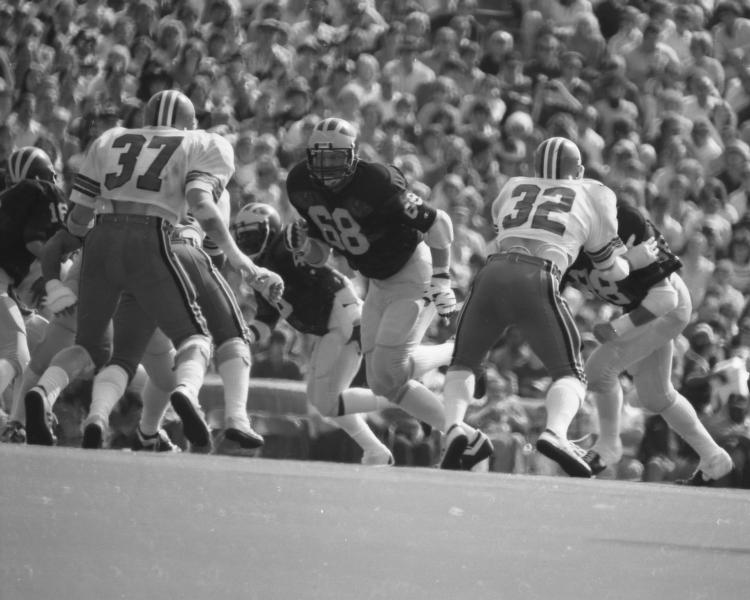 BigBlueToday | Go Blue Michigan Football | Go Blue Michigan Football History | M Go Blue Football | M Go Blue Football History | Michigan Football History | Michigan Wolverine Football History
March 10, 2020 Happy Birthday Rich Strenger
Today's post celebrates the Happy Birthday anniversary of a Wolverine named Rich Strenger. According to the Wikipedia article linked below, Richard Gene "Rich" Strenger was born on this day at Port Washington, Wisconsin. Rich grew up to be a very good football player at Grafton High School. He came to Ann Arbor in 1978 to play tight end for Bo Schembechler's Michigan Wolverines.
(Note – Rich Strenger (#68) looks to pancake an Illinois linebacker in 1982. Photo courtesy of the Bentley Historical Library at The University of Michigan.)
Part I. Wolverine of the Day – Rich Strenger
The only things that Strenger did in 1978 was grow and get stronger. Of course, he went to class too. Rich burned his redshirt in his freshman year. By the time the 1979 season rolled around, Strenger had grown an inch and added sixteen pounds. He now stood 6 feet and 7 inches and weighed 241 pounds. He was still a little light to fit Bo's mold for an offensive lineman, but Rich was working on it! Rich Strenger kept working on the field and in the weight room. He didn't earn a letter in 1979, but he kept his eye on the prize!
Rich Strenger played a lot of good football for Michigan in 1980 and 1981. He performed well as a backup lineman and earned his first two letters. He helped the Wolverines win a Big Ten Championship in 1980. Strenger was getting better, but he didn't earn any starts. His biggest problem was that he was playing behind three All-Americans! Kurt Becker, Bubba Parris and Ed Muransky were the starters and that was that!
The patient Strenger continued to work and wait. Finally, he was named the starting left tackle in 1982. Rich Strenger had some BIG shoes to fill since he was replacing All-American Bubba Parris at left tackle. However, Strenger now packed 261 pounds on his muscular 79 inch frame. Yes, Rich Strenger was ready for his opportunity!
Strenger started all twelve games in 1982. He helped lead the Wolverines to a final record of 8 wins and 4 losses. More importantly, Michigan posted a record of 8 wins and 1 loss in the conference which was good enough for a Big Ten Championship! At the end of the season, Rich was named to the Big Ten's first team. He also earned honorable mention on some All-American lists.
After graduation, Rich Strenger was drafted by the Detroit Lions. He played six years in the NFL before he hung up his spikes. The ambitious Strenger was not done yet. He worked in a number of jobs before deciding to return to school. The uber-persistent Strenger earned a law degree. Now, Strenger runs his own practice in Lake Orion, Michigan.
Rich Strenger's Michigan career definitely had some "ups" and "downs." He overcame everything that came his way and finished STRONG! He is one of my favorite Michigan players because nothing came easy for him. Thankfully, he had the grit and determination to make the best of it! Thanks for the memories Rich Strenger! I hope you have a very Happy Birthday today! Go Blue!
For more information about Rich Strenger go to the following links:
https://en.wikipedia.org/wiki/Rich_Strenger
http://strengerlaw.com/about-2-2/
http://mgoblog.com/diaries/tbt-catching-rich-strenger
Part II. March 10, 2020 National Day Calendar Update: