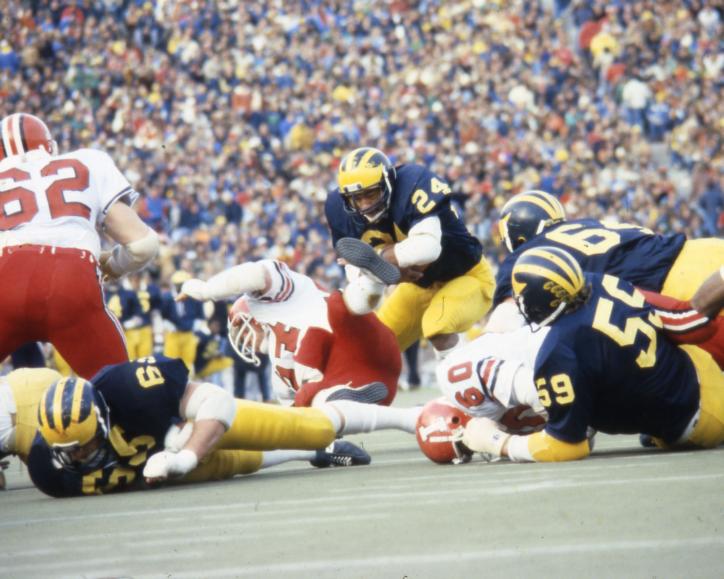 BigBlueToday | M Go Blue Football | M Go Blue Football History | Michigan Football Firsts | Michigan Football History | Michigan Wolverine Football History
March 1, 2020 Happy Birthday Butch Woolfolk
The purpose of today's blog is to wish a very Happy Birthday to Michigan Man Butch Woolfolk. Harold E. "Butch" Woolfolk was born on this day in Milwaukee, Wisconsin. Woolfolk grew up to be an outstanding high school athlete. He was a record-setting football player and track man at Westfield High School in Westfield, New Jersey. Bo Schembechler got him on his radar and the rest is Michigan Football History!
(Note: Butch Woolfolk (#24) runs for daylight in 1979 in a win over Indiana. Photo courtesy of the Bentley Historical Library at The University of Michigan.)
Part I. Wolverine of the Day: Butch Woolfolk
Woolfolk was one of Bo's top recruits in 1978 and the talented Woolfolk got off to a good start. He logged 77 carries and gained 359 yards for an average of 4.7 yards per carry in his first year at Michigan. He actually started two games as a freshman. Butch lettered on a team that finished at 10 wins and 2 losses. The Wolverines also tied for the Big Ten Championship with a record of 7 wins and 1 loss. Woolfolk was off to a good start in Ann Arbor. He also joined the Michigan Track team so that he could work on his speed and endurance. Good idea!
Learning to Run Bo's Way
Butch Woolfolk started five more games as a sophomore, but probably could have started more if he was a little more physical at the point of contact. He liked to run around people more than he liked to run over them. So, Bo didn't always like Butch on the field. Woolfolk still gained 990 yards on 191 carries. He averaged 5.2 yards per carry and scored a league-high 13 touchdowns for the Wolverines in 1979. Butch had an outstanding year, but the demanding Schembechler wanted more! Even with Bo nipping at his heels, Woolfolk was good enough to earn first-team All-Conference honors. Michigan finished with a final record of 8 wins and 4 losses that year. Unfortunately, the Wolverines slipped to third in the conference with a record of 6-2-0.
Bo's Featured Back in 1980
The 1980 season was a big challenge for Bo, for Butch Woolfolk and for Michigan. After Michigan lost four of five games dating back to 1979, Bo scrapped his option offense and went to a more diversified attack that still featured power running, but also showcased the throwing arm of John Wangler and the speed and catching ability of Anthony Carter. The "new" offense got off to a rough start and the Wolverines lost to South Carolina by a score of 14-17. After that, it was lights out on both sides of the ball! Michigan won nine straight games, captured the Big Ten Championship and earned a berth in the 1981 Rose Bowl.
After the "bugs" in the new offense got worked out, Butch Woolfolk really took off! He rushed for 1,042 yards and raised his average yards per carry from 5.2 in 1979 to 5.3 in 1980. He scored 8 more touchdowns and earned All-Big Ten Honors for the second straight season. Ah, but the best was yet to come. Michigan did something in January 1981 that no Bo Schembechler team had ever done! The Wolverines won the Rose Bowl and gave Bo a very nice Happy New year's gift! Butch Woolfolk continued his outstanding play and was named the MVP of the 1981 Rose Bowl. He was running over, around and through people so Bo was liking Butch a lot more. Life was good for Bo, Butch, and Wolverine Nation!
Strong Finish to a Great Career
Hard-running Butch Woolfolk was the featured tailback for the 1981 season. He started all twelve games that year and did some very special things for Michigan. He became only the third man to lead Michigan in rushing for the three straight seasons by amassing 1,459 yards on 253 carries. He joined Tom Harmon and Billy Taylor in a very elite group of running backs with that achievement. Butch averaged 5.8 yards per carry and scored 6 more touchdowns for the Maize and Blue. He also earned All-American honors for the first time and All-Big Ten honors for the third straight year! Oh yes, he was selected as Michigan's team MVP for the 1981 season. If you are keeping score that made it two MVP awards in one calendar year (1981 Rose Bowl and 1981 regular season)!
Ah, but it gets even better! Butch finished his career in style with a stellar performance in the 1981 Blue Bonnett Bowl on December 31, 1981 in Houston, Texas. Michigan defeated UCLA by a score of 33-14.  Woolfolk rushed for 186 yards on 27 carries and earned one more MVP selection in 1981. It was the first, and only, time that a Michigan player has ever been named as an MVP three times in one calendar year. I don't think it will ever happen again, do you?
Butch Woolfolk's Wolverine Football "Firsts."
Here are some more that I found for Butch:
He is the first, and only, Michigan Man to rush for 92-yards and a touchdown (Nov 1979) which is still the longest TD run from scrimmage in Michigan Football History! Check out the YouTube video. https://www.youtube.com/watch?v=xrL1f0n0uRc
·         He is the first, and only, Michigan Man to record both a 92-yard TD run (1979) and an 89-yard TD scamper (1981) in a career.
·         He is the first, and only, Michigan running back to rush for over 250 yards (253 to be exact) against Michigan State in 1981.
·         He was the first Michigan running back to total over 700 carries in a career. His total of 718 carries is still sixth best in Michigan history.
·         He was the first Wolverine running back to gain over 3,800 yards on the ground. The 3,861 yards that he gained is still sixth best in Michigan history.
·         He was also the first Michigan running back to record sixteen 100-yard rushing games in a career. Again, this is also sixth-best all-time at Michigan.
Yes, Butch Woolfolk's name is still all over the Michigan football record book and he hasn't played a down in almost forty seasons! I hope that Butch Woolfolk is having a great time celebrating his birthday with family and friends today! Please take a moment to appreciate the great contributions that Butch Woolfolk made to Michigan Football history. He gave everything he had to the Maize and Blue (on the field and the track) and he sent a son (Troy) to play for Michigan as well. You can't do any more than that for your alma mater! Thanks for the memories Butch and Go Blue!
https://en.wikipedia.org/wiki/Butch_Woolfolk
https://www.youtube.com/watch?v=MNZppdU42QU
http://bentley.umich.edu/athdept/football/fbteam/1981fbt.htm
Part II. March 1, 2020 National Day Calendar Update:
National Peanut Butter Lovers Day