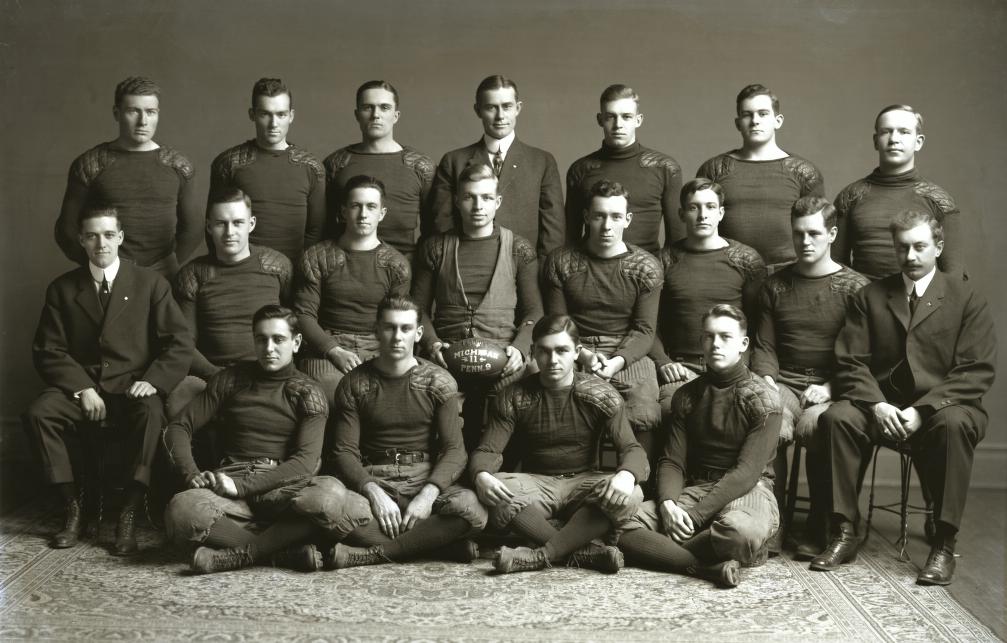 BigBlueToday | Go Blue Michigan Football | M Go Blue Football | M Go Blue Football History | Michigan Football History | Michigan Wolverine Football History
February 28, 2018 – Rest in Peace Frank Picard
Today's post celebrates the memory of a Michigan Man named Frank Picard who went to rest in peace on this day in 1963. Mr. Picard was 73-years old when he died. According to the Wikipedia article linked below, Frank Albert Picard was born in Saginaw Michigan on October 19, 1889. Yes, he was another Pigskin Pioneer who helped shape the winning tradition of Michigan Football.
Part I. Wolverine of the Day – Frank Picard 
Frank Picard enrolled in Michigan's Law School in 1909. Picard played football at Saginaw High School. In fact, he captained the team in his senior year. Frank decided that he wanted to play football for the Michigan Wolverines. So, that's what he did!
Picard was listed on the Michigan Football roster as a "reserve" in 1909 and 1910. He didn't play any games or win any letters during his first two seasons at Michigan. However, Frank hung in there and proved his mettle to Coach Yost.
Frank Picard worked his way up to third string quarterback in 1911. He actually started one game and played in three others in his senior season. He earned his varsity letter and did what he could to help Michigan post a final record of 5 wins, 1 loss and 2 ties.
Picard played in the "independent years" since Michigan left the Western Conference in 1906. There were no championships to play for during his Wolverine career.
It appears that Frank Picard's best work was done in the courtroom long after he left Ann Arbor. He practiced law for a few years, joined the U. S. Army during World War I and had a couple of unsuccessful runs for political office. Eventually, President Franklin D. Roosevelt nominated Picard for a District Court seat in 1939. Judge Frank Picard served in the district court system from 1939 until his death in 1963.
So, today is a great day to remember another Michigan Wolverine who loved his alma mater. Frank Picard was not the greatest football player who ever put on a uniform for the Maize and Blue. However, he played and he was a part of the winningest program in the history of college football. Frank Picard went on to become a successful "Michigan Man" who served his country and the people of eastern Michigan for most of his adult life. May Judge Frank Picard continue to rest in eternal peace. Go Blue!
https://en.wikipedia.org/wiki/Frank_Albert_Picard
Part II. Trivia Question of the Day – February 27, 2018
When did Michigan and Michigan State first play for the Paul Bunyan Trophy?
Part II. Trivia Answer of Day – February 27, 2018 – November 14, 1953
Yes, the 46th "football brawl" between Michigan and Michigan State got a little more intense because Michigan State was now a full-fledged member of the Big Ten Conference. Governor G. Mennen Williams thought that these "new" conference rivals needed a trophy to play for. So, he commissioned the Paul Bunyan Trophy to symbolize victory in this football series.
The Spartans won the game (14-6) in front of a record crowd (52,324) at Macklin Stadium. Biggie Munn's team bested Bennie Oosterbaan's footballers and a new level of college football intensity kicked off in the Mitten State.
Part III. Trivia Question of the Day – February 28, 2018
Who holds the record for most total yards against the Ohio State Buckeyes?