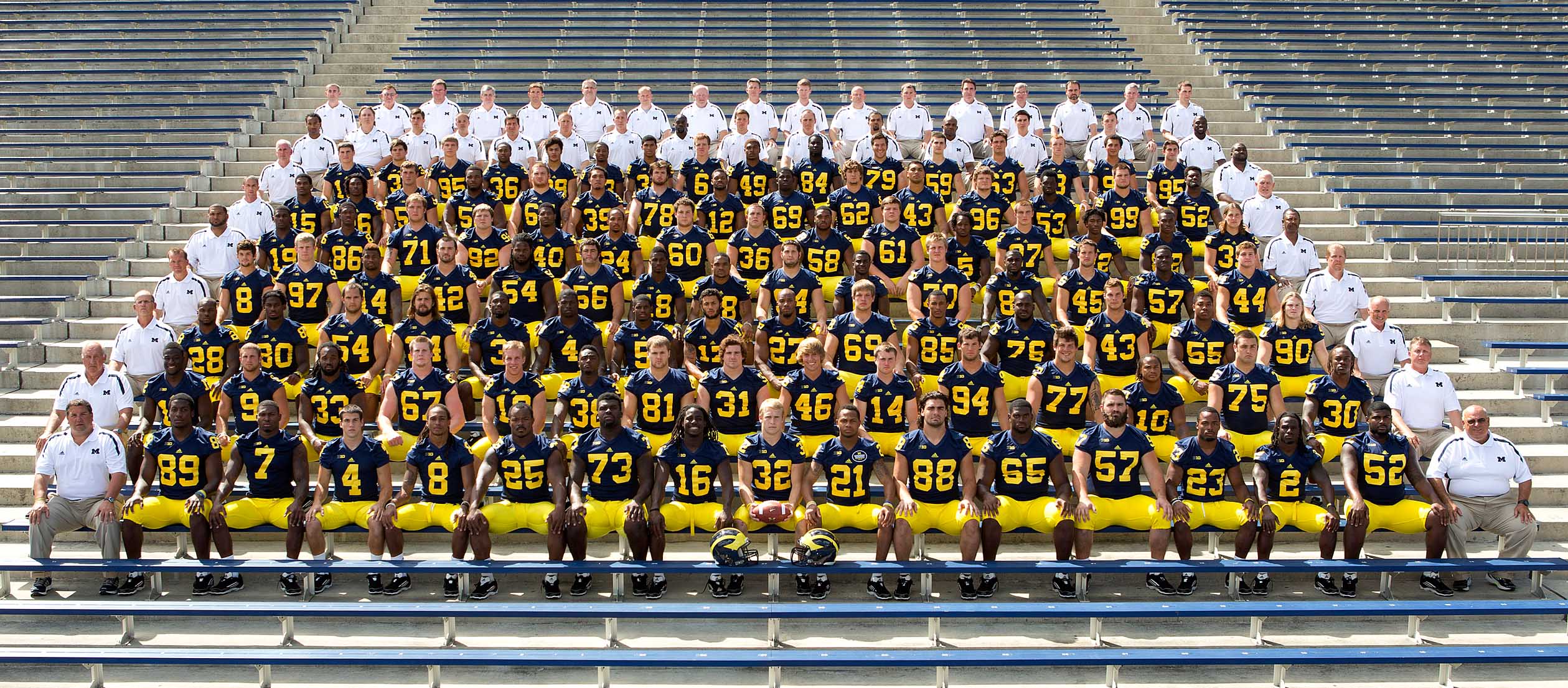 BigBlueToday | M Go Blue Football | M Go Blue Football History | Michigan Football History | Michigan Wolverine Football History
February 27, 2020 Happy Birthday Captain Jake Ryan
The purpose of today's post is to wish a Happy Birthday to a Wolverine captain named Jake Ryan. According to the Wikipedia article linked below, Jacob William Ryan was born on this day at Fairview, Ohio. He grew up in a football family and made quite a name for himself at Cleveland's St. Ignatius High School. Fortunately, Michigan was able to convince him that his football future was in Michigan, not Ohio!
Part I. Wolverine of the Day – Jake Ryan  
Burned Redshirt in 2010
Jake Ryan's name first showed up on a Michigan Football Roster in August 2010. Coach Rich Rodriguez held him out of all the games in 2010 and Ryan burned his redshirt in his freshman year. Unfortunately, Rich Rodriguez burned his bridges in Ann Arbor and was gone in January 2011.
Played for a New Coach in 2011 and 2012
However, Jake Ryan returned in 2011. His only goal was to impress Brady Hoke's coaching staff and earn a starting spot on Greg Mattison's defense. Fortunately, for Jake and Michigan, that's exactly what happened. Ryan started 11 games in his first season at Michigan. Jake earned his first varsity letter and helped Michigan post an excellent record of 11 wins and 2 losses. Things were looking up in Ann Arbor after three rough years under Coach Rodriguez.
The talented Ryan returned for his second season in 2012. Expectations were high for the Wolverines and the season finished with a disappointing record of 8 wins, 5 losses and 0 ties. Jake led the team in tackles in 2012 with 88 takedowns. He also recorded 16 tackles for loss and had 4.5 sacks and 4 forced fumbles. Ryan spent more time in most opponents backfields than some enemy running backs. He was a force on the Wolverine defense – period! Jake won the Roger Zatkoff Award (Michigan's best linebacker award) for his outstanding play.
Captain Ryan Overcame an Injury in 2013
Jake really pushing hard to lead his teammates on the practice field during Spring Drills in 2013. Unfortunately, he suffered a serious ACL injury. Originally, it was believed that he could miss the entire 2013 campaign, but Jake never believed it. He went into "rehab" mode and returned to the team for the sixth game of the season. Co-Captain Ryan went on to start 5 of the remaining 8 games. Of course, his stats were down for the season and he did not lead the team in tackles. However, he did win the Zatkoff Award for the second time despite his limited playing time. The Wolverines continued to slip in the win-lost column in 2013. Michigan won 7 games and lost 6. So, yes, it was not a good year for Jake and his teammates.
Two-Year Captain in 2014
Hard-working Jake Ryan returned for his final season in 2014. He was named Co-Captain (along with Devin Gardner) for the second straight season. He returned to top form in his fifth year and led the Wolverines in tackles with a career-high 112 takedowns (67 solo and 45 assists). Sadly, Jake was Michigan's best player in a really bad season. Yes, the wheels fell off the Brady Hoke bandwagon and the Wolverines ended the season with a final record of 5 wins and 7 losses.
It was an ugly season, but Jake Ryan was definitely a bright spot. He had 7 games with at least 10 tackles and notched a career high (14) against Maryland. Jake earned first team All-Big Ten honors in 2014. He was named the team MVP at the end of the season. Jake became the first, and only, linebacker in Michigan Football History to win the Zatkoff Award (Best Linebacker) for three straight seasons. I am certain that Jake Ryan would have traded all of his individual awards and accolades for a Big Ten championship, but it wasn't in the cards.
As you probably know, Jake went on to play in the NFL. He played for the  Green Bay Packers from 2015 to 2018. He spent an injury filled season with the Jacksonville Jaguars in 2019. So, today is a great day to remember Jake Ryan's contributions to the great history of Michigan Football. Yes, he was born a Buckeye, but he is now a Michigan Man for life! I hope that Jake has a very Happy Birthday today on his special day! Go Blue!
https://en.wikipedia.org/wiki/Jake_Ryan
http://bentley.umich.edu/athdept/football/fbteam/2014 fbt.htm
Part II. February 27, 2020 National Day Calendar Update: