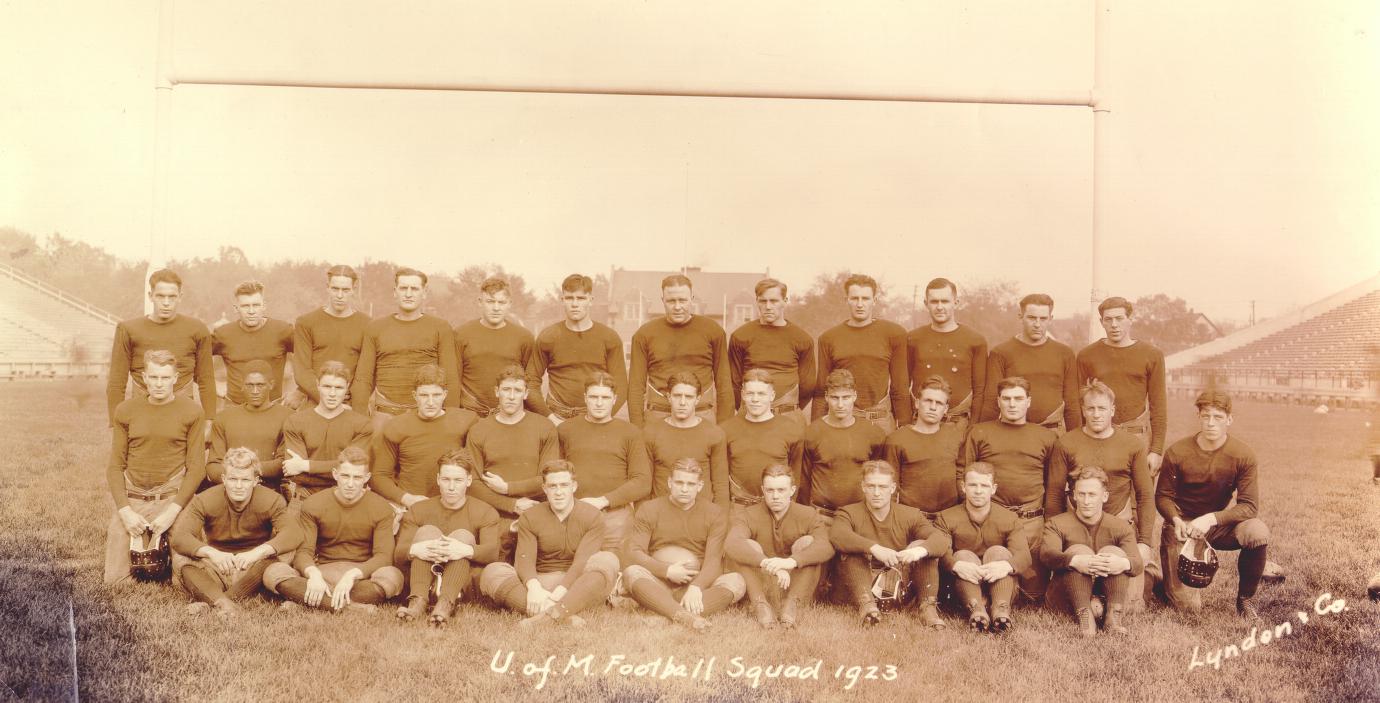 BigBlueToday | M Go Blue Football | M Go Blue Football History | Michigan Football Firsts | Michigan Football History | Michigan Wolverine Football History
February 23, 2020 – Black History Month Salute – Belford Lawson
Today is a great day to honor the memory of Belford Lawson who continues to rest in peace. According to the Wikipedia article linked below, Belford Vance Lawson, Jr. died on this day in 1985 at the age of eighty-three. Lawson was born in Roanoke, Virginia on July 9, 1901.
(Note – Belford Lawson is shown here with most of the players on the 1923 Michigan Football Team. He is kneeling in the second row – second man from the left. Photo courtesy of the Bentley Historical Library.)
Part I. Wolverine of the Day: Belford Lawson
Belford Lawson's name first showed up on a Michigan Football Roster in 1921. He was listed as a reserve for both the 1921 and 1922 seasons. In 1923, he was listed as Fullback in the Class of 1924. Belford Lawson did not earn any starts or playing time at Michigan according to the Bentley Historical Library records I reviewed.
No Playing Time, No Letter, No Fun?
Interestingly, he was not the only man in that boat. Fielding Yost was famous for only playing the best possible players – all the time. Unfortunately, as the Ann Arbor Observer article points out, Mr. Yost, the son of a Confederate soldier, may have had some issues with African-Americans.
I would think that if Lawson, was indeed good enough, he may have played for Yost. Mr. Yost was all about winning, but it is only speculation on my part. If you look at the numbers, the 1923 Michigan Football Roster team had one hundred and forty-five names (145) on it. Thirty-one (31) of those men had a number assigned to their name which meant that they probably dressed for games. Of the thirty-one "players" only twenty (20) earned a letter from Fielding Yost for the 1923 season. Like I have said before, it was an accomplishment just to earn a letter for Mr. Yost. It probably would have been a super-human achievement for Belford Lawson to earn a Michigan letter from Yost, but I certainly give the man great credit for trying!
Some Michigan Football "Firsts" in the Lawson Era
Here is a summary of the firsts that connect Belford Lawson and Michigan Football:
He was the first, and only, African American football player at Michigan during the Yost Era. (Note-He was the second African-American to play at Michigan with George Jewett (1890) being the first.)
Like Ed Johns, who I wrote about yesterday, Lawton was part of the team that helped Michigan keep the record of at least one championship in every decade of Western Conference/Big Ten play alive!
A History Maker After Graduation
Interestingly, the most important "firsts" for Belford Lawson occurred off the field and after he left Michigan.
He was the first African-American to win a case before the Supreme Court (1950).
Again, according to the Wikipedia article linked below, Lawson was also the first African-American to become president of the YMCA (Young Men's Christian Association).
Rest in Peace Michigan Man
So, on the thirty-fifth anniversary of his passing, let us remember another distinguished Michigan Man. Belford Lawson was on three Fielding Yost teams, but like about one-hundred of his teammates, he never played a down. His football "role" at Michigan was acted out on the practice field. I am certain that it was difficult for Mr. Lawson, but he obviously made the best of his time at Michigan and went on to do great things for the advancement of racial justice in America. Unfortunately, there is still much more work to be done!
Today, and this month, is a great time to honor the memory of Belford V. Lawson, Jr. and celebrate his life. Thanks to Mr. Lawson for his achievements at Michigan and in a lifetime of civil rights activism. May Belford Lawson always rest in peace. Go Blue! 
Check out the great Wikipedia articles below for more on the life and career of Belford V. Lawson, Jr.
https://en.wikipedia.org/wiki/Belford_Lawson_Jr.
https://en.wikipedia.org/wiki/1923_Michigan_Wolverines_football_team
http://annarborobserver.com/articles/the_belford_lawson_mystery_full_article.html
Part II. February 23, 2020 National Day Calendar Update: