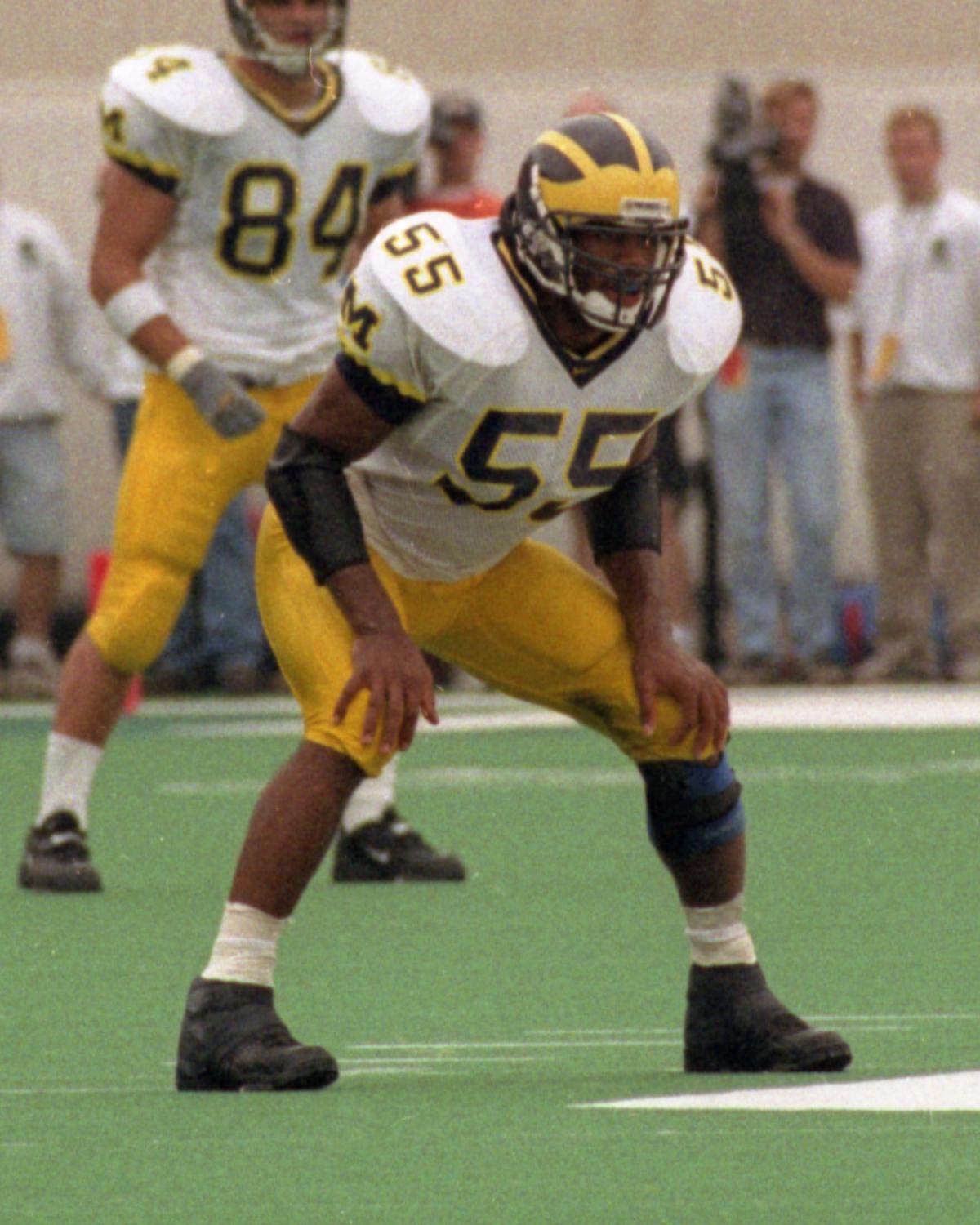 BigBlueToday | Go Blue Michigan Football | M Go Blue Football | M Go Blue Football History | Michigan Football History | Michigan Wolverine Football History
February 22, 2020 – Happy Birthday Dhani Jones!
Today is a great day to wish Dhani Jones a very Happy Birthday! Dhani Makalani Jones was born on this date in San Diego, California. According to the Wikipedia article linked below, Jones grew up in Potomac, Maryland. He was an outstanding athlete at Winston Churchill High School where he earned multiple honors in football. He also wrestled and ran track. Dhani was rated as the fifth best linebacker prospect in the Atlantic Coast Region coming out of high school.
(Note – Dhani Jones is set to make another play against MSU. He recorded 15 tackles against the Spartans in 4 games. Photo courtesy of the Bentley Historical Library at The University of Michigan.)
Part I. Wolverine of the Day – Dhani Jones
Lloyd Carr heard about Dhani's football prowess and decide to recruit Jones. Dhani had lots of good options for his college career, but he realized that Michigan was a great option. He accepted Carr's scholarship offer and arrived on campus in 1996.
The talented Jones did not start any games in 1996 but he played in eleven contests. He saw a lot of action on special teams and recorded four tackles.
Dhani was ready to step it up in 1997 and so were the Wolverines. He started nine games in his sophomore year and made at least 1 tackle in all twelve games. In fact, he finished second on the team with 90 tackles and had two games with 11 tackles. Of course, Michigan had a perfect season (12-0-0) and won the Big Ten Championship and the National title to boot! As Frank Sinatra would say, "It was a very good year!"
Jones was back for his junior season in 1998. Although the Wolverines lost a ton of talent from the 1997 squad, they were still very good. Dhani only started one game, but he played in all twelve contests. Once again, he made at least one tackle in every game and placed third in tackles with 72 for the season. Jones won the Matthaei Award for his outstanding work on the field and in the classroom. The Wolverines finished with an overall record of 10-3-0 and won a share of the Big Ten Title with a record of 7 wins and only 1 loss.
Dhani Jones returned for his senior season in 1999. He was one of the leaders on the defense and he played like it! He recorded 81 tackles and played a ton of really good football for Michigan. Jones continued his outstanding work as a student-athlete. He was named the Dr. Arthur Robinson Scholarship Award at the end of the season. The Wolverines finished with a final record of 10 wins and 2 losses, but they slipped to second in the conference with a final record of 6 wins and 2losses.
So, on the anniversary of his birth, let us appreciate the contributions of Dhani M. Jones to Michigan Football. Jones played a lot of good football for Michigan. He earned four letters, played on two conference championship teams and recorded 247 career tackles. He definitely left Ann Arbor with his head held high and wearing a flashy bow tie! (Dhani loves to wear colorful bow ties!) I hope that Dhani has a great time on his special day today. Happy Birthday Dhani Jones and Go Blue!
https://en.wikipedia.org/wiki/Dhani_Jones
Part II. February 22, 2020 National Day Calendar Update